When starting a job search, the obvious first step is to find jobs so you can apply.
Well, that's what this list is for.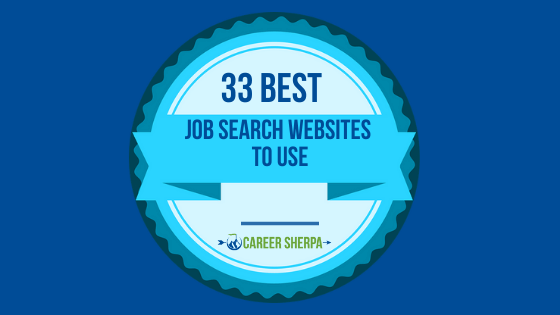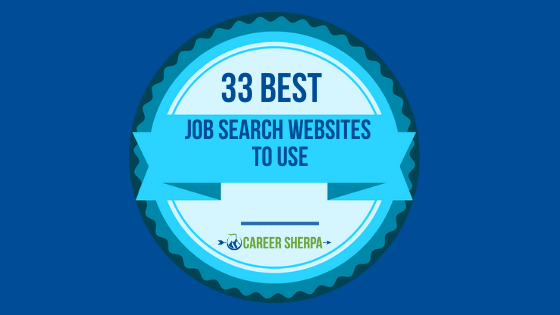 Table of contents
But before you start rapid-firing your application and resume to hundreds of job postings, take some time to think about where you want to work, what you want to do and what salary you want to make.
Once you identify the right jobs, you'll be able to use these job search websites to find them more easily. In other words, you won't be blindly applying to jobs or spending endless hours trying to find exactly the right jobs.
And when you apply for the right types of jobs, you're more likely to see interviews happening.
The Best Job Search Websites
With so many job search websites out there today, it's easy to feel you may be missing out on opportunities if you aren't checking them all.
But with technology and smart, targeted job search strategies, you can operate smarter and save yourself time.
Rather than list every job board or job search site, I've focused on those that provide the most useful information, have good filtering options and return a large number of jobs (from multiple sources). These should make the best use of your time and energy.
You'll also find a list of specialty or niche job boards to help you refine your search. Using niche job search websites allows you to focus more narrowly on jobs that are in your industry or occupation.
Companies post jobs on different job search websites. Sometimes this is because they have a preference or are loyal to the job board, other times it's mandated by the company. With so many job posting options, it's hard to know where to look. But you don't need to. The sites listed below should help you discover all the jobs, wherever they are posted.
These are the best 33 job search websites for job seekers to use.
1. Indeed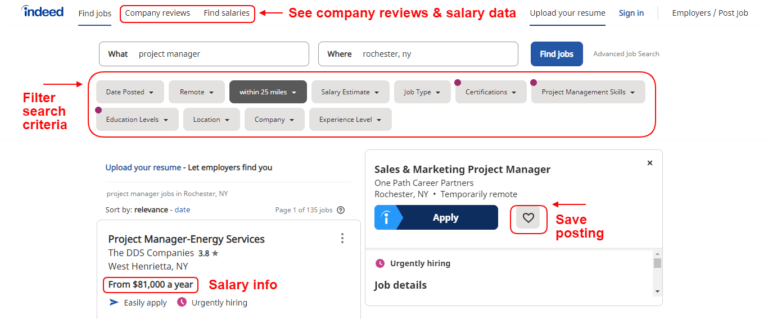 Indeed has been recognized as the top job search board for several years. You'll find all levels and categories of jobs on this mammoth job board making it one of the best options for almost every job seeker.
Types of jobs: All levels of jobs and industries covered.
Features: It offers robust search options such as the ability to search for remote jobs or internships. You can also search for freelance and part-time positions.
Indeed also shows salary information when provided and company reviews when available. You can also search by company to see what jobs are posted.
You can easily save a job posting for later and create alerts when you create a free Indeed account. Your resume can be uploaded and shared either for a specific job posting or for recruiters to search.
App: Indeed is available through a mobile app.
2. LinkedIn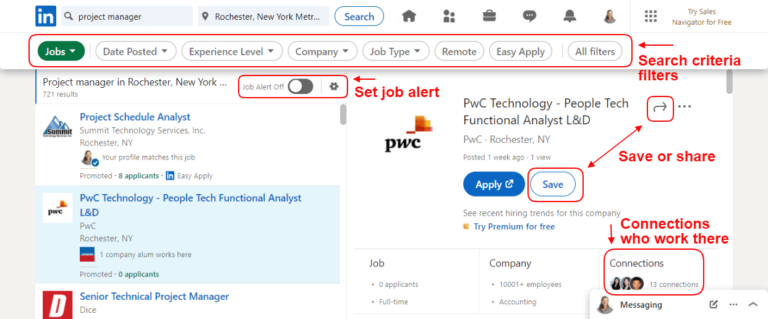 LinkedIn, known as a place to network, also provides access to job postings. For professionals who are already using LinkedIn, you realize how important it is to have a complete profile. A profile is required to have access to jobs posted by employers on LinkedIn at no cost. You will find many of the same search functionalities as the other job boards.
Types of jobs: LinkedIn's job board is best for white-collar jobs. Most industries are well represented however, you will not find a lot of jobs posted for teachers or those in medicine.
Features: There are a couple of things that make LinkedIn's job board unique. First is the ability to see if you have connections who work for the company. Second is being able to see how many people have submitted applications.
LinkedIn's Easy Apply allows you to apply in just a couple of clicks by using just the information in your LinkedIn profile.
App: LinkedIn's app allows you to search and apply for jobs from your mobile device.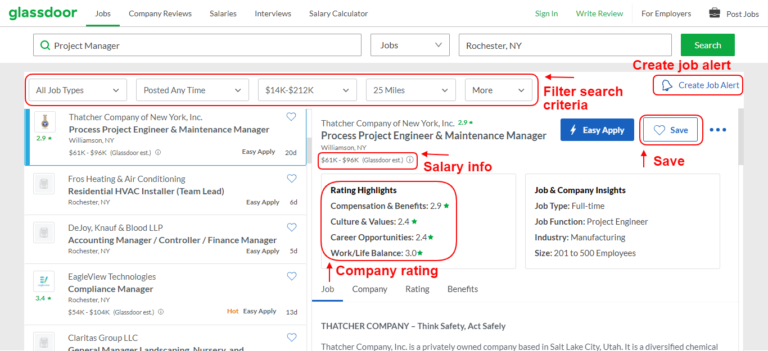 Glassdoor is known for its anonymous company reviews and interview questions. It also produces an annual list of best places to work. And it's job search functionality combines this data to help you learn more about a company before you apply. With over 11 million jobs posted on this site, you'll find it offers a unique perspective and helpful information.
Types of jobs: Glassdoor has a full range of job opportunities across many industries. If finding the right company culture is important to you, Glassdoor may have the most helpful information. Many (not all) companies have been reviewed and a summary of review/company ratings is easily viewable from the job posting.
Features: Glassdoor offers all the search features and filtering options as the other job boards – full-time, contract, part-time, and entry level. it also allows you to search from work-from-home opportunities. But what makes Glassdoor unique is it's company reviews and summary of benefits. Salary information tends to be more frequently available in these job postings as well.
"Easy apply" allows you to simply apply directly through Glassdoor, without needing to leave their site as long as you have a profile set up.
Glassdoor does not offer a resume database for employers to search, however, it does allow you to upload multiple versions of your resume which can be attached when you choose to use "Easy Apply."
App: Yes, there is an Glassdoor app for your mobile device
4. Google for Jobs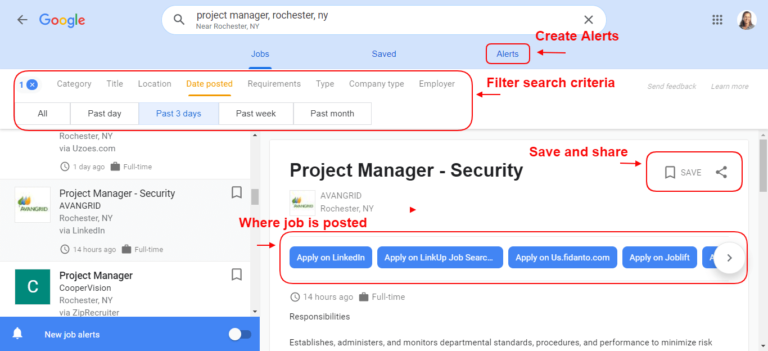 Google pulls jobs directly from company websites, staffing agency job listings, and partners with many job boards. This job search engine has been selected because of its ability to find job postings posted almost anywhere (directly from employers and career sites across the web). It's probably the most efficient use of your time and energy when searching for a job and replaces the need to search each individual job search website.
Using Google for Jobs is as simple as typing the desired job title (and city if desired) into Google's search bar. The results are near the top. Or search "Jobs Near Me" in your Google search bar.
Types of jobs: Google searches the web for jobs based on the job title and location you enter. It will show all levels of jobs across all industries
Features: Google Jobs includes the same filtering options even though it is not a job board per se. It aggregates/compiles job postings from other websites (technically making it a job search engine). When applying for a job, you will be taken to the site where you can apply. New college graduates can search by area of study, and transitioning military can find civilian jobs to match your military skills using your military occupational specialty code.
Google Jobs does not offer a resume database.
App: While Google for jobs is easily accessible from your mobile device, there isn't a dedicated app.
Linkup is a job search engine that offers 2 million jobs from 50,000 career websites. It simply aggregates all these jobs on one platform to easily search job opportunities. Some jobs may never be posted on job boards, which makes LinkUp a smart option to easily find available jobs that have only been posted on the company's career page.
Types of jobs: You can search for any job title, keyword or company.
Features: There's nothing overly fancy about LinkUp but it's value is potentially uncovering jobs you may not find posted elsewhere. You find a job listed here and then you're sent straight to the employer's site to apply. You will not find the ability to filter by remote or virtual work and pay information isn't usually provided. However, the value to this site is that it allows you to find jobs that may never be published on other job boards.
You can create a free profile which allows you to get saved job alerts and save jobs in your LinkUp profile so you can apply later.
App: There is an iOS app only available in the app store.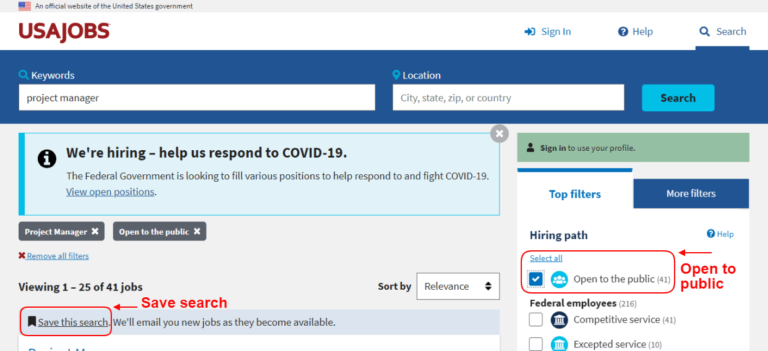 USAjobs is the official site used to fill jobs across all United States government offices. You will find jobs throughout all departments and agencies such as the Department of Transportation and General Services Administration. These jobs are located across the United States and abroad. There is a learning curve involved in applying to federal jobs, but the options and availability of these jobs is worth it.
Types of jobs: Jobs listed as "open to the public" are available to any US citizen across all federal agencies. If you have never worked for the government then you may be surprised to see the range of occupations. It's very important to review all the information in the job postings before you apply to ensure you meet the qualifications.
Features: The "More filters" lets you search by telework (remote), part-time, full-time, security clearance, and other job categories. You can also filter by department or agency. Because these are federal jobs, you will see salary information for every job listed.
There is a resume database available and you must create a free online profile to apply to these jobs.
The job posting requirements and application process for federal jobs is slightly different than the private sector. It's important to thoroughly review who is eligible to apply for a job. The documents required and resume often referred to as KSA also vary from the private sector. You can find resources to help you with this on the USAjobs website.
App: There is no app for this job search website.
Other Job Search Websites
If you have a favorite job search website that isn't listed, that doesn't mean you need to drop it or switch. There are hundreds of sites that post jobs and I haven't listed.
Sites like CareerBuilder, Monster, ZipRecruiter and CraigsList can be helpful. But the reason I haven't listed them is that they don't offer features or benefits that are better than the ones shown. Using Indeed or Google's search engine will still help you find jobs posted on other websites and job posting boards.
I wanted to focus on the best job search websites that offered you the best functionality and ability to discover jobs.

What I can tell you is that some employers chose to use a job posting website because of corporate policies or just because it's what they've always used.
Niche-Specific Job Boards
You can easily go down a rabbit hole and find specialty job boards for the type of work you are looking for. New ones are created all the time.
If you are looking for remote work, an internship or want to work for a non-profit, you'll find specialty job boards.
It's a good idea to add a couple of these niche job boards to your list along with several from the above list.
Here's why:
Recruiters want to find exactly the right type of candidate and often will invest money and time to post a job where they know they can find the specific type of candidate they are looking for- niche job boards.
This list of niche job search websites includes jobs by specific industry, occupation, level of job, those that specialize in freelance or remote work and other diversity and inclusion areas.
Job Level
Handshake – Internships and entry level jobs for college students and recent graduates
Ladders – Professional jobs paying over $100,000
Type of Work
FlexJobs – Vetted remote or flexible job opportunities
UpWork – all types of gig work or projects
We Work Remotely – All types of remote work jobs
Industry/Occupation
AngelList Jobs – Jobs at startups
Dice – Technology jobs
eFinancialCareers – Jobs in accounting, banking and the finance industry
HealtheCareers – Healthcare and medical jobs
HigherEdJobs – All levels of Jobs at colleges and universities
Idealist – Non-profit and social impact jobs, internships and volunteer opportunities
IEEE jobs – Engineering and technical jobs
LegalStaff – The Association Career Network Legal Jobs
Poached – Jobs in restaurants and hospitality
SnagAJob – Hourly/Essential worker jobs
StackOverflow – Programming jobs
TalentZoo – creative roles, including advertising, marketing, design and other online tech jobs.
Diversity
iRelaunch – Women returning to work
WorkplaceDiversity.com – All levels of Jobs for black and minority candidates
Pink Jobs – LGBT Gay friendly job roles from pro-equality partners
RecruitMilitary – Opportunities for veterans
RetiredBrains – Part-Time or remote work for older candidates
How To Use Job Search Engines Effectively
Eager job seekers often believe that applying to hundreds of online jobs will land them interviews. That's not necessarily true.
It's up to you to diversify your job search strategies to include job boards, networking, recruiters and direct company contact. This will ensure you've covered your bases and are less likely to miss out on suitable opportunities.
These are some ideas and best-practices to help you use job search engines more effectively.
Your Overall Job Search Strategy
Avoid the impulse to apply to every job you come across. Chances are you won't get an interview for each of those jobs, so your time is better spent focusing on fewer jobs for which you truly believe you are well-suited and making sure you have a strong resume and cover letter tailored for those jobs.
Always follow the instructions listed in the job posting. This requires you to thoroughly review the posting before you apply.
When you do find a job you are interested in apply quickly, within 24 hours. Employers respond to recently-active users first.
Easier isn't always better. Don't rely only on automatic job applications or one-click-apply. Remember, your resume should be customized to every opening you apply to.
Create a list of 40-50 companies you would like to work for. Then use your list and sign up for alerts on the company career pages. Follow the company page on LinkedIn (and other social media channels), and find people you can speak with to learn more about the company.
Do the Two-Step. Find a job online, and then find someone who works inside the company to refer you. Use LinkedIn or other social networks to begin a conversation.
Efficiency
Research shows that while job search websites receive large numbers of candidates (200+ per opening), few of these candidates are hired for the jobs they apply to.
Most job search engines allow you to set up a profile at no cost. Once you've created a profile, set up alerts for multiple job titles and/or keywords and perhaps companies.
Don't spend all your time and energy relying on job search websites.
If you aren't finding enough jobs (or any) try using different job titles or keywords. Seldom are job titles universal. Learn what else companies call what you are looking for.
Invest time seeking out and having conversations (informational meetings) with people in your industry and who work inside target companies. This will help you learn and possibly discover upcoming job openings.
Tracking
Keep a record of the jobs you apply to by saving a copy of the job posting. Either use a screenshot or copy and paste the posting into Word so you always have access. Once a company's job description has expired or is taken down, you may not be able to see it.
Also keep track of when and where you applied so you can follow up if you don't receive notification from the company.
It is up to you to follow up with the company to make sure they received your resume/application and to ask where they are in the hiring process. Check in weekly unless told otherwise. Persistence shows interest.
Resumes and ATS
Make sure that your resume is formatted in a way that is clearly read by applicant tracking systems.
It's also important to tailor your resume to include relevant keywords from the job posting. Research best practices for formatting your resume for an ATS.
Security and Privacy
Posting your resume on sites can invite spamming. For this reason, it's important to create a dedicated email you use just for job search. You can also set up a Google Voice number you can dispose of if you need to.
When posting your resume on any job board, be sure your contact information is not included. You only want recruiters who have access to your confidential profile information to contact you. Often scammers will scrape resumes from job boards and use the contact information they acquire.
If you do choose to post your resume, be sure to update it or refresh it weekly so that it will show up in search results when recruiters search for new resumes.
Temp or Contract Jobs
Don't overlook or dismiss temp jobs. Sometimes temporary or contract jobs can lead to a regular or "permanent" job. These short term jobs serve several purposes for you as a job seeker. They keep skills fresh, give you something meaningful to do and give you exposure to a new company. Plus these jobs provide an income.
While there are some national companies providing these services, each metropolitan region has local agencies or contract houses that offer short-term jobs. To locate these agencies or temp jobs, you can use Google Job and search for "temp jobs" [insert your occupation] [city, state]. Or search for the job title you are interested in, [city, state] and select "contract" from the search filter option "type."
It's also important to note that some agencies specialize in certain occupations or industries. This is usually specified on their website.
Closing Thoughts
To make the most of your job search activities, stick to this list of the best job search websites, in conjunction with your other job search activities. Spend your time involved in networking activities, looking at company career sites and engaging with recruiters who specialize in your area of expertise.
This diverse strategy will help you uncover more opportunities and get hired!

Hannah Morgan speaks and writes about job search and career strategies. She founded CareerSherpa.net to educate professionals on how to maneuver through today's job search process. Hannah was nominated as a LinkedIn Top Voice in Job Search and Careers and is a regular contributor to US News & World Report. She has been quoted by media outlets, including Forbes, USA Today, Money Magazine, Huffington Post, as well as many other publications. She is also author of The Infographic Resume and co-author of Social Networking for Business Success.