The best freelance jobs are in-demand, flexible, and have the potential for high pay. More and more companies are looking for additional help in the gig economy, which can be an incredible opportunity for professionals with the right skills.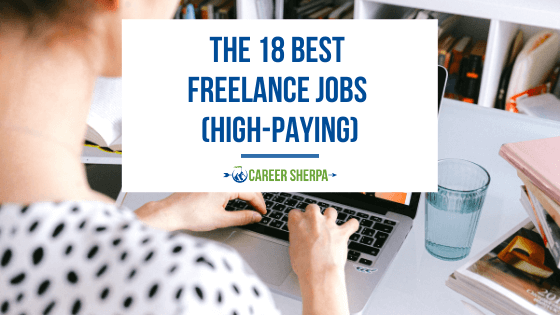 This list of the top freelance jobs will help you find an appealing career that can give you the flexibility and variety that few others have!
1. Copywriter
Copywriting is one of the most accessible avenues for those who are interested in working a freelance job. It doesn't require a specialized degree to start, and there's no need to invest in pricey equipment right off the bat. On top of all that, it's a potentially lucrative field with many opportunities.
Content is king these days! Companies need to produce content to expand their presence online, attract customers, and get sales. Many organizations have hefty content production budgets to fit their many needs, and they turn to copywriters to get everything done.
Copywriters can work on a wide variety of pieces. Many will focus their efforts on marketing content, emails, and blog articles. However, there's ample flexibility with this job.
As a freelance copywriter, you'll likely accept work from many different clients before developing a niche. Some of the most successful copywriters carve a place in this field in which they can excel. For example, some will focus on medical copywriting while others turn to law writing.
Some of these freelance jobs can also develop into regular marketing positions or even book ghostwriting. There's room to grow, and this job offers enough variety for anyone to find their groove.
2. Videographer
Videographers spend their time producing video content for a wide range of clients. Like copywriting, there's room to hone your skills and focus on a specific type of work.
Many videographers have some background in content production. For example, many start as filmmakers or social media creators. The key is to develop the necessary skills, such as video composition, storytelling, editing, etc.
As a videographer, your job is to produce video content for clients. Contrary to popular belief, the videos on social media and eCommerce sites usually aren't an in-house team's work! Many organizations hire third-party freelancers to capture videos.
What you'll capture depends entirely on the client! Some may want stock footage or heavily produced sales shots. Others will want you to use your creativity to tell a story and deliver marketing content.
Of course, your skill level will dictate the type of work you do and how much you get paid. However, this is one of the best freelance jobs because it lets you improve over time with experience.
3. Photographer
Photographers and videographers do many of the same things. However, photographers focus their sights on still images.
As a whole, digital media is in high demand. In addition to good copy, companies need unique visual content. That's where photographers come in.
They use their expertise to compose killer shots that captivate audiences and attract all the right attention! Your work can vary dramatically from one client to the next. You might focus your attention on static product shots one day before moving on to impressive creative work for social media platforms on another.
Once again, you need decent skills to get steady work in this freelance career. But the good news is that you don't need a particular degree. Many photographers hone their skills on their own time.
Creativity is the most important thing for this freelance job.
4. Translator
We live in a heavily globalized world, and companies big and small need to cater to more than just English-speaking countries. That's where the translators come in!
With this freelance job, you'll work to make everything from marketing materials to product descriptions available in other languages. Because businesses have a treasure trove of content, there's plenty of work.
All that said, being a translator requires more than just proficiency in another language. Many freelance translators have academic work or relevant work experience in a particular field. Language requires understanding the unique nuances of a distinct tongue and the industry's intricacies.
For this reason, many translators stick to one type of work. For example, you might work to translate educational material, medical work, law documents, etc.
5. SEO
SEO stands for Search Engine Optimization, and it's something that every company can use! The goal of SEO is to fine-tune websites so that they rank as high up on search engine results pages as possible. Every brand wants to be the first thing people see when they search for something relevant, so many are willing to pay a lot to work with an SEO specialist!
As an SEO specialist, you'll spend your days doing tons of research. SEO can get complicated. It involves a rich understanding of algorithms, keywords, authority, and more.
You have to understand what a client's competitor is doing, how you stack up, and what you can do to climb the ranks. SEO specialists often work with many other freelancers to improve content.
For example, they often work with copywriters to create keyword-rich content that triggers search engine algorithms. Meanwhile, they'll collaborate with videographers and photographers to improve their social media presence. It's one of the best freelance jobs out there if you're both creative and analytical.
Those separate pieces matter, and it's your job as an SEO specialist to make sense of it all. This freelance career actually made our list of the best remote jobs, so it's worth considering if that's a priority!
6. Web Designer
If having high-quality content is vital to businesses, you can imagine how important designing a website can be!
Web designers are responsible for creating well-made websites that expand a brand's online presence. It's not about simply making something that looks good. It has to perform well and provide a great user experience.
There's a lot of confusion out there about the difference between developers and designers. A web designer focuses on aesthetics and the experience of visiting a site. Contrary to popular belief, they don't need to know a ton of coding or have proficiency in a specific coding language.
One of the most popular content management systems is WordPress. Knowing how to use that platform is more than enough to land jobs.
As a web designer, your days will involve communicating with clients, creating new designs, and updating existing websites. This is one of the best freelance jobs because it's in demand and pays very well.
7. Data Analyst
Freelance data analysts are in high demand, and it's not hard to see why. Organizations are collecting more data about users and performance than ever before.
The collection part is easy. But what about making sense of it all and putting it to good use? That's the job of a data analyst. And with so much data to go through, many businesses look for help from freelancers to supplement their needs.
Companies rely on data analysts to identify trends. They use that information to make crucial business decisions that affect an organization's bottom line and daily operations.
The types of data you'll collect vary based on the client. Some will have you focusing on sales information. Others might ask you to model user behavior, requiring you to pull data from multiple sources.
You must examine the data, put it into a form that's understandable to key decision-makers, and present it. Data analysts are the go-to people when big players have questions, so it's essential to understand what you're working on.
8. Graphic Design
Here's one of the top freelance jobs if you're creatively inclined. Graphic designers are the artists of the business world! They create visual media that represents a brand.
It takes some experience to be a graphic designer. Many go to school and get degrees in this field. However, it's not a requirement to get your foot in the door as a freelancer.
Any creative person can mold their skills to the appropriate software, and there are many certification programs available to prove your proficiency.
Graphic designers have a relatively fun job. Essentially, your responsibility is to turn ideas into reality. You may spend one day working on corporate brochures and in-house visual media before moving towards social media artwork and marketing material.
There's tons of variety in graphic design. Like other good freelance jobs we've gone over, you can focus your work on one niche and become an artist that brands go to when looking for a specific style. It's also a great job for introverts!
9. Sales
Many people think that sales jobs have to be tied to a specific company. But believe it or not, sales-focused freelance jobs do exist.
More and more organizations are looking to hire contract-based sales specialists. Freelancers who are excellent at their job are in high demand, so it makes sense to bounce around and work on a contract basis rather than a full-time employee.
Typically, freelance sales specialists seek out potential customers and generate leads. They work independently and usually aren't part of a larger sales team. But as always, there are goals to reach and a bottom line to support.
Freelance sales specialists can work in a variety of different ways. They can use video calls to communicate with potential leads, send out emails, etc.
10. Illustrator
Illustrators and graphic designers are cut from the same cloth. However, illustrators tend to work on a specific type of creative endeavor.
They make sketches and graphic design pieces. Some projects may be more detailed than others, leaning towards a fine art aesthetic rather than in-your-face graphics that other creatives might do. That said, illustrators have tons of flexibility in their work, too.
For example, many illustrators work exclusively on in-house projects. Many companies need illustrations for schematics, patents, and other technical documents. In that case, you'd work directly with the key decision-makers to visualize what they're thinking.
Many illustrators get freelance jobs working for creative clients. For example, you might find yourself creating cartoons for an animation studio. The sky's the limit, and companies are willing to pay for your talent if you have the skills.
11. Virtual Assistant
If you excel at administrative work, becoming a virtual assistant might be one of the best freelance jobs for you! Many C-level executives are working from home nowadays. It doesn't make sense to have a full-time assistant following them around.
Some clients might only work part-time, spend many of their days traveling, or not have the budget to hire a traditional assistant. Whatever the case may be, they often turn to virtual assistants to bridge the gap.
This is a good freelance job because it's exciting and requires immense organizational skills and tons of confidence. The job is highly varied. Typically, it involves managing email accounts, taking phone calls, doing data entry, and more.
You may also have to do personal tasks like making travel arrangements, posting on social media, and setting appointments. Everything is remote, so you can work from anywhere as long as you have Internet access and sometimes a reliable phone line.
12. Developer
Earlier, we talked about the work that freelance web designers do. Web developers take care of the technical side of things. While designers prioritize the look and user experience of a digital space, developers are the ones who make it function.
This freelance job does require extensive coding knowledge. Most developers go to school and get a degree before choosing the freelance route. Freelancers tend to have more freedom, but the work is still extensive.
There are a few types of web developers. Front-end developers put their energy toward the user-facing side of things.
For example, they will manage code for the content and visuals. They may also handle UX design and anything else the website's visitors see.
Meanwhile, back-end developers handle all the technical components. They're the ones who control the administrative side and ensure that the site is running smoothly.
13. Content Writer
A content writer is somewhat similar to a copywriter from a high level. They both produce written content requested by the client.
The difference between these two freelance jobs is that content writers tend to focus less on encouraging action and more on informing. A copywriter usually works with SEO specialists to write engaging, attention-grabbing material that appeals to potential customers. Content writers might incorporate those same writing techniques, but it's less about selling and more about providing something of value.
Your work might involve a little more flexibility. Content writers sometimes also brainstorm ideas to entertain and inform readers. The goal is to write content that keeps an audience engaged and coming back for more.
As you can imagine, there's a lot of flexibility here. The work you produce will depend on the client and industry you're serving.
14. Accountant
Here's another job that many people don't realize works well in the freelance market. Accountants require extensive education, and proper licensing is required in most situations. But experienced accountants can seamlessly transition to freelance work without any hiccups.
Companies always need accounting help, but they don't always have the budget to hire full-time accountants. Freelancers can work for many clients at once, benefiting everyone all around.
As an accountant, your work will include everything from basic bookkeeping to tax and business accounting. A good understanding of tax law and experience working with accounting software can get you far as a freelancer. The same goes for experience with financial consulting.
15. Content Marketer
A content marketer is part of a company's marketing push, and it's easily one of the best freelance jobs to have in the digital age. Your job is to persuade a person to take action. That could be buying an item, investing in a service, or providing information. Whatever the case may be, it's a content marketer's job to create that push!
Think of it as lead and sales generation. Once again, this freelance job requires content creation. However, the distinction is that you're focusing on bigger-picture items.
Content marketers often handle more extensive campaigns or are responsible for editorial calendars. You may find yourself working as part of a team or directing others. It's not about a single piece of content but the entire push to support a client's bottom line.
16. Tutor
It's pretty common knowledge that there's a massive teacher shortage. If you don't want to head into a classroom but still love to teach, becoming an online tutor is a great choice.
Tutors don't necessarily need a degree in education. Tutors can be experts in their field or have a deep understanding of the subject matter.
You're not taking the place of a teacher. Instead, you're supplementing their lessons to ensure that the student understands the material.
Tutors typically work online. Thanks to video chat software and screen-sharing technology, you don't have to be in the same room with your student. But, it does require good communication.
The available subjects are plentiful. One of the most popular subjects is English as a Second Language (ESL).
17. Editor
As you can see from above, many content creation jobs are available. From copywriters to content writers, there is no shortage of written material that needs editing!
Editors work on perfecting copy. They have a good grasp of English, grammar, and AP style guidelines.
This is one of the top freelance jobs for those who want to work with many different clients. You might collaborate with SEO specialists to review copywritten materials, marketing professionals to look over pieces before publishing, and more.
Some publishers also hire freelance editors to read over ebooks, magazine articles, and more. The job primarily involves proofreading, but some assignments may also include fact-checking.
18. Social Media Marketer
Social media might have started as a way to keep in touch with friends and family. But today, it's a multi-billion dollar industry! Companies need an excellent social media presence to succeed in today's digitally connected world.
Unsurprisingly, that makes the role of social media marketer one of the best freelance jobs out there. As a social media marketer, it's your job to produce and publish content on social media accounts. Whether or not you have direct control of the accounts depends on the client. However, your main focus is to sell products and services while keeping followers engaged.
Social media is a gold mine of marketing opportunities. This job requires you to create ads, monitor analytics, measure campaign performance, and constantly improve on your last effort. It's not an easy job, but it can be rewarding to those who love using social media.
Conclusion
This list of the best freelance jobs should serve as a great starting point for anyone who wants to pursue a more flexible career. Freelancing is becoming more and more viable each year, so why not take advantage of it?

Hannah Morgan speaks and writes about job search and career strategies. She founded CareerSherpa.net to educate professionals on how to maneuver through today's job search process. Hannah was nominated as a LinkedIn Top Voice in Job Search and Careers and is a regular contributor to US News & World Report. She has been quoted by media outlets, including Forbes, USA Today, Money Magazine, Huffington Post, as well as many other publications. She is also author of The Infographic Resume and co-author of Social Networking for Business Success.