Yes, submitting your resume for posted jobs is one of the methods of job searching. But know this-  It will fall into a terrible black hole, you'll be competing against a lot of candidates and just applying online is one of the least effective ways to job search.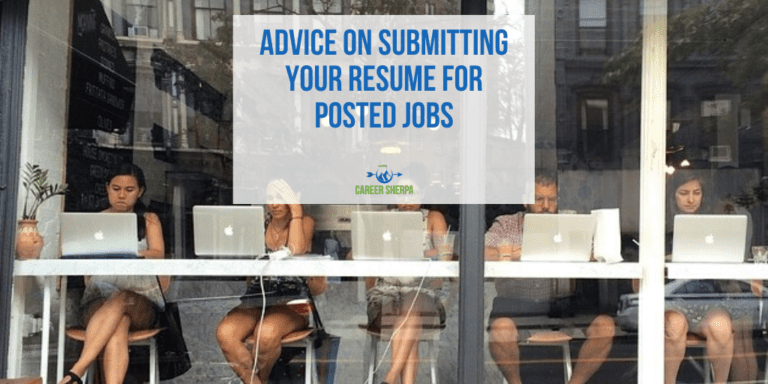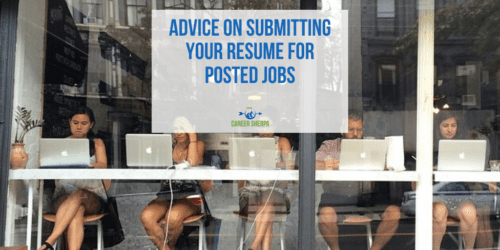 You've heard that applying online is ineffective, right? Why do so many people do it?
Because it makes you feel productive. And even the Department of Labor says you have to apply for jobs online in order to continue getting unemployment.
So yes, submitting your resume for jobs is a viable option and these are things you need to know.
1) Follow Up
While not the first thing you do, following up is the most important thing you can do to show your interest in the job and company. Plus, most job seekers won't do this!
So how do you follow up and when?
You'll likely receive an automated email saying your application has been received. Read any instructions it may contain and follow them.
If nothing is mentioned in the message about following up or you don't receive a message, then wait a day and contact HR.
Read this to see what you'll say Advice On How To Follow Up During Job Search and Follow-up Tactics.
2) Apply if you meet 60% or more of the stated requirements
Many job seekers look at job postings and self-eliminate.  Don't do that. If you don't have everything requested, and the job interests you, apply! It's like playing the lottery, you can't win if you don't buy a ticket!
You have to remember that many employers don't really know what they are looking for.
They may be thinking, "if we get something close to what we are looking for, that'll work."  Or, "we'll know the right candidate when we met them."
You do not know which requirements are most important to the employer, therefore, you don't know which they may be willing to overlook or compromise on. Of course, the closer you are to having what they want, the better. 
Over-Qualified?
But having more skills or experience than the employer is asking for is not a good thing. Employers interpret that as EXPENSIVE. Or they think you'll be bored. 
What makes you think you would be happy performing a job that only requires 1-3 or 3-5 years experience if you have over 5 years experience? That job would be way below your skill level. 
The temptation is that you see more of these entry level or low level jobs.  The more senior jobs, requiring 5+ years experience, are usually filled from within the company or through word of mouth.  
3) Find an Insider or Informant
Before submitting your resume, get the inside scoop on the position and company by speaking with an employee. I call this the two-step, find a job posting, find an insider. Learn more about how to do this here Never Just Apply For a Job- Use the 2 Step Method
3) Customize Your Resume
Carefully review the job description, line by line. Highlight the skills, work related processes, keywords, and technology the employer mentions. Then, make sure you've included them in your resume. Use these keywords in context and don't include skills you don't have (that's called lying).  You can see how to customize your resume for a job posting here Easily Match Your Resume To the Job Posting
4) Understand How Applicant Tracking Systems (ATS) Work
When submitting your resume to an online job posting, it will be parsed and processed by an ATS. So you'll need to understand how that works so you can be sure to format your resume appropriately and use appropriate  keywords. This post explains everything you need to know about ATS: How To Get Past The Applicant Tracking System (ATS)
5) Include A Cover Letter
Yes, some employers still read them. And you want to explain why you want to work for that company in that role. So write one. Learn more about what to include in your cover letter here: 5 Ways To Customize The Dreaded Cover Letter
6)  Use Job Aggregators
Indeed.com and SimplyHired.com pull job postings from different places on the internet and may help you uncover jobs. Google for Jobs is another option. And don't forget LinkUp which only searches jobs listed on employer websites.
Some employers have logic they use to determine where they will post their openings. Other employers have preferred sites they use to promote job opportunities. It might be based on the type of job their are trying to fill, or it may be based on the type of candidate they hope to recruit.
The benefit of using aggregators is that you don't need to search every  job board, that's what Indeed, SimplyHired and Google for Jobs do!
7) And Niche Job Boards
Also use niche job posting boards.  If you are looking for a position in a college or university, try higheredjobs.com. You can see more specialty job boards in my article here Best Websites for 2020 Job Search
There are tens of thousands of job boards. You don't know about many of them, but ask around, you will soon know more than you want to.
Of course you will definitely want to regularly check target company websites too. Employers actually prefer candidates who are submitting resumes directly.
8) Send Your Resume & Cover Letter
Once you've applied online, research the physical mailing address for the company.
Submitting your resume and cover letter through the USPS is duplicate work, but it may catch attention since so few people will take the time and effort to mail something.
Remember, you don't know the preferences of the people or person receiving resumes. It might be easier to review a hard-copy than opening and reviewing email.  If you have sent your resume and cover letter both ways, you've increased your odds.
9) Blind Ads Can Be Real
Just because a posting doesn't list the company's name, doesn't mean it is bogus. It just means the company doesn't want to list it's name.  It could be they are replacing someone who still works there.
Unless you are employed, there's no risk, danger, or problem with applying for these jobs.  No, you can't followup, but, it may be worth it, you'll need to find out.
10) Use Time Wisely
Make the best use of your time. Since customizing your resume and cover letter takes some time, create a master resume and cover letter you can easily customize. A master resume lists all your achievement bullets, every skill you have seen mentioned and is really long. All you'll need to do is eliminate the elements you do not need. This is easier than adding content to match the job description.
Also, you should really be applying for jobs online early in the morning or late at night when you can't be networking or calling people at work.
The bottom line
Use all methods available to engage in a successful job search. While submitting your resume to online job boards feels safe, it's actually not all that effective. Networking is the most effective job search method, so get out of your house!

Hannah Morgan speaks and writes about job search and career strategies. She founded CareerSherpa.net to educate professionals on how to maneuver through today's job search process. Hannah was nominated as a LinkedIn Top Voice in Job Search and Careers and is a regular contributor to US News & World Report. She has been quoted by media outlets, including Forbes, USA Today, Money Magazine, Huffington Post, as well as many other publications. She is also author of The Infographic Resume and co-author of Social Networking for Business Success.