In today's digital job market, online visibility is a game-changer. It's not just a matter of having a presence on the web; it's about strategically enhancing your digital footprint to stand out in the crowd.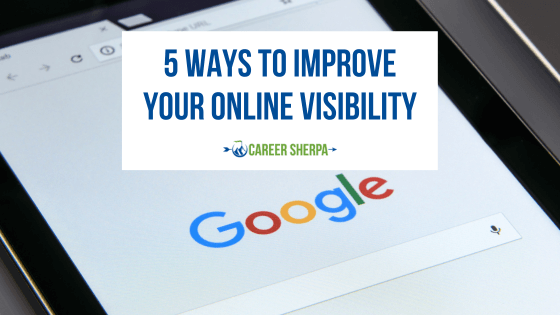 This blog post is your roadmap to improving your online visibility. You'll get the essential strategies, from optimizing your LinkedIn profile to creating a personal website and managing your social media presence.
You can call it online visibility, personal online reputation, or personal branding… any of these terms describe the strategic process of enhancing what someone finds when they search for your name online. The good news is, that most people are not strategic or purposeful in managing their online visibility, so by doing so, you will stand out.
Keep in mind, your personal brand is made up of your online and offline interactions, based on the words and actions you use and the people you associate with.
Your Reputation Is Already Out There
You already have a reputation among the people who know you. Ask trusted friends what words they would use to describe you. If your reputation is good, all you need to do is reinforce these words and concepts across your online presence (bios, posts, and comments).
Don't ignore your online reputation or dismiss social media altogether. In fact, 70% of recruiters use social media to research candidates according to a CareerBuilder survey.
This same CareerBuilder research found:
"Nearly half of employers (47 percent) say that if they can't find a job candidate online, they are less likely to call that person in for an interview – 28 percent say that is because they like to gather more information before calling in a candidate for an interview; 20 percent say they expect candidates to have an online presence."
This is just one of many surveys that emphasizes the importance of having an online presence. It's time for you to take action and become more visible.
1. Assessing Your Current Online Presence
Future employers are googling your name if you've applied for jobs. People you ask to meet with may also google your name. It's a good idea to know what they'll find.
Start by searching for your name by enclosing your first and last name inside quotes like this: "Your Name."
Is the first page the best information about you? In other words, if someone were researching you professionally, is this what you would want them to find?
Susan P. Joyce, an online job search expert, on Job-Hunt.org writes: "Look for anything negative that an employer would see associated with your name (even if it is NOT about you)." Joyce calls this "defensive Googling." It helps you identify and remove any digital dirt mentioned about you.
Most people will not venture past the information on the first page, so pay special attention to the results you find there.
Oftentimes, when people search for their names online, they find inaccurate or outdated information, share the same name as someone else or discover embarrassing or reputation-damaging information about themselves.
It's almost impossible to get negative news or search results about you removed. So the best way to fix this is to create positive and new search results. This will push the less-than-positive results down and hopefully onto the second page of search results.
Your social media profiles (LinkedIn, Facebook, Instagram, and others) also can show up on the first page of search results. This is great if you are sharing posts related to your career.
It's a good idea to review your posts and comments across each social platform to make sure they convey the right professional image and message. If not, now is the time to do some cleaning up. You don't need to delete your whole profile. Instead, delete the unfavorable posts and begin posting content related to your professional interests.
2. Optimizing Your LinkedIn Profile
LinkedIn is one of the top destinations for hiring managers and recruiters, and you want your LinkedIn profile to be thorough and convincing.
These are the top three things you should update today:
Craft a compelling headline and About section
Highlight your professional achievements and skills
Build a robust network
3. Crafting Engaging Social Media Profiles
LinkedIn isn't the only social media platform recruiters or hiring managers pay attention to. Align your social media profile with the topics and style of your career goals and your industry.
Posting and sharing relevant content and updates helps establish you as someone who knows what the trends are in your industry. It shows you are up-to-date and follow important changes in your field.
Being active on social media also means interacting with potential employers or recruiters. Commenting on their posts helps get you name recognition and possibly the start of a professional connection.
It's important to understand your privacy settings on each of the social media platforms you are active on. You want to understand what people can learn about you by what you are posting.
4. Pushing Good Content Online
One of the best career-building strategies is to regularly push out good content either written by you or shared by the people you know. The majority of your competition is not creating online content to improve search results or their reputation.
The easy way to do this is to write blog posts and share professional work-related status updates on all of your social media channels. The real takeaway here is to be aware that anything you put online can be used against you. Here are 10 types of LinkedIn status updates that will make you an employer magnet (without sounding overly self-promotional).
You could be a podcast guest, serve on a professional association board, present at a conference or event, or even volunteer. Your goal is to get your name mentioned so it shows up in search results.
5. Creating An Online Portfolio or Personal Website
Before you host a personal website, you'll probably want to buy a domain. Having a website under your name improves where you rank in online search results and lets you control the content on your site. It typically costs less than $20 per year.
Website building has become easier today. You can use one of many tools, such as WordPress or Wix, to set up a personal website.
Consider your website a primary online resume and update it every six months or so. Include the link to your website in your email signature, within your LinkedIn profile and in any bio you create across social media.
Your personal website is the one spot you control and is one of the best long-term strategies active careerists can maintain.
You can also use it as an online portfolio, especially if you have samples of work you want to showcase. If you are in a creative field, writer, or even a coder, creating an online portfolio allows you to curate your best work in one place for anyone to see.
Monitoring and Managing Your Online Visibility
This isn't a once-and-done activity. Your career depends on what people know and can find out about you so it pays to monitor and strategically manage online mentions of your name.
Setting up Google Alerts for your name
Google makes it easy to set up alerts. Go to google.com/alerts and type in your name inside quotes. That tells Google to search for those exact words. Once you set up your alert, you'll receive an email whenever your name is mentioned online.
Maintaining a positive online presence
Be on the lookout for good personal PR opportunities, share positive professional news on social media, and don't be afraid to showcase your own professional wins.
Begin monitoring and managing your online visibility today and you'll be in the small minority of standout candidates.

Hannah Morgan speaks and writes about job search and career strategies. She founded CareerSherpa.net to educate professionals on how to maneuver through today's job search process. Hannah was nominated as a LinkedIn Top Voice in Job Search and Careers and is a regular contributor to US News & World Report. She has been quoted by media outlets, including Forbes, USA Today, Money Magazine, Huffington Post, as well as many other publications. She is also author of The Infographic Resume and co-author of Social Networking for Business Success.