What if I told you there are five traits you new boss really wants to see but won't tell you what they are?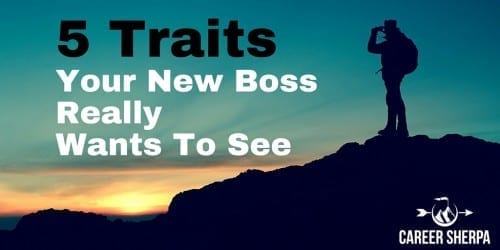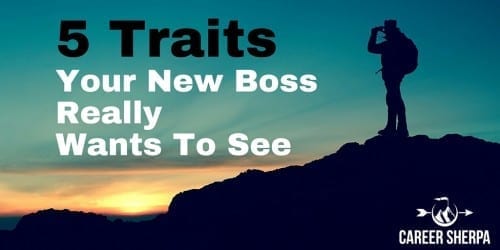 During your first 90 days on the job, will you live up to your new manager's expectations – both spoken and unspoken? Unfortunately, most managers won't tell you that they are evaluating these five traits, so let me help you read between the lines.
During the interview process, your future manager was sizing you up, not just to see if you can do the job, but to evaluate what type of employee you'll be. The rubber meets the road once you start your new job. You will have to prove you can deliver by doing your best work. But, that's not all. You need to make your manager's life easy.
When you start a new job, make sure you meet with your new boss and ask questions to fully understand their expectations of you in your new role.  Despite what your manager does or does not tell you, you have to realize that it is up to you to be a great employee- and hold on to your job.
5 Traits Your New Boss Really Wants To See
These are the traits managers really evaluate but never tell you.
1. You're Easy to Manage
You aren't the only person your manager has to oversee, so they hope that you'll require minimal oversight. Your new manager also expects you to learn as much as you can independently, without a lot of hand-holding and formal training. When your manager asks you to do something, they expect that you'll do it quickly and give it your all without complaining. The ideal new hire comes up to speed quickly and asks appropriate questions. This person knows when to ask for help and who to ask for help. These are the traits of an employee who is easy to manage.
2. You Play Well with Others
Teamwork is an important trait. You've been working in teams throughout school and in earlier roles, so this isn't new to you. Being a good team member means that people want to collaborate with you because you are fair and logical. Be the team member who knows how to work through differences and will pick up the slack for others to keep things moving smoothly. Your manager doesn't want to play referee and resolve employee conflicts, so don't do anything that would cause your teammates to run to your manager.
3. You Communicate Clearly
If your manager needs you to interact with a client or senior management, they don't want to worry that you'll be an embarrassment. You must be able to succinctly summarize the message and provide just the right amount of information. You speak with an air of credibility, not arrogance, and you'll sound less like a newbie and more like a seasoned pro. Be that team member your manager can count on.
4. You're Likable
Being likable isn't the same as being easy to manage. When you have the likability trait, your manager enjoys being around you. Who knew this was a popularity contest! You thought all you had to do was perform your job well. But, have you heard about the test some managers use to evaluate your likability? They ask themselves how they would feel if they were stranded at an airport with you.  Be positive and have an easy smile. Listen, really listen, to what people say and show an interest in the world around you. Know how to keep the conversation alive and when it's time to have fun.
5. You Possess Tact and Diplomacy
In times of stress, and when the stakes are high, your boss hopes you will handle the situation appropriately. What this probably means is that your manager expects you to handle the situation the same way they would. Watch your manager and learn how they handle difficult situations. Emulate this style and ask for feedback when necessary.
6. You Make Your Boss Look Good
This trait may sound a bit like brown-nosing, but flattery will get you everywhere. Credit your manager for any support, ideas or resources. You may even go as far as putting this in writing. At the very least, sincerely communicate this to your manager in person. Be sure to never criticize your manager in public or make them look foolish. And don't try to corner your boss by asking questions they can't or won't answer. Some managers invest a lot of time and energy into developing team members. But even if yours hasn't, you should still try to make them shine by truthfully acknowledging any support or leadership they may muster to provide.
Success Is Up To You
Your odds of starting your new job on the right foot are greater if you ask to meet with your new manager soon after you start. Ask questions about their top priorities for you in the role and how your performance will be assessed. Together with your manager, you can build a plan to come up to speed as quickly as possible and learn the new company's processes and procedures. By having this open dialogue, you have already begun to earn respect from your new manager.
When you start a new job, remember, it is up to you to manage your success by getting your manager to open up and communicate expectations.
This article originally appeared on US News & World Report On Careers

Hannah Morgan speaks and writes about job search and career strategies. She founded CareerSherpa.net to educate professionals on how to maneuver through today's job search process. Hannah was nominated as a LinkedIn Top Voice in Job Search and Careers and is a regular contributor to US News & World Report. She has been quoted by media outlets, including Forbes, USA Today, Money Magazine, Huffington Post, as well as many other publications. She is also author of The Infographic Resume and co-author of Social Networking for Business Success.