What job search trends and best-practices do you need to embrace in 2015?
I tapped my friends and colleagues to ask them what they thought job search would look like in 2015. Their predictions, listed below in no particular order, hit upon these core areas:
Resume Trends
Social Media
Technology
I know I didn't reach out to everyone, so if you've got a prediction/tip, please, add it to the comments!
14 Job Search Predictions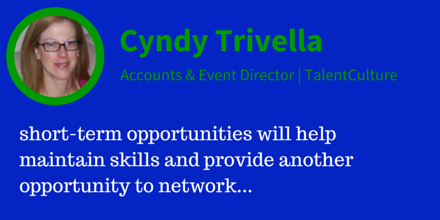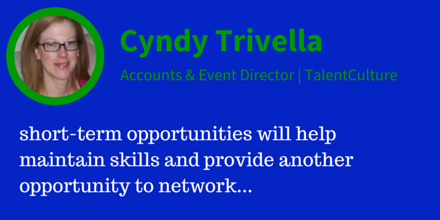 Cyndy Trivella, Director, Accounts & Event Director | TalentCulture.com | @CyndyTrivella
The freelance or contract employee position will continue to rise in 2015. As the cost of benefits and insurance coverage increase year-over-year, companies are evaluating overall operational costs and reconsidering how human capital expenditures can be trimmed. Shorter term projects with a specific start and end date offer scalability and mitigate the need for companies to take on permanent salaries and with that the increasing cost of benefits. Even for those companies that want full-time and permanent employees, hiring with a temp-to-perm objective gives companies the chance to "test drive" someone before extending an offer for permanent employment.
Job seekers, within the group of the long-term unemployed, need to reconsider all options as they continue their search. I suggest they include and consider the possibility of contract or freelance work as an option. Though less desirable to some job seekers, these short-term opportunities will help them to maintain their skills and provide another opportunity for job seekers to network with the employed and showcase their abilities as a worthy and potentially permanent employee should an opening arise.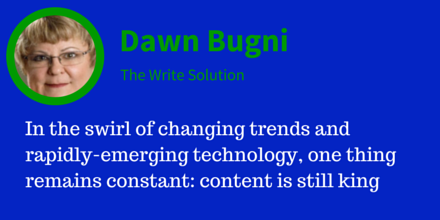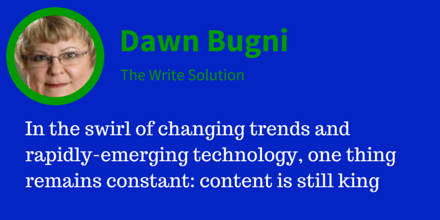 Dawn S. Bugni, CMRW, MRW, CPRW, Resume Strategist | The Write Solution | @DawmBugni
An overwhelmed society, over-connected and moving at lightning speed, 24/7/365, demands clear, succinct communication. Regardless the technology, platform, format, or delivery method, the ability to develop a tightly-focused message and quickly connect skills to targeted company and specific position needs plays an increasingly critical role in job search success.
Dull, cookie-cutter content displayed and conveyed via bright, shiny platforms remains dull, cookie-cutter content. Whether sharing information through face-to-face interviews, resumes, applicant tracking systems, social media posts, LinkedIn profiles, video interviewing, or things yet to be imagined, taking time to hone core value messages and adapt those messages to fit a specific circumstance drives job search success every time.
Trends change in response to an undulating job market. And technology plays a larger role in job search with each passing year. In the swirl of changing trends and rapidly-emerging technology, one thing remains constant: content is still king.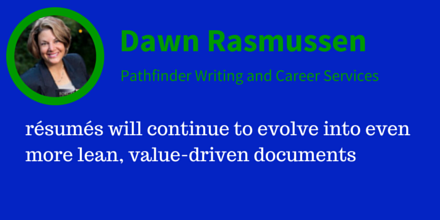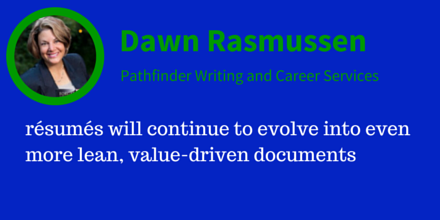 Dawn Rasmussen, CARW | Pathfinder – Writing and Career Services  | @dawnrasmussen  
In the coming year, résumés will continue to evolve into even more lean, value-driven documents that more closely align the job seeker's value towards employer needs.  The "slimming" (not dumbing) down of career documents will be even more necessary as the job market rebounds and more people jump ship for new jobs and the long-term unemployed that gave up their searches re-enter the marketplace. The result?  More choices for human resource and hiring managers as well as recruiters which equates to more competition for their attention. The 6 second résumé scan may well degenerate into 3 seconds – if you can't immediately connect the dots with your résumé within that ever-shrinking window, you've lost an opportunity.  Job seekers looking to get a leg up and are tired of muddling through trying to write their own résumés will likely start seeking out professional writing services as a shortcut to accelerating their results. The résumé will also no longer be seen as the first part of a job search but rather, the follow-up collateral sent after networking contacts are made.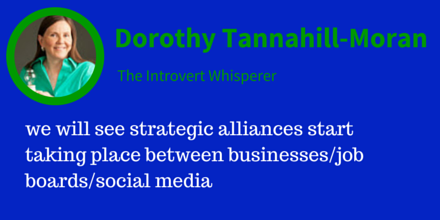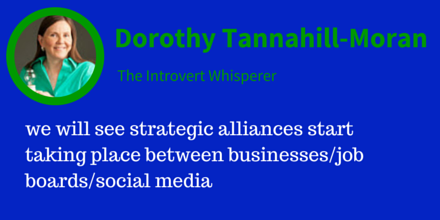 Dorothy Tannahill-Moran | The Introvert Whisperer | @IntrovertLeader
I believe we can expect a greater amount of integration between Social Media – LinkedIn to be specific and Job Boards/postings.  As a means of continuously sourcing candidates and cutting down on the time from posting to hire, I think we will see strategic alliances start taking place between businesses/job boards/social media.  The sky is the limit in terms of all of the implications about how you would set up your profile but it could start really making companies pay closer attention to retention programs for good employees if they new their best was continuously "on the market"!!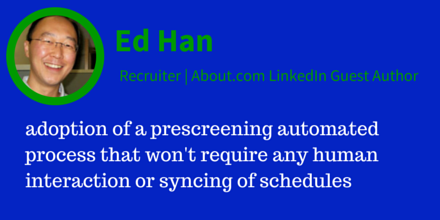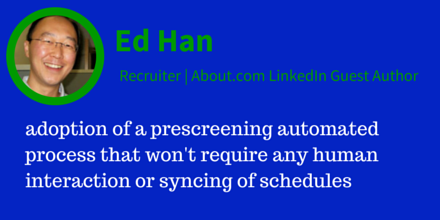 Ed Han | About.com  LinkedIn Guest Author | @ed_han
We'll see greater adoption for mobile in ATS among employers for candidates. Right now this isn't very well or widely supported on career sites, as far as I can tell.
I also believe we will see adoption of a pre-screening automated process that won't require any human interaction or syncing of schedules: just an auto reply email from the ATS with a link to a survey to prequalify candidates for scheduling a phone screen. It really wouldn't require much more than SurveyMonkey functionality.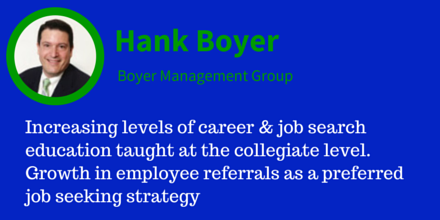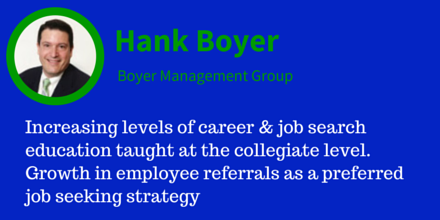 Hank Boyer | Boyer Management Group | @boyermgmtgroup
Increasing Levels of Career & Job Search Education Taught at the Collegiate Level. As a result of the US Gainful Employment regulations and reporting that now affect a larger percentage of US institutions of higher ed, 2015 will see increased emphasis on career search education as a graduation requirement for students participating in undergraduate degree and certificate programs.  Traditionally higher ed has supported career and job search education through its career services staff, with an occasional course dedicated to career exploration and workplace professionalism, which made career education largely student-driven.  Schools that chose to take a more aggressive approach (such as Wake Forest and Virginia College) did so and were able to attract and retain greater enrollment, given employment as the Number One reason for students to attend a specific institution.  A continuing belief by employers in general that college grads are not prepared to enter the workplace will also add to the argument for more curriculum devoted to job search education in 2015. I've previously written on these topics in September 2012 and April 2013.
Growth in Employee Referrals as a Preferred Job Seeking Strategy.  Three trends are converging that will make referrals a top search strategy in 2015.  First, job seekers – from students and recent grads, to experienced professionals and skilled workers –  are recognizing that the best jobs, and certainly a significant percentage of them, are being filled through employee referrals. Simply put, referrals are the Number One source of hire today.  Second, the so-called hidden job market (perhaps 1/3 to 2/3 of all positions hired in the US) will continue to account for the largest percentage job openings.   Third, social networking continues to accelerate as a must-do job search and professional development activity.  There are unprecedented numbers of social media participants, with popular platforms adding more and more functionality to aid job search.  The convergence of these three trends will make for intentional referrals as a job seeking strategy, as was shared recently in this LinkedIn post.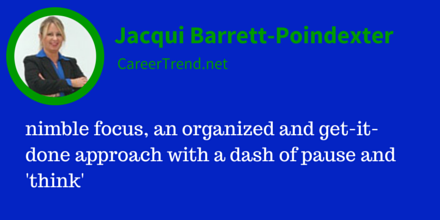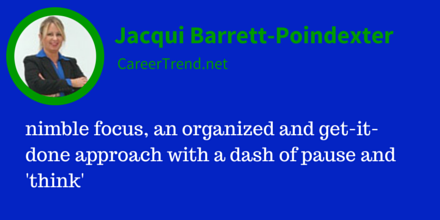 Jacqui Barrett-Poindexter, MRWand CEIP,  Founder/Partner | CareerTrend.net | @ValueIntoWords
 I think the future of job search trends involves nimble focus, an organized and get-it-done approach with a dash of pause and 'think.' This is more so than in the past because our focus is more challenged than ever before with the continuing waves of digital media innovation.
Why it is important to pay attention to …
I think this is something to pay attention to because without these behaviors (nimbleness, focus, organization, action-orientation that drives to an end result, and concerted efforts to 'stop and think'), many careerists will either fall through the cracks or feel unneeded stress and accrue delays that stall career progress and satisfaction.
What a job seeker might do to take advantage of the trend …
This means you must immerse yourself more (than you may be accustomed to, or comfortable with) in the technology and strategy of job search and then create and act upon a meaningful plan (really executing upon that plan, with blinders on). In other words, technology — including job search applications and the hardware to deploy them — will continue to pepper the retail and job seekers' marketplace, but for a job seeker really to be successful, you must pick/choose what technology to employ, then make a clear plan and execute. All the while, you must be able and willing to adjust your sails to navigate the storms you WILL encounter along the way.
In other words, the future will be very similar to what's been happening since the explosion of the Internet and technology/digital innovation, but on steroids, because we keep getting inundated with more, versus less. So, in order to be successful and to take advantage of these popcorn-ing trends, the job seeker must regularly be in-the-moment of achieving results. Make a plan, start executing on that plan as promptly as possible, but realize you will most likely be tweaking that plan as you go versus following it rigorously and without bending. Prepare to be flexible!
Further drill-down methods to take advantage of the trend (specific steps you can take) …
Build your resume story end to end; make this a priority, whether doing it in phases in conjunction with other job search efforts or as a standalone initiative. A resume is more than an old-school data dump; it now is a robust overview of the who/what/where/when/why/how, and it must answer the so-what to the reader. And the kicker is, that's not even enough. It must also be appealing in its language and context in a way that lifts your story up like cream to the top of the candidacy pool. This is a je ne sais quois that is difficult to explain in a brief article, but it is 'more' than most job seekers dream of when first dipping their toes in the job search waters, and it has a ripple effect throughout the entire search and career process.
Write out your logistics versus just pie in the sky, seat of your pants job search dreaming. To really get to your passion – whether that is a job that you love or a job that gets you to live the life you love — you must be willing to articulate your value proposition (using your newly shaped resume story as fuel) and engage in conversations via social media channels. Use parts and pieces of the stories you uncovered for your resume to create a LinkedIn, Twitter, Google+ and more social profiles. Be present. Be found. Offer value. Read/learn/practice, even stub your virtual toes from time to time as you create a more fit and value-laden public presence.
And if you don't feel you have time to understand the nuts and bolts of the new trends, processes and the search 'dance,' hire someone to teach you the steps or recruit a savvy friend, colleague or mentor to instruct. But just do it.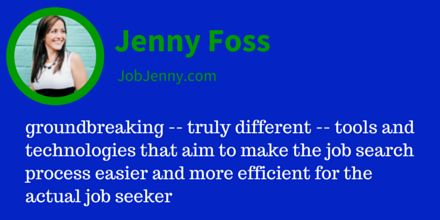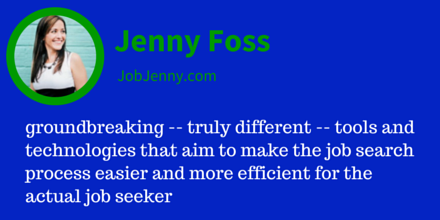 Jenny Foss, Career Strategist | JobJenny.com  | @JobJenny
For several years, we've seen all kinds of technologies and tools emerged that are designed to make the job search process easier and more efficient for prospective employers. Applicant tracking systems would be a prime example of this. But until recently, we haven't seen much in the way of groundbreaking — truly different — tools and technologies that aim to make the job search process easier and more efficient for the actual job seeker. And that's been a huge bummer for job seekers.
I'm beginning to see interesting and promising signs that this will change — possibly quickly — in the coming few years. Tech companies, startups and other innovators are discovering ways to simplify, streamline and improve things for those of us who are doing the navigating (and figuring out ways to monetize the offering, which I'm guessing has been challenging and the reason we haven't seen more rapid advances in this category.)
Examples of technologies that are emerging to benefit the job seeker… A couple coming to mind are that new app Switch (switchapp.com) and (an obvious one) Bright, which is now a part of LinkedIn. I just learned of an interesting one called Wisewords as well.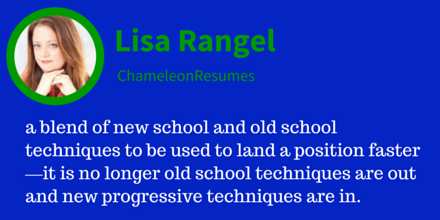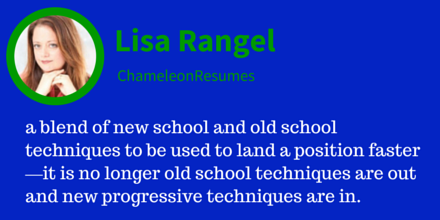 Lisa Rangel | ChameleonResumes | @LisaRangel
"The trend I see is a blend of new school and old school techniques to be used to land a position faster—it is no longer old school techniques are out and new progressive techniques are in. It is truly a combination of the two that are most effective for job seekers. For instance, you might use a mobile app/contact management program to determine that someone you know and want to network with is in your physical location and you use the app to reach out in an impromptu fashion (new school), but then you will meet face-to-face and have conversations to help each other (old school). Another example is, you might research attendee lists from conferences (old school) to find target hiring managers relevant to your search and reach out to the person over twitter (new school) to set up an online chat to discover how you might add value to his/her initiatives.  Lastly, one might use a resume-building process (old school) to fortify a robust LinkedIn profile or Infographic resume (new school) to have both traditional and progressive representation to cover all bases needed throughout a job search."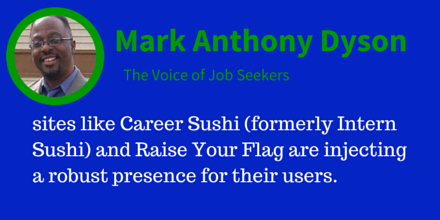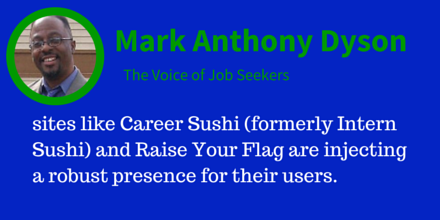 I like the trend that sites like Career Sushi (formerly Intern Sushi) and Raise Your Flag are injecting a robust presence for their users. They commonly boast a visual presence in catching the readers attention without begging you to upload your resume.
Career Sushi houses millenial profiles as a one-stop multimedia profile like LinkedIn but more "in your face." Raise your flag targets millenials who have stopped or decided college is not his or her route. In both cases, employers will be attracted to this approach and will want in. More niche sites like this will not only find their way to a tribe, but also will cast smaller nets to capture their avatar clients.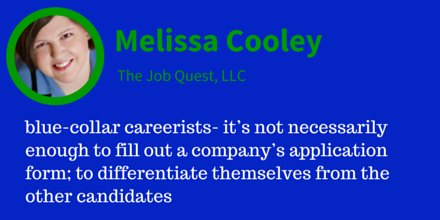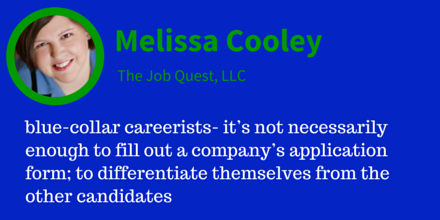 Melissa Cooley | The Job Quest, LLC   | @TheJobQuest
One trend that I am seeing is the use of résumés by blue-collar careerists. It's not necessarily enough to fill out a company's application form; to differentiate themselves from the other candidates, job seekers are including résumés that demonstrate the value they have added to past employers. This is important for folks in these sectors to pay attention to because the long-standing belief has been that simply being able to perform the job is enough. As this continues to become more common, it will be important for them to pay attention to how they have made a difference to their companies and how they have used their soft and technical skills to maximize the impact they have had.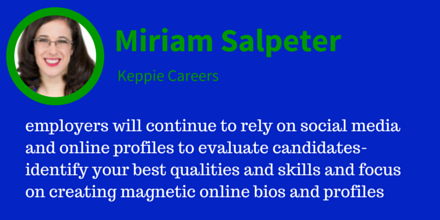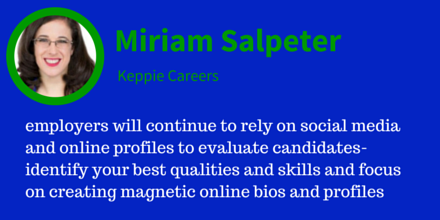 Miriam Salpeter, Social Media Strategist |  Keppie Careers | @Keppie_Careers
Data suggest employers will continue to rely on social media and online profiles to evaluate candidates. While this is not a new trend, as more job seekers become savvy about leveraging social media tools, candidates will need to do more to stand out in a competitive market. I suggest taking time to identify your best qualities and skills and focus on creating magnetic online bios and profiles detailing how you are uniquely qualified to address employers' needs. Once a targeted profile is in place, job seekers should identify and connect with influencers in their industry via any available means, such as LinkedIn groups, Twitter chats, Google+ hangouts or Facebook groups. Build relationships by sharing insights, commenting on other updates and answering questions in order to stand out.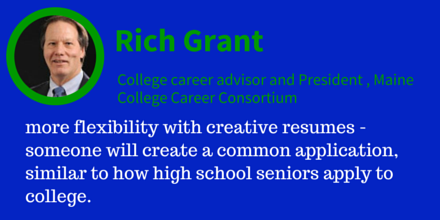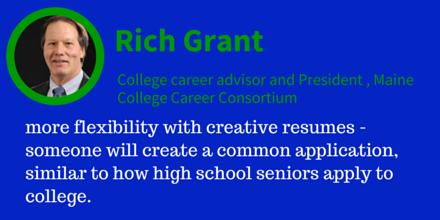 Rich Grant, College career advisor and President, Maine College Career Consortium | @RichCareer
I believe there will be more flexibility with creative resumes, such as infographics or other nicely designed resumes, maybe even with (gasp!) a professional headshot. With photos on LinkedIn, why not on resumes?  I think that job seekers will use video, but I don't really see it as a resume per se. I would see video more as a "cover letter" or an introductory piece.
Some of what I say here might be wishful thinking, but I believe that ATS will get more sophisticated, so good applicants won't fall into a black hole. I also believe (hope) that someone will create a common application, similar to how high school seniors apply to college. Fill out your info on one website that gets seen by multiple entities.
I think phone and Skype screening will become more and more common. It makes sense for employers to get an initial read on more people.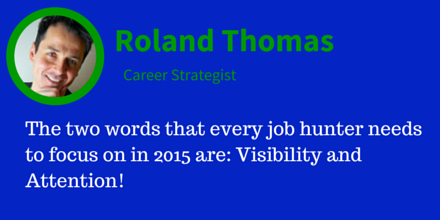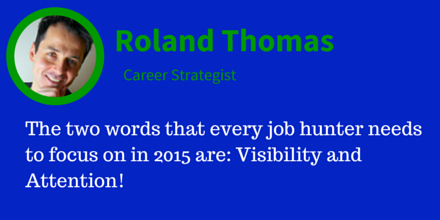 Roland Thomas, Career Strategist | @therolandthomas
The two words that every job hunter needs to focus on in 2015 are: Visibility and Attention! Fighting for the employer's attention and being more visible in the job market has never been more important.
In the near the future, the winners will be those who are able to be very creative about how they apply for each position and represent themselves in the job market by using more visual content during the job search. My tips for visibility are to create a video resume or build an infographic about your career and use different social media platforms like about.me or slideshare to put an authentic voice beside your name.
And what about my predictions? You can see what I wrote on the Undercover Recruiter.
What three things can you do to make the most of this economic uptick? Set your sights on joining or building communities, niche-ing and breaking through the noise to jump start your job search and career in 2015!
What prediction do you have? 

Hannah Morgan speaks and writes about job search and career strategies. She founded CareerSherpa.net to educate professionals on how to maneuver through today's job search process. Hannah was nominated as a LinkedIn Top Voice in Job Search and Careers and is a regular contributor to US News & World Report. She has been quoted by media outlets, including Forbes, USA Today, Money Magazine, Huffington Post, as well as many other publications. She is also author of The Infographic Resume and co-author of Social Networking for Business Success.