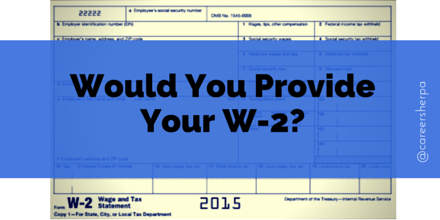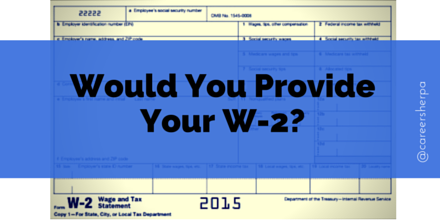 Companies are asking candidates for W-2s. What would you do?
Does a future employer have the "right" to ask to see yours? Sure, of course they can ask, but the real question is should you provide it.
Let's say you've gone through your first round of interviews (you know, 3 to 5 conversations with HR, team members, even the CXO) and now you are asked to provide your W-2. My first reaction, and yours too, is probably, "it's none of their goddamn business!"
As I see it, the W-2 is a government form shared between you, your employer and the IRS. Period.
Twice this week, this scenario played out with people I know so I thought it was worth talking about and getting feedback on.
Scenario One. The candidate relocated to a different, more expensive city/state and was asked for not one, but 4 years of W-2s during the interview process for a sales job.
Scenario Two: The candidate interviewed for a different type of job, in a new industry after recently completing an advanced degree. The new potential employer asked for W-2.
Why Are They Asking For Your W-2
The potential new employer is asking for a W-2 to verify past salary. It is understandable they would want to know how much your previous employer paid you. It helps determine what your value WAS at that company while performing a set of responsibilities.
In short, it provides a benchmark or starting point for future salary negotiations. In theory, this makes sense if the jobs are similar, in the same geographic region, and in the same industry.
Are they asking because they don't trust what you've told them? Perhaps. In positions where your salary is tied to performance, such as sales, your earnings reflect your success- well, maybe.
Is it legal to ask for a W-2?
There don't appear to be any federal laws prohibiting employers asking for W-2s.  What may also be driving this is the fact that more employers are hesitant to provide salary information for past employees.
What Are Your Options
As I see it, you have three options.
1) Provide the W-2
If you provide the W-2, this reveals your past earnings.
If you worked in an industry or company that notoriously low-balled salaries or you weren't paid appropriately for the job you were doing, providing your W-2 is going to limit your ability to make a significant jump in salary
2) Don't provide the W-2
If you don't deliver your W-2, you come across as difficult or non-compliant and run the risk of eliminating yourself as a candidate.
3) Dance around the topic and give them what you can
Your final option is to explain why your W-2 may not be a true reflection of your value based on the different or advanced job responsibilities you performed and weren't appropriately compensated for, the difference in your previous city's cost of living, or your own research (from multiple sources) on what the going rate for your past job should have been.
My Gripe
Employers still have the upper-hand in negotiating salaries. Of course, candidates can always walk away from the offer, and should if they feel unduly taken-advantage of. But asking for a W-2 seems like an invasion of privacy, lack of trust, and puts the candidate in a very vulnerable position.
A Solution
Companies like Buffer and Whole Foods are already tackling salary inequality by making salaries transparent. And Gravity Payments plans to pay all employees $70,000 a year. This may sound crazy to a lot of business owners and HR professionals, but there could be great advantages to this as well!
Would you agree, something needs to be done to level the playing field between companies and employees?

Hannah Morgan speaks and writes about job search and career strategies. She founded CareerSherpa.net to educate professionals on how to maneuver through today's job search process. Hannah was nominated as a LinkedIn Top Voice in Job Search and Careers and is a regular contributor to US News & World Report. She has been quoted by media outlets, including Forbes, USA Today, Money Magazine, Huffington Post, as well as many other publications. She is also author of The Infographic Resume and co-author of Social Networking for Business Success.