Every recruiter, HR rep and hiring manager wants to know the answer to this question…"why did you leave your job?" Be prepared to answer it for each and every job on your resume.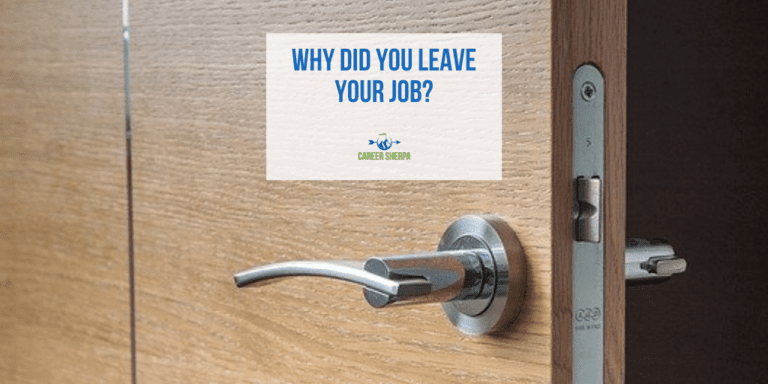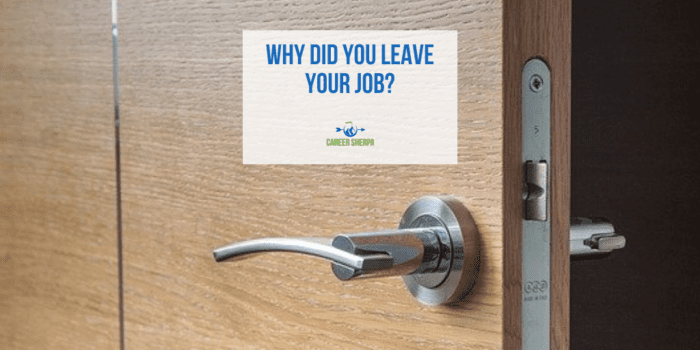 "Why did you leave your job?" is a fairly common interview question and it is also on every job application too. So you have to know how to answer it without damaging your chances.
Why Do They Ask This Question?
Sometimes, the reason employers ask this question is to hear what your response will be – will it be positive, will you be bitter or resentful, will you blame other people?
The employer may want to see if you have learned any lessons from your work history. Do you continue to make the same mistakes? Has managing stress been a recurring issue, or have you repeatedly disagreed with past management? Do not draw attention to any of these things in your answer to why you left a job.
Your answer helps the employer understand you, your motiviation, how you handle stressful situations, and they are looking for any red flags that may eliminate you. (Anger, negativity, bitterness, problems, issues) They may not be as focused on the words you use, but the emotions you connect with the experience.
Sometimes, they want to know what motivated you to leave or look for a new job. 
No matter what the logic is for asking "why did you leave your job?", your answer impacts the next steps. Let me give you an example.
Candidate A
Candidate A was part of a company-wide downsizing.  When asked in the job interview why he left, Candidate A gives a long, detailed explanation. He blames bad corporate strategy and the history leading up to the company's decision to layoff employees. 
But wait, Candidate A goes on further and talks about no matter how hard he worked, he could never please his immediate supervisor. 
Wait, there is still more. Candidate A also confesses that some of his technical skills and industry knowledge might not have been up to date. Yikes.  Too much information.
What the interviewer hears are all sorts of reasons NOT to bring Candidate A in for another interview. There is emotional baggage not to mention a deficiency in skills.
Candidate B
Candidate B was part of a company wide downsizing too.  Her answer to the question went something like this.
"XYZ company had unfortunately lost some of their key accounts and as a result had to eliminate positions.  All but two people in my department were let go."
Candidate B doesn't provide too much information.  She states the facts. She landed the job too!
Your Work History Speaks to Your Emotional Intelligence
Your next employer wants to know why you left previous jobs, but what they are really assessing is how self aware you are, how you handle your emotions on the job and if you are ready to start a new work relationship.  
Keep Your Answer Short
The best advice is to keep your answer short and concise. Rather than go into the gory details leading to your departure from the company, just stick to the facts. And don't provide any information that may eliminate you from the job you are interviewing for.
Practice Your Answer
Answering how you answer "why did you leave your job" requires some practice. Your first attempt will most likely not be the best.
Try to craft your answer on paper by using bullet points for the key point(s) you want to make. You don't want to sound like you have memorized your answer (or sound rote). You want to sound confident. 
We all know that companies make bad decisions, but you have nothing to gain by pointing out their flaws, errors, problems, or "issues." Negative, emotionally-charged answers will always work against the candidate. Always.
If you have emotional baggage connected to the "unfair or unjust" termination, then you might need to work on that first because it WILL come out during the interview.
Never Cast Blame
It's been said that employees don't leave companies, they leave managers. Therefore, the odds are pretty good that you and your supervisor had a falling out or didn't see eye to eye.
However, never, ever bad-mouth a manager or a company. While it may be true you were mistreated or your manager's behavior was unethical or perhaps even illegal; never cast blame.
This is not the time to bring it up. Focus your answer on the actions you took, such as:
"I chose to leave the company to pursue new, more rewarding experiences."
Honest vs. Truthful
There's a subtle difference between being honest and truthful. Often, job seekers say they feel the need to confess the whole truth and nothing but the truth, but can a full confession work against you?
In a court, a lawyer would probably recommend you provide only the information requested. A simple truthful answer is "my position was eliminated." But don't stop there.
Never Leave Them Guessing
If you don't provide enough details about why you left your job, the interviewer may feel you are hiding something and probe further. While short and sweet is a good strategy, don't leave them guessing.
One way to do this is by putting a positive spin to your response.
Adding to your answer gives you the opportunity to redirect the conversation and shows the interviewer that you've reflected upon your departure from your last employer.
"My position was eliminated. However, what this has enabled me to do is to seek a role where I can use my project management talent to help a nonprofit increase membership and raise more money. This would be an ideal opportunity." 
Don't Focus On The REAL Reason
Laid off, let go, fired, terminated, downsizing, rightsizing, too old, too expensive. There are thousands of reasons why people are let go from their jobs. Sometimes you won't be given any reason at all. 
But what a future employer is assessing is whether you're a good employee, can you do the job and will you do the job. 
Choose the best answer for your unique situation and know that you don't have to confess the 100% honest truth.
This works in almost EVERY situation
"My position was eliminated, but this has given me the opportunity to find an opportunity where I can [choose why you are excited to be interviewing with this company (use my X skills), (thrive and help my team succeed), (work collaboratively with smart people), etc.]"
If you were laid off along with many others in a downsizing, it is enough to say:
"XYZ company had a large reduction in force and my entire department was let go."
Some Jobs Just End
Contract work almost always has an end date. There is nothing to be embarrassed about or worry about, as long as you make the situation clear to the interviewer. Be sure to let the interviewer know the job was for a contracted period of time or that the company had a reduction in force.
Believe In Your Answer
To sound convincing your answer needs to convey confidence. This is easier to do if you have practiced your answer out loud and tested it on respected colleagues. Sit up straight, look the interviewer straight in the eyes and confidently provide your answer.
The bottom line:
As straightforward as this question sounds, the employer interviewing you is "listening between the lines" for potential reasons not to hire you. Be ready to answer "why did you leave your job."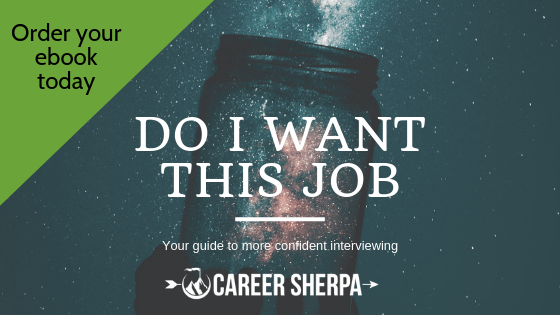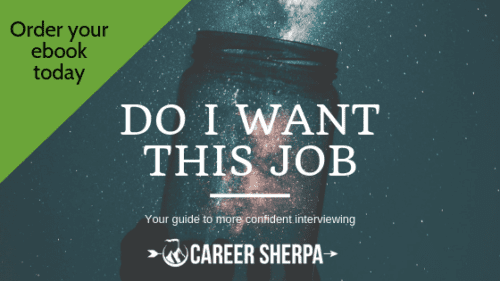 Need more help preparing for job interviews?
Do I Want This Job ebook will help you interview more confidently!

Hannah Morgan speaks and writes about job search and career strategies. She founded CareerSherpa.net to educate professionals on how to maneuver through today's job search process. Hannah was nominated as a LinkedIn Top Voice in Job Search and Careers and is a regular contributor to US News & World Report. She has been quoted by media outlets, including Forbes, USA Today, Money Magazine, Huffington Post, as well as many other publications. She is also author of The Infographic Resume and co-author of Social Networking for Business Success.