What is the biggest mistake job seekers make? Here's what job search experts say are common mistakes to avoid during job search.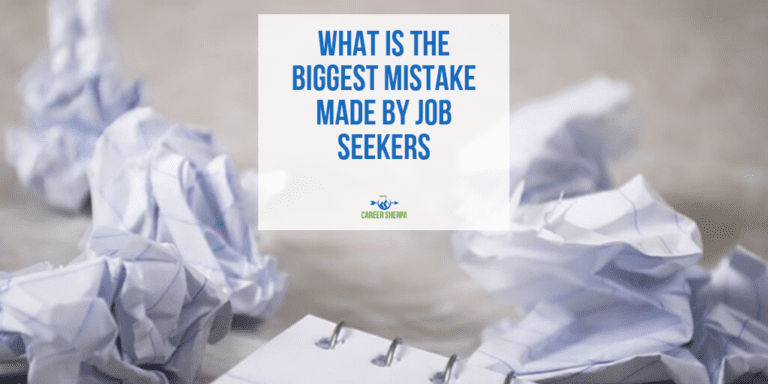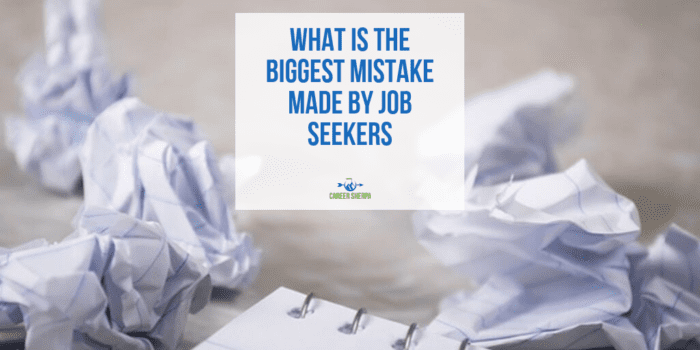 The response we got was more than we could have hoped for or expected when we asked our colleagues:
"What are the biggest mistakes you see job seekers make?"
These career coaches, resume writers, recruiters and HR professionals all want to help make your job search easier!
Thank you to today's experts/colleagues/friends for their contributions! We've included links to their Twitter accounts and websites! Please be sure to add them all to your "must-read" resources!
My hope is, as you read these mistakes, that you'll be objective and ask yourself if you might be making any of these mistakes (unknowingly).
You'll find two major themes in the answers provided in this post:
communication (saying the wrong things)
lack of focus and a plan.
7 Wrong Things To Say During Job Search
You've heard the saying, "Kids say the darnedest things". Yep, adults in job search do too! These are the mistakes our job search experts have heard or experienced.
Recruiters complain that job seekers who are not organized sound like they are indifferent, or uninterested, in something they have applied to weeks or months earlier.  You must be organized.  ~ Jason Alba, @JasonAlba, Jibber Jobber
Sometimes, job seekers do not ask for the job at the end of the interview, they do not ask about the next step in the interview process, and they forget to gather interviewer names and contact information for future conversations. ~ Dawn Bugni, @DawnBugni, The Write Solution
Job seekers don't do the necessary research.  In the technology age, we have the information at our fingertips.  Doing a little research on the company's history, brands, values and corporate culture can help you decide whether or not you're a fit AND prepare you for the career fair or interview.  You'd be surprised at how many people have no idea what the company does.  Don't ask, "what do you do?"  Instead, focus on how your strengths will add value to the company! ~ Kirk Baumann, @kbaumann, Campus to Career
Not returning calls or replying to messages from prospective employers. Just as you hope for a reply from every recruiter, so should you reply to everyone who contacts you about work opportunities, even if it's only to say "no thanks". ~ Jacob Share, @JacobShare, JobMob
Simply asking people if they know of appropriate job openings is not networking! It creates awkward silence since people are not walking job boards. Instead, asking who else they know that would be a worthwhile contact for you is generally much more productive. ~ Harry Urschel, @HarryUrschel, e-Executives
Many job seekers are not specific in what they need help with during a job search; saying "I need a job, any job" is too vague. Instead, tell your network you are trying to find the name of the person who does _________ at _______company, and you'll have much better luck with people being able to help you. ~ Dawn Rasmussen, @DawnRasmussen, Pathfinder Writing and Career Services
Job seekers don't let the company fall in love with them before they start talking about "me" issues. They should focus on getting the job first. Then focus on the benefits and perks. Not only will it help in getting the job but it helps with negotiations.  ~ Sharlyn Lauby, @HRBartender, HR Bartender 
Job Seekers Lack Focus & Planning
Having a clear focus and plan will help set you apart from the other job seekers! 
Most job seekers do not establish clear and tangible job search objectives. They leave their network with no clear idea of how they can help. ~ Tim Tyrell-Smith, @TimsStrategy,  Tim's Strategy
Jobseekers don't create a project plan for managing their job search, with specific targets and metrics for each week. Some job search activities come easier than others, and without having targets and metrics for all activities, job seekers tend to focus on the ones that come easily to them. Confident networkers spend all their time networking but not researching companies. Introverts spend too much time looking at job boards and not stretching out of their comfort zone to network. An effective job search requires time spent on research, networking, follow-up, telephone calls, personal brand management, and so on. Without a plan, some of these activities will fall through the cracks.  ~ Karen Siwak, @resumestrategy, Resume Confidential
The reality is, that transitioning (job searching) will most likely be the new normal and you'll have to continue to stay up to date.
Go here to catch Miriam's collection of job seeker mistakes as identified by some of the best minds in the world of job search.

Hannah Morgan speaks and writes about job search and career strategies. She founded CareerSherpa.net to educate professionals on how to maneuver through today's job search process. Hannah was nominated as a LinkedIn Top Voice in Job Search and Careers and is a regular contributor to US News & World Report. She has been quoted by media outlets, including Forbes, USA Today, Money Magazine, Huffington Post, as well as many other publications. She is also author of The Infographic Resume and co-author of Social Networking for Business Success.