We all have a reputation. People recognize our strengths inside and outside of the workplace. But it is truly up to us to manage our reputation and it is never too early to start.
How does one begin to define what you want to be known for? It starts by asking those tough to answer questions.
What are you great at doing?
Some examples might include:
Solving complex problems as they relate to managing the financial operations of a company
Researching solutions for how to promote and market the business
Leading and inspiring people to get the job done while not afraid of getting your hands dirty
Who needs to know this?  Internally and externally?
It is up to you to make sure that the right people inside your organization and outside know this about you. Internally, do you have a way to communicate this to those above you? There are many ways to do this and it all starts with knowing what you want to communicate. Externally, how will you prove your value and reputation? Aaah and this is the true focus of this post.
The internet is powerful and there are many tools today to help distribute your message. So let's assess where you are today with your online presence and where you want to be in 3-6 months from now.
Taking it Online
With what frequency do you participate online?  Casual can mean once a year or once a month, generally without regularity. Consistent could be once a week or once a day, but you can be relied upon to be there.
When you are online, do you just watch, lurk, listen or do you participate, respond, reply, comment? There's nothing wrong with watching from the sidelines to get started and figure out the rules of the game and figure out who's who, but, if you don't play, you miss out on the fun.
Do you want to be creating your own content or do you want to share the work of others? Or do you want to do both?
Will you focus on a niche or very specific reader/industry/area or will you be broader in the scope of the content you share?
Evaluate where you are now and where you want to be in 3 months. Klout was a free tool that measured your overall online influence based on your activity online (primarily Twitter and Facebook). I've adapted the image below based on their measurement criteria.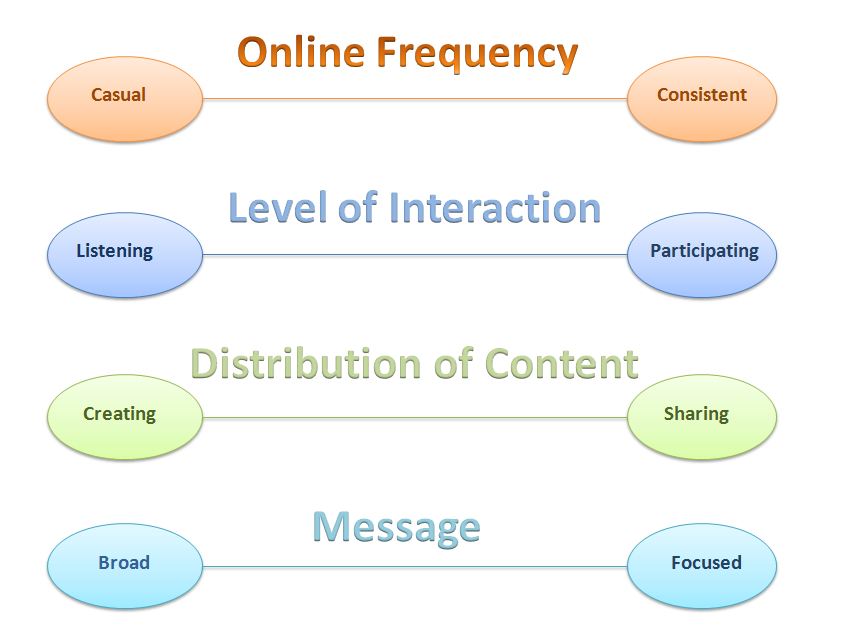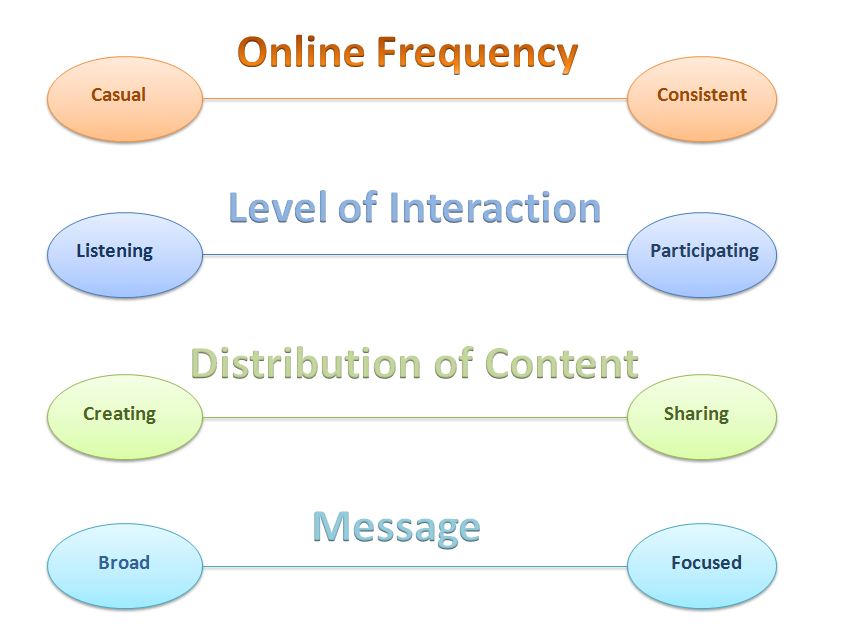 Hannah Morgan speaks and writes about job search and career strategies. She founded CareerSherpa.net to educate professionals on how to maneuver through today's job search process. Hannah was nominated as a LinkedIn Top Voice in Job Search and Careers and is a regular contributor to US News & World Report. She has been quoted by media outlets, including Forbes, USA Today, Money Magazine, Huffington Post, as well as many other publications. She is also author of The Infographic Resume and co-author of Social Networking for Business Success.