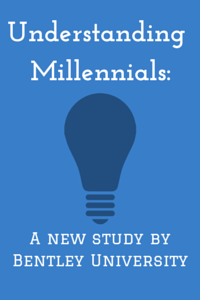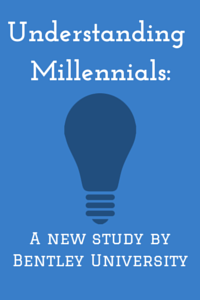 Millennials often get a bad rap for being tech-obsessed, having an entitlement mind-set and poor work ethic. And while some of this might be true, there are other things you need to understand and appreciate about this generation of 18-34 year olds.
You will work with Millennials who are projected to make up 75 percent of the workforce by 2025. In fact, you are working with them right now. How well do you understand Millennials?
The PreparedU Project's Report on Millennial Minds
Bentley University commissioned a study in 2014 of over 1,000 Millennials to find out what they want out of their career and about their own preparedness for professional life. (This study was a follow-up to the first survey of business leaders, recruiters, and educators on their perception of Millennials' preparedness.) Here is a summary of the findings from surveying Millennials:
51% of millennials say they would rather communicate with a colleague in person
77% say flexible hours would make the workplace more productive for people their age
96% say great healthcare benefits would be the most important factor when choosing between two otherwise equal jobs
80% of millennials believe they'll work for four or fewer companies in their career
79% expect a pay raise every year
66% of millennials would like to start their own business
50% of millennials say the main reason people their age are unprepared for their first job is a poor work ethic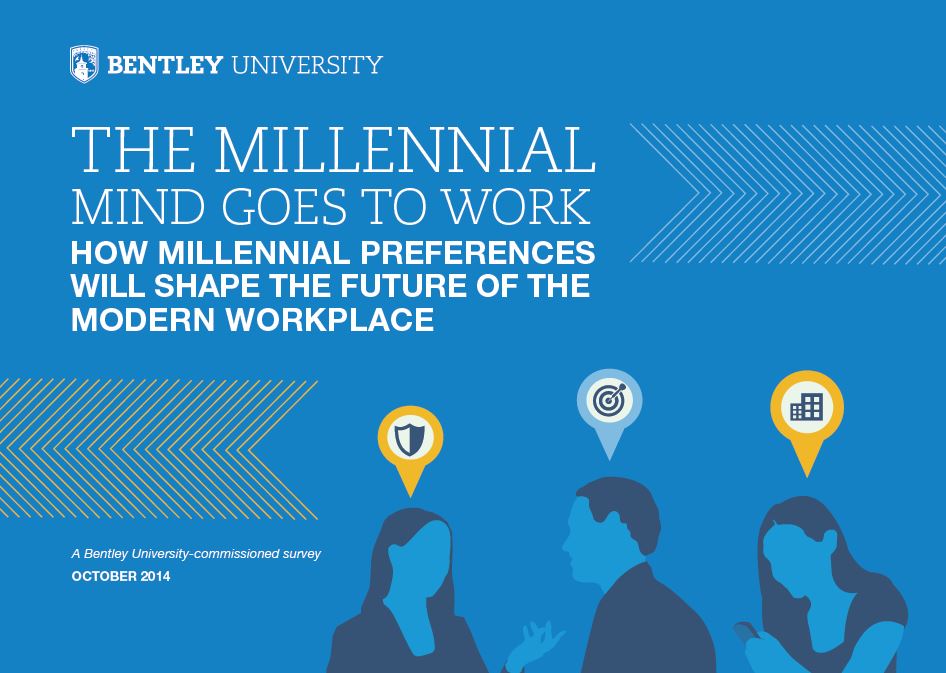 What Does All This Mean?
Greater flexibility in working hours, healthcare benefits, pay raises, job stability… what does this all mean? Bentley professors and administrators decipher the findings in the report, but here are four things I think we should ponder and discuss.
Millennials Speak Out
It means they are not marching to the drum of business-as-usual. This generation seems to be saying they want more. Maybe it is idealistic, but maybe Millennials are savvier than previous generations. Maybe they are speaking out on the same things every previous generation really wanted too, but just didn't think we could ask for. Who doesn't want a raise every year and good healthcare benefits?
Feed Them Praise
In-person communication is important to Millennials, despite their reliance on technology. Ian Cross, director of Bentley's Center for Marketing Technology, says that "millennials like praise, and they want clear direction as to what a manager may be asking of them," especially early in their career. This could explain the desire to speak to a colleague in person.
Independence and Entrepreneurship
Millennials aren't so interested in climbing the corporate ladder (which, by the way, has fallen). The study found 66% of millennials are interested in starting their own business and 37% would like to work on their own. Only 13% said they'd like to be a CEO or
company president.  Naive? Overly ambitious? Perhaps, but it should send a message. Millennials seem to want to be affiliated with something they create, not something other people create. This independent thinking could help spur more job growth down the road. The trick will be preparing them with the business acumen to build these new companies.
Poor Work Ethic Is A Problem
Even Millennials agree that what holds them back is poor work ethic. But what constitutes work ethic? Tricky question. Work ethic is a complex set of behaviours and beliefs. It can be defined in many different ways. How do companies measure work ethic anyway?  What can we do to help Millennials improve their work ethic? This needs further definition and exploration for sure.
Infographic
Bentley University provided this infographic to help understand the study's findings!
The Bentley study concludes with:
As the millennial generation continues to join the nation's working ranks and soon comes to dominate them, it is critical for leaders in higher education and business to work together in creating an environment where millennials can thrive and ultimately succeed. The future of our economy depends on it.
Share your thoughts, ideas and comments!


Hannah Morgan speaks and writes about job search and career strategies. She founded CareerSherpa.net to educate professionals on how to maneuver through today's job search process. Hannah was nominated as a LinkedIn Top Voice in Job Search and Careers and is a regular contributor to US News & World Report. She has been quoted by media outlets, including Forbes, USA Today, Money Magazine, Huffington Post, as well as many other publications. She is also author of The Infographic Resume and co-author of Social Networking for Business Success.