Is sending a thank you email after a job interview required? No.
However, sending one will absolutely help you stand out or be remembered.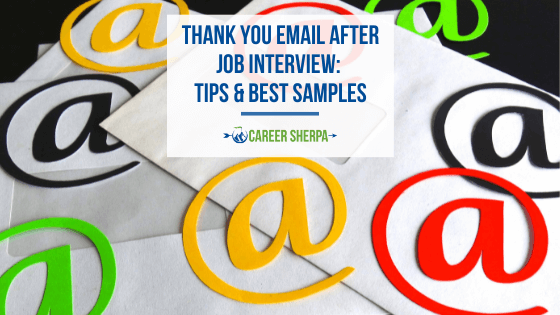 In order to construct a thank you message that is meaningful and professional, you'll want to follow some basic guidelines and see some examples. That's what you'll find in this guide.
Table of contents
Why You Should Send One
A thank you email after an interview makes a positive impression on hiring decision makers. Here's data to help you understand just how much a thank you note means.
68% of recruiters/hiring managers say a thank you email after the interview matters (Talent Inc.)
And there's another reason to write a thank you after your interview. It's the polite thing to do.
Sending someone a thank you may not be a normal activity for you, but the interviewer did invest their time to meet with you and that is worthy of saying thanks. You are being polite and showing respect.
And there's one final reason to send a thank you. Your note provides you with one more opportunity, perhaps the last one, to remind the interviewer that you are very interested in the job and are indeed the right candidate.
Here are three points you want to address in the thank you letter you send after your interview:
Your interest in the role
Your fit with the company
The value you will deliver if hired
Additionally, sending a thank you helps make you memorable. Believe it or not, very few candidates send them!
When an organization interviews lots of people, it is very easy for them to mix candidates up or forget specifics. Your thank you helps remind them who you are!
How To Write A Thank You Email
As you craft your thank you email or note, keep in mind your format, formality of the language you use, and also summarize your key points concisely. You want to come across as professional, and following the recommendations below will help you accomplish this.
Format
Either use a business letter format (examples below) or if you are using email, be sure to include a meaningful subject line. You'll also want to include an email signature that has your contact information. Use appropriate spacing between paragraphs and use a professional font style with black text. 
Greeting/Salutation
"Dear", "Hello", and "Hi" are ways of starting your thank you email. But which do you use? You probably wore a more formal outfit to your interview, so when you address the thank you it's best to keep it formal as well. "Dear" is more formal than "hello". And "hi" is too casual for a thank you email.
Next, you probably wonder if you should use the person's first name or should you use Mr./Ms. Last name? This is a bit trickier. While you want to show respect, you also have started to build a relationship.
Think back to the interview. How did the interviewer introduce themselves? Did they use their first and last name? That's one sign you could use it in your thank you. If the person you are interviewing with is very senior in the organization, you may also want to use the more formal Mr./Mrs Last Name.
Another option you could try is referring to them by their full name. This option is gender neutral and may be a more appropriate way to address your interviewer.
Content
Your post interview thank you email doesn't need to be long. In fact, three paragraphs are all you need. Here's what to put into each section and capture the attention of the reader, your interviewer.
Paragraph 1: The first paragraph should clearly explain why you are writing. And in this case, you are writing to say thank you for the job interview and the interviewer's time.
Paragraph 2: This section of your thank you explains how your specific skills are a match for the job. Using the information you gained from the interview, address several (3-5) of the top qualifications you match.
Consider including why each matching qualification will benefit the company or why you feel a qualification will be of value.
This might also be an opportunity to address any of your areas of weakness during the interview or to improve upon an answer you gave during the interview.
Paragraph 3: The final paragraph emphasizes your gratitude for the interview and opportunity to learn more about the role and organization. Add a final sentence that includes exactly when you will follow up based on the question and answer you got during the interview.
Email vs. Hard Copy
Deciding whether to email your thank you note or send a hard copy thank you letter through the mail isn't about which is easier for you. It's about the impression it will make on the recruiter or hiring manager. Keep in mind that email messages are shorter and considered a bit less formal. It's also easy to delete an email message, meaning it doesn't have the same tangible impact as a hard copy letter.
Another factor to consider when deciding to send your thank you through email or through regular mail is when the company plans to make a decision. (You should ask this question during the interview so you know when to follow up.) If the employer says they'll be making a decision within a day or so, emailing your thank you after the interview is the better option.
Sometimes candidates want to do both. And if you feel like that covers your bases, go for it.
Sending an email immediately following the interview checks the box for getting it done. Go ahead and send a short, well-crafted email thanking the interviewer(s) for their time and indicate that you have mailed them a letter as well.
Just remember, if you do decide to send both, your thank you letter sent through the mail shouldn't be exactly the same as the one you emailed.
Additional Tips & Advice
You can find lots of advice on how to write a thank you email after your interview, but it's important to remember that not all the advice will apply to you. However there is one rule everyone should follow…send it within 24 hours.
You'll find additional recommendations and tips to help you make the best decisions for sending a thank you based on your interview situation.
Everyone Gets A Thank You
Each person you interviewed with should receive a separate thank you email afterward. That's why it's important for you to ask each person for a business card either at the beginning or at the end of the interview.
If you realize you forgot to get their contact information, reach out to your point of contact at the company and ask for the information so you can send a proper thank-you note.
But never send a group "thank you" to everyone who interviewed you. Recall a specific question they asked or customize your message. For example, if you will be working at a peer level, your message might address how you look forward to working alongside them.
As uncommon as it sounds, the people who interviewed you may compare messages.
Send It Within 24 Hours
The best time to send your interview thank you email is while the whole event is still fresh in everyone's mind.
Sending an email within 24 hours allows you to refresh the interviewer's memory and remind them of your strengths.
A more tangible reminder would be to send a slightly modified typed or written note through the mail which means that the interviewer would receive it 2-5 days later.
Sending one or both is fine. But you do need to send it quickly while the company is still considering your candidacy!
Virtual and Phone Interviews Still Deserve A Thank You
Since so many interviews are taking place virtually (either on the phone or on video) you should know that a thank you email is still required. The interviewer still spent time explaining the role, their company and answering your questions.
Sending an email is probably the best way to ensure they see your thank you, as they may not be going into their office.
Handwritten vs. Typed
If you decide to send a hard copy in addition to your email, many career professionals suggest that it should be handwritten to add a personal touch. If you feel you can adequately convey all this information and have presentable handwriting, go ahead and write your thank you note.
However, few people will judge your candidacy based on your handwriting or the fact that you took the extra effort to handwrite a note. What is most important is the message your thank you contains. The decision to handwrite or type your thank you message is up to you. Use what seems most appropriate for your situation.
Bonus
To ensure your thank you email after the interview makes you look like the most qualified and interested candidate, keep these things in mind:
Check your writing for spelling and grammar errors
Pay special attention to the spelling of the person's name and company name
Use good quality thank you notes or paper if you are sending a hard copy
Customize your message and details for each and every interview and interviewer
Be as specific as possible when it comes to talking about how your skills and qualifications match the job, and why that is of value to the organization
Keep it professional and avoid mentioning personal details
Provide any information requested, such as references or samples of work, as soon as possible but in a separate email from your thank you.
Don't ask about salary, vacations or other benefits in your thank you note. Wait until you have another interview or a job offer before bringing these up if they haven't been discussed already.
Sample Thank You Emails
Personalizing your interview thank you email to address the unique circumstances of each interview is incredibly important. It shows that you were paying attention during the interview and that you are interested in the position with their company.
Here are examples to help you structure your unique follow up after the interview.
Sample #1 – Letter
Date
Name of interviewer
Job Title of interviewer
Company
Street Address
City, State Zip
Dear Ms./Mr. Last Name:
It was wonderful to have the opportunity to speak with you about the [job title] position with [company name], and I thank you. I know how limited a [role of interviewer] time can be, and your timely involvement in the interview process impressed me. After speaking with you, I felt certain that we can develop an effective working relationship.
After reflecting on our discussion, my conclusion is that you are looking for more than just another [job title]; it sounds like you are looking for someone who will pursue opportunities as if it were for their own business. Accountability and autonomy are ingrained in me, and I have the proven experience to back this up. I intend to use not only my dedication in this position but my persistent prospecting and interpersonal skills to convert potential customers into enthusiastic advocates of your service.
If you decide that I should interview with additional team members, I am available at your convenience. Until then, I look forward to the possibility of working with you. I thank you again for taking the time to meet with me.
Sincerely,
Sally Finkel
555.111.2222
sallyfinkel@zmail.com
www.linkin/in/sallyfinkel
Sample #2 – Note
Date of the letter
Dear [Mr./Ms Last Name],
I appreciate your time and the information you shared during our interview on [date] for the [job title] position. I am very interested in this job and in becoming a part of [organization name].
After our conversation, I am even more confident that this is a job I would enjoy, as well as one where I can be successful and make a valuable contribution. My experience as a [occupation/job title] where I [include an accomplishment or work-related process or procedure] would be a strong asset and allow me to have an immediate impact. I am particularly excited about [a particular challenge discussed or responsibility of the job] .
As you continue through the interview process, feel free to contact me If you have any questions. I look forward to hearing from you. Thank you, again, for your time.
Best regards,
[Your full name]
[Your phone number]
[Your email address]
Sample #3 – Email and Hard Copy Combination
Subject line: Thank you for the Project Manager interview
Hello Patricia Smith:
Thank you very much for taking the time to talk with me earlier today. Our conversation about the Project Manager role and ZYT Corps future initiatives was exciting and inspiring.
I feel my previous experience managing similar user experience projects and exceeding customer's expectations would make a valuable impact on the team and to the role. The job sounds exciting, and I think I would be an ideal candidate, thanks to years of experience managing projects with distributed teams.
Thank you again and I look forward to hearing from you after you've completed this week's interviews.
Regards,
Jennifer Jones
444-555-1212
jenniferjones@email.com
www.linkin/in/jennjones
---
Date
Name of interviewer
Job Title of interviewer
Company
Street Address
City, State Zip
Dear Patricia Smith,
Thank you for taking the time to speak with me about the Project Manager position today. As I mentioned in my email, I enjoyed our conversation and learning about some of the key initiatives ZYT Corporation is working on to enhance your users' online experience. Your commitment to your customers is refreshing and inspiring.
The future goals for the project management team fit very well with my background and my experience leading distributed teams. Additionally, in my last role, our team reconfigured our banking app to increase customer satisfaction by 10%. I strongly believe I could draw from my previous experience to make an immediate impact at ZYT.
Thank you again for your time. If there is any information I can provide that will help in your decision making, please feel free to reach out. I look forward to hearing from you about the next steps in the process.
Sincerely,
Jennifer Jones
jenniferjones@email.com
444-555-1212
Follow Up
When (not if) you don't hear from the company after sending your post interview thank you email, expect to follow up. Don't assume you are no longer in the running. There could be many reasons the company has gone silent. If you are truly interested in the job, follow up weekly until you receive a response. Be polite, respectful and understand that the company, recruiter or hiring manager is not purposefully being rude.
Filling a job often takes longer than anyone expects. Be prepared and persistent. But most importantly, always keep your job search active. Don't stop looking for new jobs until you've landed one!

Hannah Morgan speaks and writes about job search and career strategies. She founded CareerSherpa.net to educate professionals on how to maneuver through today's job search process. Hannah was nominated as a LinkedIn Top Voice in Job Search and Careers and is a regular contributor to US News & World Report. She has been quoted by media outlets, including Forbes, USA Today, Money Magazine, Huffington Post, as well as many other publications. She is also author of The Infographic Resume and co-author of Social Networking for Business Success.