If you're applying for a customer-facing job, you need to be prepared to talk about a time when you had to deal with a difficult customer. This interview question provides potential employers with valuable insight into the way you approach customer interactions.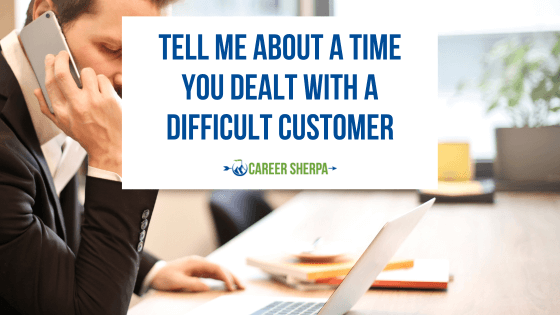 This guide will help you develop an answer that impresses your interviewer.
Table of contents
The Reason Interviewers Ask This Question
There are two core reasons why this question comes up. The first is to learn more about your customer service skills.
Interacting with customers or clients is a major component of many jobs. Whether you're interviewing to become a support agent, supervisor, or high-end executive doesn't matter. Most jobs involve some form of interaction with the people who pay for the company's products or services.
Having excellent customer service is paramount for nearly every industry. While most interactions will be smooth sailing, you will have to deal with difficult customers on occasion. A standout candidate will find a way to defuse potentially tense or frustrating experiences while working to satisfy that customer's needs.
Being difficult doesn't always equate to being angry, though you may have to work with less-than-happy people. Sometimes, a customer may be demanding, ask seemingly pointless questions, or take up more time than you want.
Whatever the case, it's your job to navigate those obstacles and apply good customer service skills. Interviewers want to learn more about your processes and see what techniques you employ. A question like this unveils more about your interpersonal and problem-solving skills.
The second reason that "Tell me about a time you dealt with a difficult customer" gets asked is to get more insight into who you are as a person and how you solve problems. Working with a difficult customer can be stressful and frustrating. Are you the type of person who will stay calm and collected while you resolve the problem? Or do you let the stress get to you, fly off the handle, and create even more issues?
That's what interviewers want to know. There's no better way to show your true colors than to discuss moments when you dealt with difficult customers.
How to Answer "Tell Me About a Time You Dealt with a Difficult Customer"
While this question seems easy enough, it holds more weight than most realize. How you respond matters, and a well-thought-out answer can do a lot to push your candidacy to the top.
Here are a few tips to remember when answering.
1. Find a Relevant Story
If possible, find a relevant story that delivers what the interviewer and hiring manager want. Remember what purpose this question serves. It's to shed light on who you are and gives you the opportunity to flex your problem-solving, interpersonal, and overall customer service skills.
Reflect on some of the more challenging interactions with customers at previous jobs. If you've held positions with numerous customer-facing responsibilities, you likely have many moments to choose from! But if you don't, you can also refer to volunteer jobs or experiences from school.

Ideally, you want to choose an experience that showcases the relevant skills required for this job. Think about what strategies you used to resolve the problem and improve the customer experience. Consider talking about experiences when you followed best practices for customer service.
That can include moments when you have to stay calm, take responsibility, and find a solution with a smile. Lean into the positive skills and strategies you employed and discuss experiences that challenged you.
2. Stay Positive
Here's an important tip. It can be tempting to bad-mouth the customer in your story. You may think that the interviewer can empathize with your frustration, but talking badly about customers is never a good thing.
It's fine to discuss how difficult it was to overcome the challenge. However, you must refrain from name-calling or negative implications.
This is not a conversation with friends! There's a time and a place for venting your frustrations about difficult customers, but a job interview is not it.
Always remain positive. Instead of going down the route of bad-mouthing, focus instead on the positive. Look at this question as a chance to highlight your customer service skills. Use it to show the interviewer why your skills would be an asset to the company.
3. Choose a Situation with a Good Ending
The best answers include stories with happy endings.
Not every negative customer interaction will have the positive resolution you want. That's the reality of working in customer-facing positions. You can't please everyone.
But you should always try to reach a happy outcome for you and the customer.
Choose moments when you applied your skills to resolve the issue in a mutually beneficial way. Stories that end with glowing reviews, big sales, or even customer apologies are always best. Interviewers want to hear how your skills flipped that negative interaction.
Customer-facing roles are important for organizations of any size. Retail workers, support agents, and anyone else who interacts with customers are on the front lines. They directly impact the customer experience and can affect the company's bottom line.
Showing that you know how to resolve issues and get that happy ending for the customer can significantly improve your chances of getting a job offer.
4. Practice Your Answer
Our last tip is to practice your response. Talking about a time when you dealt with a difficult customer requires ample thought and consideration. Thinking of an answer on the fly isn't a good approach. You want your answer to leave an impact, so think about what you want to say beforehand.
Use our tips to choose the right story to tell. Then, rehearse it with friends or family in a mock interview.
Avoid reciting a prewritten answer. Repeating something you wrote down verbatim comes off as inauthentic. Instead, think about the story you want to tell and the points you want to hit.
Memorize the core details of the story and get comfortable delivering a response. This question may appear in many forms, so you might have to adjust your wording. If you practice, you can provide a strong response regardless of how the interviewer asks the question.
What You Should Avoid Including in Your Answer
Now that you know how to develop an impactful response when talking about a time you dealt with a difficult customer, let's talk about common mistakes. The following mistakes can hinder your chances of moving forward in the hiring process, ruining an otherwise strong answer and sending the wrong message about your capabilities.
Steer Clear of Overt Humor
Adding a bit of humor to your answer is a great way to show your personality, and most hiring managers don't mind it. But you must remember how important this question is and how important good customer service skills are.
Using too much humor to talk about difficult customer experiences can make you come off as uncaring or unserious. Customer satisfaction is a big deal, and treating it like nothing more than a funny story to tell later will have hiring managers second-guessing your seriousness about this job.
Respect Your Former Company and Customers
We discussed the importance of not bad-mouthing customers or your former employers. However, you can still be disrespectful without uttering a negative word about anyone.
Always empathize with the customer. Show that you understand and respect the difficult customer's concerns. Brushing it off as unimportant when you retell your story doesn't reflect well on your attitude.
Don't Imply That You Can't Handle Conflict
Here's a huge mistake that you should avoid at all costs. Never imply that customer conflicts are too much for you. No one wants to deal with difficult customers, but you need to face those challenges confidently.
If you indicate that you struggle with customer issues, it's a huge red flag. Employers want people who will work hard to resolve the problem, not cower in fear.
Avoid Lies and Exaggerations
Honesty is always the best policy for every question you answer during your interview. Making something up to deliver what you think the interviewer wants to hear will often backfire. Most interviewers can sense the inauthenticity the moment you start to veer into fabrications.
The same goes for exaggerations. Be honest. You don't need to have a crazy story. Honest moments that interviewers can relate to are always best.
Keep Your Answer Succinct
Finally, try to keep your response short and to the point. Leave room for interviewers to ask follow-up questions if they want to.
Explain the problem, discuss your techniques to resolve it, and end with a positive outcome. Short and sweet answers show that you're a good communicator, a critical skill for any position.
Sample Answers
We have a few examples to help you develop your own response to questions about dealing with difficult customers.
Sample 1
In our first sample, we have a situation that anyone who's worked in the service industry can relate to. It covers an all-too-common scenario. However, the response is impactful because the candidate fully displays their problem-solving skills and ability to empathize.
"I used to work as a barista at a coffee place downtown. In an environment like that, dealing with difficult customers is common. One moment that comes to mind is a customer that came into the store after going through the drive-through line.

My team gave them an incorrect order. I apologized and told them we'd happily remake it for them. However, they stated that waiting for the remake would make them late to work. They also said this wasn't their first order issue at our store.

After clarifying what they wanted, I instructed the team to prioritize their order. In the meantime, I asked the customer about their past issues. Then, I apologized and offered a few tips on how to order their items in a way that reduced the chances of mistakes or incorrect items.

Their corrected order came out quickly. I included a few coupons for free drinks and the business cards of our store and district manager. Despite their anger when they came in, the customer thanked me for the correction and ultimately left our team a generous tip."
Sample 2
Our next example offers a glimpse into the everyday life of a support call center employee. This candidate's answer works well because it reassures the hiring manager that they can handle customer issues efficiently without letting them affect them. They also lean into how they work to find a mutually beneficial solution that leaves the customer happy.
"I worked several years at a call center for a major cell phone company. Dealing with difficult customers was a daily occurrence for me! While it was somewhat jarring in the beginning, I quickly learned how to resolve these issues while empathizing with the customer's needs.

For example, I once had a customer who had issues receiving cellular data. This customer already spoke to another agent and was not happy.

I've found that many customers just want to be heard, so I always make sure to hear them out, no matter how angry they are. During this particular call, I allowed the customer to vent while I dug deeper into the problem.

I quickly realized that data service was temporarily paused on their account because they traveled abroad. The company did that automatically to prevent roaming charges.

Typically, there's a multi-step process that we have to walk customers through to resolve the issue. I could see that this customer already tried many of those troubleshooting tips. I knew that asking them to do everything again would only frustrate them, so I skipped all that and went straight to what I needed to do on my end to restore service.

I did all this while she talked to me about the issues she was facing and how frustrating they were for her. I listened and apologized, all while fixing the issue on my end. After only a few short minutes, I finished.

This customer was surprised at how quickly I fixed the problem. Once she tested her connection, she was entirely grateful. I applied a discount to her invoice to compensate for the service interruption, and she left the call happy enough to leave a great review on our post-support survey."
Sample 3
Our final example comes from a candidate who works in B2B sales. They have years of experience working with high-profile clients, and their response reassures hiring managers they have what it takes to keep important customers happy.
"I worked in B2B software sales for several years. For the most part, keeping our customers happy was much easier than it would be for B2C sales. But I did have an experience when one of my clients expressed frustration with a software upgrade.

I'd worked with this client in the past, successfully closing deals that brought new productivity software into their company. After a few years of happy service, this client expressed frustration with purchasing new upgrades yearly. They felt that the upgrades were not worth the upgrade price.

This was in a time when software-as-a-service (SAAS) wasn't commonplace, but my company had recently decided to shift that way. I listened to their complaints and expressed that I understood how those annual upgrades affected their company's operating budget.

I then used that opportunity to offer our SAAS subscription. I explained how moving to a subscription model would resolve their issues because upgrades and patches were included with the annual subscription. After doing some math, I also explained how the subscription would be more affordable long-term.

This client showed great interest in our new SAAS subscription and asked me to create a pitch to the company's management. In the end, this client made the switch and was one of the first to benefit from our new product. They stayed with us for years, and the client who initially called me to vent their frustrations showered me with praise for resolving the problem."
Conclusion
"Tell me about a time you dealt with a difficult customer" is a fairly straightforward question to answer. As long as you steer clear of common mistakes and devote enough time to preparing your response, your response will make a great impression on the interviewer.

Hannah Morgan speaks and writes about job search and career strategies. She founded CareerSherpa.net to educate professionals on how to maneuver through today's job search process. Hannah was nominated as a LinkedIn Top Voice in Job Search and Careers and is a regular contributor to US News & World Report. She has been quoted by media outlets, including Forbes, USA Today, Money Magazine, Huffington Post, as well as many other publications. She is also author of The Infographic Resume and co-author of Social Networking for Business Success.