Taking a vacation should be on your list of things to do. And vacations are the time to turn off and tune out.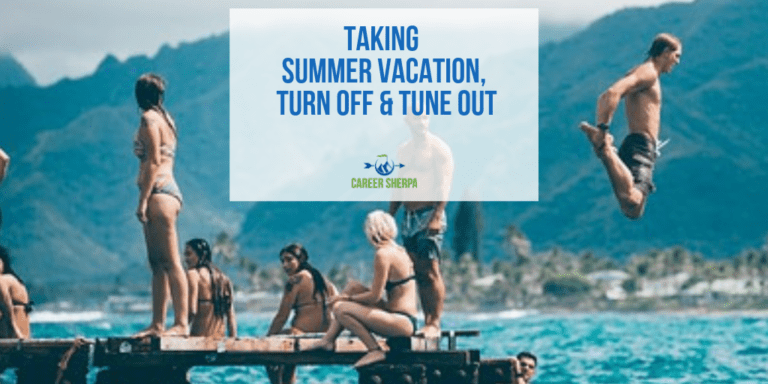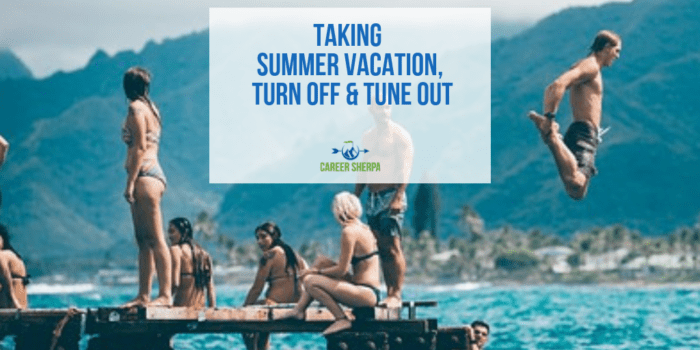 There are many studies that discuss how important disconnecting from the office is to our mental health and well being.  Yet, in today's climate, many workers are fearful about taking a vacation. And when they do go on away they spend hours checking voicemail, email, and calling into the office.
We have family visiting from out of town this week, two are employed and one is unemployed.  All three are glued to their smartphones and laptops.  They are afraid of losing their jobs if they don't check-in.  Seriously. Let me ask you this. Do you know anyone who has gone on vacation and come back to see a pink slip waiting for them on their desk?
You've Earned It So Take It
I have always felt that I earned my vacation time and am entitled to take it.  I only got two weeks a year and I earned them.  Heck, I often worked overtime.
So what I learned was to set the expectations with my manager well before vacation that I would not have the ability to check-in.  And I wouldn't!   I would also make sure that clients and co-workers knew that I would be out and redirected contact information during this time.  I debriefed coworkers on what critical items they needed to know.  And you know what…only once did a client truly need some immediate help while I was out plus my co-worker handled it with ease.
Setting expectations and delegating and informing show responsibility.  A respected quality in today's workplace, right?
The truth is, we are all replaceable.  If your manager wants to fire you or needs to fire you, it really doesn't matter if you worked during your vacation or not.
5 Key Tips to Avoid Working on Vacation
Get everyone on board early.
Find a vacation buddy
Select your vacation time wisely.
Leave a roadmap.
Neatness counts.

I want to emphasize that your employer doesn't own your personal time.  If you regularly go above and beyond, then why is taking some time off something that would anger your boss or make them think you don't care about your job?

Hannah Morgan speaks and writes about job search and career strategies. She founded CareerSherpa.net to educate professionals on how to maneuver through today's job search process. Hannah was nominated as a LinkedIn Top Voice in Job Search and Careers and is a regular contributor to US News & World Report. She has been quoted by media outlets, including Forbes, USA Today, Money Magazine, Huffington Post, as well as many other publications. She is also author of The Infographic Resume and co-author of Social Networking for Business Success.