We are headed into a new phase and businesses are opening up. So what happens next with your job search?
Some of the hiring trends we experienced during the pandemic are not going away, neither is virtual networking. But one thing is for sure… we've grown and learned a lot over the past year. We've reprioritized.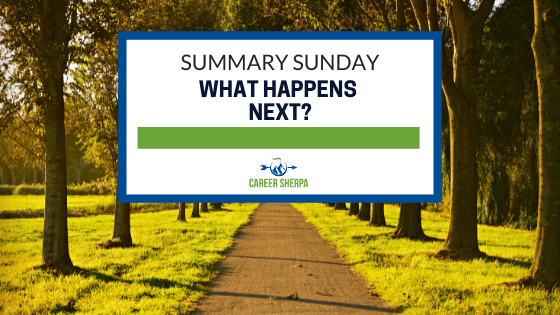 My hope is that you won't forget some of the lessons you've learned over the past year. I hope you continue to focus on developing relationships, learning new skills, and staying in tune with what's going on outside of your work. I hope you've learned how important it is to think about yourself and what happens next.
So in this week's summary, you'll find articles about:
What to expect
Self-reflection about your communication during job search
Top ATSs
LinkedIn's Cover Story Video
Get your personal brand out there
Key interview question
Quit without burning bridges
A different look at ageism
JOB SEARCH
What should job seekers expect as companies reopen? | Get Hired Newsletter
We've experienced a lot this year. So what hiring trends will stick around? Andrew Seaman summarizes the responses from recruiters in the US.
Assumptions vs Facts? Questions To Ask Yourself | Maureen McCann
Not getting called for job interviews? Before you blame recruiters, ask yourself these questions to uncover the root cause.
The best and worst ATSs in your job search | The Ladders
This article shows which ATSs you are likely to come into contact with. My take-away from this is that you're exposed to many different ATSs. It's the employer's preference that wins, not the job seekers'. Clearly user experience is not a primary focus of this study or employers. But interesting data none-the-less.
LINKEDIN
How to Create a Winning LinkedIn Cover Story Video (10 Step Guide) | Jobscan
A video cover story is a new LinkedIn feature rolling out (slowly). To see if you have it yet, check your profile from your mobile device. Even if you don't have it yet, this article will help you begin the planning process.
NETWORKING
Find a Promoter to Communicate Your Brand | Susan Peppercorn
If you don't feel comfortable "humble bragging," this is a work-around to get the word out about your personal brand.
INTERVIEWING
The Best Question to Ask if You Want to End the Interview on a Great Note | The Muse
Try asking this question before the interview concludes – it's insightful and shows "innocent curiosity."
CAREER
How to Quit Your Job in the Great Post-Pandemic Resignation Boom | Bloomberg
For many, now is the time to quit their job. Here's how to do that and not burn bridges.
AGEISM
Ageism Hurts All Of Us, Even 'Young People' | Elle
With so much talk about ageism during job search, this article explores the topic from a slightly different angle. This quote caught my eye and it may be part of the root cause of age bias.
Ashton Applewhite, activist and author of This Chair Rocks: A Manifesto Against Ageism, says the idea of generations being pitted against each other is inherently connected to capitalism and exploitation of human beings so companies can make money.

Hannah Morgan speaks and writes about job search and career strategies. She founded CareerSherpa.net to educate professionals on how to maneuver through today's job search process. Hannah was nominated as a LinkedIn Top Voice in Job Search and Careers and is a regular contributor to US News & World Report. She has been quoted by media outlets, including Forbes, USA Today, Money Magazine, Huffington Post, as well as many other publications. She is also author of The Infographic Resume and co-author of Social Networking for Business Success.