As we come out of the pandemic, it's going to take some fresh ideas and reinvention on the part of companies and employees. Let's agree to think differently about job search and careers.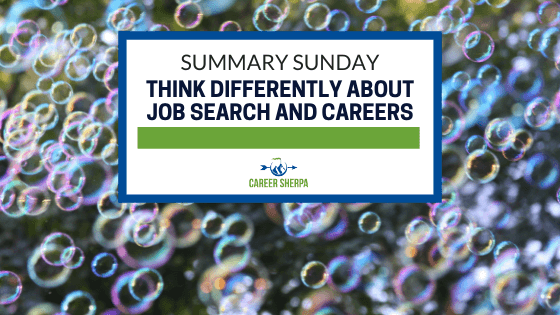 In this week's summary, you'll find articles about:
Office-based practices may be holding us back
Top 25 Work From Anywhere Companies
Improve your digital job search
Posting to LinkedIn outcomes and benefits
Messages you never want to send (but think all the time)
I hope this week's collection of articles gets you thinking! Have a super week.
WORKFORCE
The problem isn't remote working – it's clinging to office-based practices | The Guardian
Why do we still need to work 9 to 5?
Why do we need to go back to an office?
Now is the time to evaluate and reconstruct what work looks like! This is an interesting article!
DIGITAL JOB SEARCH
Top 25 Companies That Hire for Work-From-Anywhere Jobs | FlexJobs
[F]or a variety of reasons such as employment and tax law, about 95% of remote jobs include geographic requirements. Not true with these company jobs. The companies listed had a high volume of work-from-anywhere job listings between January 1, 2021 and May 31, 2021. They are ordered from highest to lowest for the number of current work-from-anywhere job listings.
Six Tips For Improving Your Digital Job Search While You're Unemployed | Fast Company
Susan Joyce writes:
When employers search your name, you want them to find content that shows what a promising candidate you are, despite being unemployed. 
That's exactly what this article is all about.
LINKEDIN
What I Learned from Posting to Linkedin Every Day for a Year | Entrepreneur
I began with very little engagement and around four "likes" per post. Over the course of the year, my following has grown to over 6,000 followers. On any other platform, this wouldn't be much, but on LinkedIn you can build a strong, tight-knit community that pays dividends in opportunity.
See what else Brendan Gahan learned!
WHAT NOT TO DO
Follow Up Messages for Job Seekers – What NOT To Do
Click bait? Satire? I am not sure. But these are horrible examples.
You may think these messages in your head, but never put any of those thoughts in writing. They are too harsh and show a lack of emotional intelligence. The intent of these messages is fine. It is the choice of wording and lack of empathy in the message that concerns me. Use some tact and diplomacy. Be civil. Be professional. You may not want to work for a company that ghosts you after 8 interviews, but that doesn't entitle you to be rude.
Reading through the comments, you may get the idea that these are good, but they are not, despite the fact that many commenters agree. (Do not add your voice to the comments in this thread, it will only reflect poorly on you.)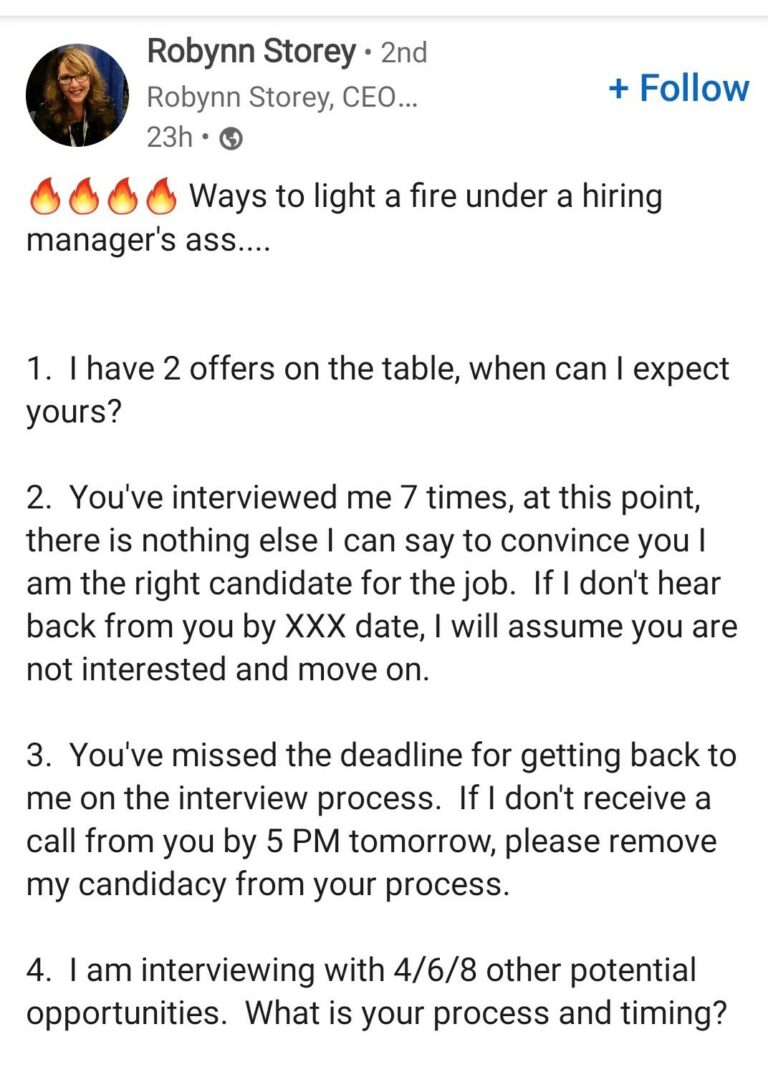 Hannah Morgan speaks and writes about job search and career strategies. She founded CareerSherpa.net to educate professionals on how to maneuver through today's job search process. Hannah was nominated as a LinkedIn Top Voice in Job Search and Careers and is a regular contributor to US News & World Report. She has been quoted by media outlets, including Forbes, USA Today, Money Magazine, Huffington Post, as well as many other publications. She is also author of The Infographic Resume and co-author of Social Networking for Business Success.