Don't wait to network. Don't wait to look for a new job. Don't wait to do what you've always wanted to do!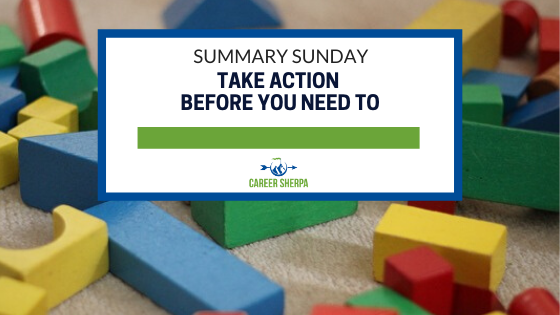 This week's summary is about taking action today – before you need to!
The moment may never be exactly right.
You may not have the perfect LinkedIn profile or nailed down your pitch. In fact, you may not even know what you want to do next. That's fine.
But that doesn't mean you have to wait to start digging for information. Sometimes, the only way you may be able to get clarity about what you want to do next is by learning about new companies and new roles. And to do this, you need to talk to people!
In today's uncertainty, you should always to on the prowl for your next great gig and that can only happen if you are building new relationships, keeping in touch with past co-workers and learning about your desired industry.
You'll find articles about how to improve your informational interviews, why you should target companies early and 2020 recruiting trends. You'll also find some interesting recommendations about what to do on LinkedIn. Finally, if you're using Instagram personally, get ideas for how to use it for your job search (because recruiters are using it!)
NETWORKING
6 Tips for Your Next Informational Interview
by Mac Prichard | Mac's List.org
You probably know you should be having informational interviews, but do you really know how they work and what you should do? Here are 6 smart things to keep in mind to make informational meeting work for you!
JOB SEARCH
Why You Want to Target Companies Early
by Jacob Share | JobMob
Stop shotgunning your resume to every job posting. Instead, get laser-focused and target companies! "By focusing on companies you actually want to work for, it will be easier to motivate yourself," write Share. A special bonus: Listen to Steve Dalton explain how to find 40 companies in 40 minutes. Build it!
RECRUITING TRENDS
Top 2020 HR & Recruitment Trends – by the Experts
by Daniela Costa | Skeeled
You'll be nodding your head as you read some of these recruitment trends. They make a lot of sense and while a few companies have begun implementing changes, let's hope more do so before the next big shift in the economy. It's good news for job seekers!
MENTIONS
Hot LinkedIn Trends for 2020: What the Experts Say
by Bob McIntosh | Job-Hunt.org
I was thrilled when Bob invited me to share my thoughts for this article along with LinkedIn experts Kevin Turner, Jessica Hernandez, and Andy Foote. There's a lot of interesting information in this article and you'll certainly walk away with ideas to freshen up how you use LinkedIn. Start doing some of these things before you need to.
PS: If you aren't following all these folks on LinkedIn- follow them. You do not need to invite them to connect…just follow them and their posts will show up in your home feed!
How to Get Your Instagram Profile Ready for Your Job Search
by Hannah Morgan | Job-Hunt.org
Chances are, you're using Instagram. Did you know you can use it for your job search too? Employers are using it to promote jobs and their company, so Instagram has become one more place to distribute your personal brand!

Hannah Morgan speaks and writes about job search and career strategies. She founded CareerSherpa.net to educate professionals on how to maneuver through today's job search process. Hannah was nominated as a LinkedIn Top Voice in Job Search and Careers and is a regular contributor to US News & World Report. She has been quoted by media outlets, including Forbes, USA Today, Money Magazine, Huffington Post, as well as many other publications. She is also author of The Infographic Resume and co-author of Social Networking for Business Success.