This week's collection of articles is all about steering your career…especially through unchartered waters.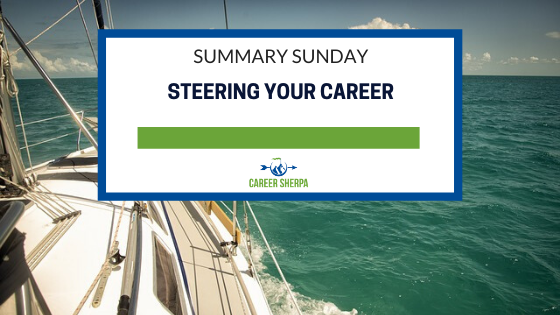 Normally, I try to bucket the articles I share into categories, I found that challenging to do this week. Most of these articles don't neatly fall into a category or bucket.
But they are all related to your career.
We live in a rapidly changing world with lots of uncertainty. Therefore, it's going to be important that you become comfortable with the uncomfortable.
Whether you choose to call it career management or something else, or something still unnamed, what we can agree on is that this is all about steering your career.
You'll find information about marketing trends, personal branding, leadership, how artificial intelligence is trying to beat bias, how NOT to ask for a raise and many other thought-provoking subjects.
Steering Your Career and Job Search
Let's Stop Talking About Soft Skills: They're Power Skills
by Josh Bersin | Josh Bersin.com
Bersin is one of the top authorities of workforce trends. He explains why everyone needs to be more focused on developing soft skills, or as refers to them, power skills. Tech skills are important, but not nearly as long-lasting or impactful as developing soft skills. There's interesting research from IBM as summarized in this image (and referenced in the article).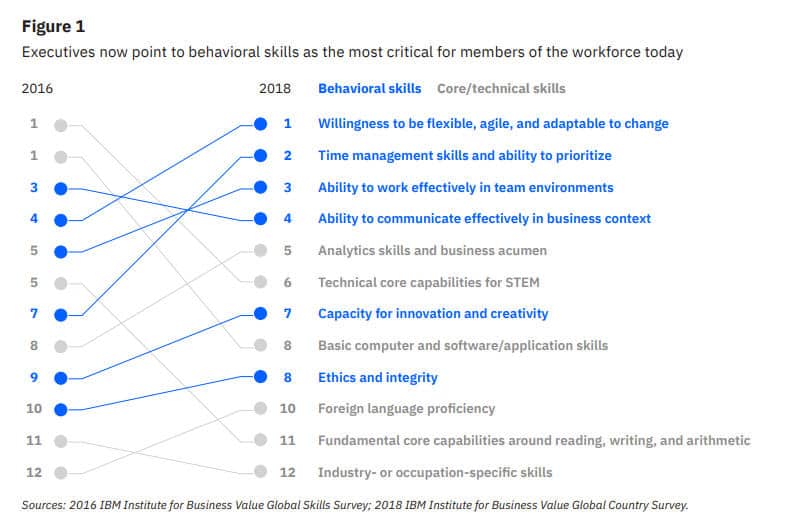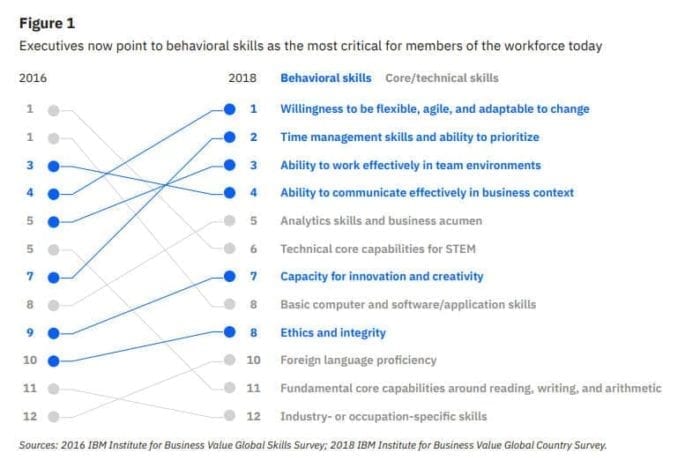 People are terrible judges of talent. Can algorithms do better?
by Sarah Todd | Quartz at Work
Pymetrics CEO says "The whole idea behind Pymetrics is that instead of using a resume, you are looking at people's cognitive, social, and emotional aptitudes…" And Artificial Intelligence MAY be a way to remove some bias from the hiring process. Learn more about steps towards removing bias.
7 Ways the Internet is Ruining Your Career
by Sam Bowman | Career Metis
The internet is a wonderful and powerful tool – when you use it the right way. It's critical to your career to understand and manage your digital footprint and this explains seven things you need to do.
You Deserve It, But…
by Frank Sonnenberg | Frank Sonnenberg
Leaders should understand how their actions impact those that try really hard but don't succeed. We've all been in situations where the wrong person gets rewarded. This helps everyone understand the impact actions and emotions play in the workplace.
These Are The Absolute Worst Reasons To Ask For A Raise
by Jane Barratt | Fast Company
Who knew there were bad reasons to ask for raise…here's what you need to know about when and how to ask for a raise. There are no guarantees you'll get one though.
2020 vision: The top 5 emerging trends in marketing and PR
by Melissa DiGianfilippo and Alexis Krisay | PRDaily
Job search is all about marketing and PR, so these trends are something you should know about. Can you use any of these to promote your work and career success? Or at least you can expect to see some of these trends as you apply for jobs when recruiters start embracing them.
Interactive content
Chatbots
Influencer marketing shakeup
Brandstanding
Personalized brand experiences
Your Personal Brand Is Just as Important as Your Business Brand
by Haley Hoffman Smith | Entrepreneur
No matter what your role is in an organization, founder or leader, you have a reputation. And if it's a good one, then that is also good for the company. Here are some things to think about.
10 Ways Your Career Can Survive a Recession
by Hannah Morgan | US News & World Report On Careers
This is my newest article on how to stay employed when the economy turns.

Hannah Morgan speaks and writes about job search and career strategies. She founded CareerSherpa.net to educate professionals on how to maneuver through today's job search process. Hannah was nominated as a LinkedIn Top Voice in Job Search and Careers and is a regular contributor to US News & World Report. She has been quoted by media outlets, including Forbes, USA Today, Money Magazine, Huffington Post, as well as many other publications. She is also author of The Infographic Resume and co-author of Social Networking for Business Success.