All you really need for your job search are good networking and LinkedIn skills. When you understand how to effectively use both of these together, you'll be more successful.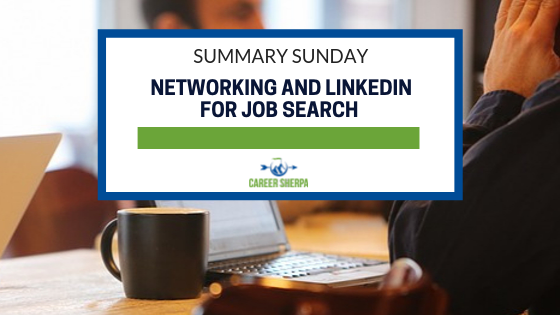 Most job seekers I meet confess they don't enjoy networking. But really, what I think they mean is that they don't like having to ask people for favors, the sleazy feeling they get when they give their elevator pitch, or walking into an event where they don't know anyone.
Networking and LinkedIn can be used in many ways without feeling like you are asking for something. In fact, you shouldn't ask for ANYTHING right away.
This week's summary contains articles about networking and LinkedIn-
Learn how to introduce yourself through email and networking tips for any occasion. You'll also find LinkedIn profile advice and why mini blogging is a great strategy for attracting potential opportunities. Learn ways to assess an organization's culture and see the newest tool to help you identify keywords in a job posting.
If you enjoyed any of these articles, I encourage you to follow the author's work on their website and on social media!
NETWORKING
How to Introduce Yourself in an Email
by Alison Doyle | The Balance Careers
Learn about email etiquette and what to include in your next email when you want to reach out to someone and introduce yourself. There are also examples to help you more easily craft your next email introduction!
How to Turn Any Social Event Into a Networking Opportunity (Without Being Creepy About It)
by Quinisha Jackson-Wright | The Muse
Networking can happen at any time and anywhere. You'll find tips to help you more comfortably network in any situation.
COMPANY CULTURE
5 Different Ways to Get the Real Scoop on a Company's Culture
by Jenny Foss | The Muse
A company's culture can make or break your satisfaction with a job. Here are ways to learn about the culture before you accept the job.
LINKEDIN
Help! My LinkedIn Skills and Endorsements Are a Mess
by Meg Guiseppi | Executive Career Brand
Your skills and endorsements section is one of the most important sections of your profile. Instead of allowing it to organically grow, be purposeful listing your top skills.
Mining LinkedIn Connections to Land Strong Job Offers
by Lisa Rangel | Chameleon Resumes
LinkedIn is one of the best tools for building new relationships purposefully. Get ideas on how to research the names of people you want to reach by using your existing connections.
Mini Blogging on LinkedIn
by Kasia Tang
Mini Blogging means using your status update or posting an update on LinkedIn. Anyone can do this. Kasia is a recruiter and has written this for recruiters. However… you can use the same logic as a job seeker. And as you read this, you may just learn more about how recruiters use LinkedIn to attract potential candidates.
COOL TOOL
Awesome New Tool for Resume Keywords
by Donna Svei | Avid Careerist
Adding the right keywords to your resume and LinkedIn helps show you are a fit. But what are the right keywords? This tool and instructions will help you systematically assess a job posting. (I have also shared Jobscan.co as a similar tool.)
MENTION
LinkedIn Is More Than A Social Media Platform
by Jim Peacock | Peak Careers
I was thrilled Jim Peacock invited me to join Shelly Elsliger of LinkedIn-Express to discuss the many ways to improve your LinkedIn profile.

Hannah Morgan speaks and writes about job search and career strategies. She founded CareerSherpa.net to educate professionals on how to maneuver through today's job search process. Hannah was nominated as a LinkedIn Top Voice in Job Search and Careers and is a regular contributor to US News & World Report. She has been quoted by media outlets, including Forbes, USA Today, Money Magazine, Huffington Post, as well as many other publications. She is also author of The Infographic Resume and co-author of Social Networking for Business Success.