You've heard it said before… job search isn't the same today as it was last time you looked. This is why you're going to need modern job search strategies. Here's what you need to know!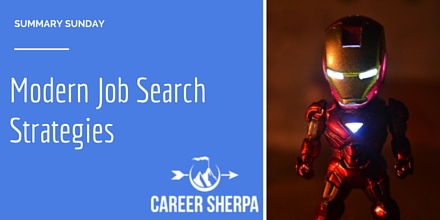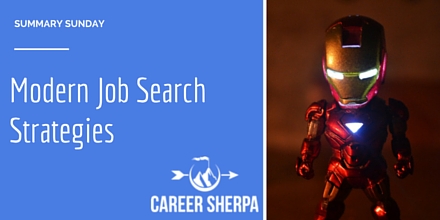 I've rounded up articles from this week that will take your job search skills into the current century. This summary offers resume help, how to apply for a job and interview tips. These articles will help you compete like a modern-day job seeker or better yet, position yourself as the best candidate!
Modern Job Search Strategies
RESUME
This video is less than 3 minutes and well worth the watch.
Dorie Clark, author of

HOW TO APPLY FOR A JOB
This is one of the best reads of the week/month/year! Follow Lou's advice! And learn about consultative selling!
Forget Applying, Use Consultative Selling to Land Better Jobs by Lou Adler on LinkedIn
Take a less is more approach to job hunting.
Do your research.
Use the back door to find the decision-makers.
Get referred if you can.
Market discussions, demos and teasers, not your resume.
Focus on campaign results, not response rates.
Success is making advances, not having interviews.
Make sure you're assessed properly.
INTERVIEWING
Finally: A Job Interview Cheat Sheet [Infographic] |
Resume Writing Lab
Selling Yourself In The Interview by Andrew Heikkila | TalentCulture
Follow this advice and understand how to present yourself during job search and the interview!
LINKEDIN
Your LinkedIn profile needs to look sharp! Don't use large paragraphs of text that are difficult to read, break the content up visually! Though LinkedIn doesn't make it easy to insert nice looking bullets, Donna Serdula has a  work around!
LinkedIn Bullets & Symbols, Making Your Profile Shine! by Donna Serdula | LinkedIn Makeover
Have you thought about adding these symbols? Go read Donna's post!
Stars:★ ✪ ✯ ✰
Arrows: ☛ ☚ ☜  ☞ ☟ ⇨ ► ◄ ► »
Traditional bullets: ■ ◆ ●
Ticks: 
✘ ☐
☒
4 Smart Ways to Be Easier for Employers to Find on LinkedIn by Arnie Fertig | Job-Hunt.org
It isn't enough to just copy and paste your resume into LinkedIn…Arnie gives you ideas for leveraging referrals and get on someone's radar!

Hannah Morgan speaks and writes about job search and career strategies. She founded CareerSherpa.net to educate professionals on how to maneuver through today's job search process. Hannah was nominated as a LinkedIn Top Voice in Job Search and Careers and is a regular contributor to US News & World Report. She has been quoted by media outlets, including Forbes, USA Today, Money Magazine, Huffington Post, as well as many other publications. She is also author of The Infographic Resume and co-author of Social Networking for Business Success.