Looking for a new job is hard.
It requires you to use new skills and conduct a bunch of research to garner the attention of someone who could potentially hire you.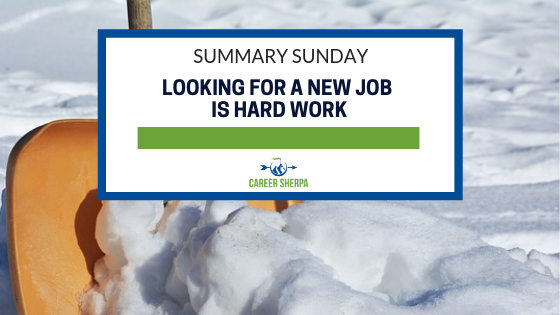 Like shoveling snow, your job search is going to be difficult. But you have to do it.
This week's summary will help. You'll learn about some new LinkedIn features and hacks, how to find a real person to reach out to, plus see sample email messages to send to someone you want to network with and sample status updates for social media. I've also linked to a couple of articles I've recently written about how to get through the ATS.
So here you go- overcome the difficulting of looking for a new job with some of these articles.
LINKEDIN
Discovering New Jobs on LinkedIn Just Got Easier 
by Alice Xiong | Official LinkedIn Blog
As the title of the article says, it's easier to find new jobs on LinkedIn. Search for a job title in the search bar and you'll see:
The top skills people with that title have
The top companies hiring for that role
Your first-degree connections with that job title
Plus you can get mobile notification alerts for jobs you are interested in.
8 Stunningly Clever LinkedIn Hacks 
by Andy Foote | Linkedinsights
There are some great tricks in here to help you use LinkedIn better. You'll find hacks for formatting, extending your headline, adding a follow instead of a connect button and how to tag people you aren't connected to.
JOBSEARCH
How to Reach a Real Person in Your Online Job Search 
by Maureen McCann | Jobscan.co
Do not send a general cover letter and resume to a company. Ever. It shows a lack of interest. Instead, follow these tips and learn how you can find a real person.
Getting Your Foot in the Door When Switching Industries
by INSEAD Knowledge
For many MBA students, the main reason for getting this degree is to change careers. It can be done! Follow these five steps, put in the time and effort and see what happens.
NETWORKING
Email Informational Interview Requests (with Samples)
by Susan P. Joyce | Job-Hunt.org
If you want to switch industries or careers, the best way to do this is to speak with someone who works in that field. This is referred to as having an informational meeting. Not only will you find valuable tips on how to do this, but also sample email messages to make the request.
SOCIAL MEDIA
What To Post On Social Media
by Miranda Paquet | ConstantContact.com
While this is written for businesses, it provides examples of the types of status updates you can use on different social media platforms. Use these ideas and alter them for your own personal brand awareness campaign!
MENTIONS
Job Search Resources 
by MyJobMag
This is a list of job search resources ranging from general job hunting tips to workplace tips. They have cited articles written by many top careers experts. I'm happy to have one of my pieces included.
How To Write A Good Resume for Applicant Tracking Systems
by Hannah Morgan | US News & World Report On Careers
There's just not enough knowledge among job seekers on how ATS work. I hope this helps. You can also see my crowdsourced article on LinkedIn with more ATS tips.

Hannah Morgan speaks and writes about job search and career strategies. She founded CareerSherpa.net to educate professionals on how to maneuver through today's job search process. Hannah was nominated as a LinkedIn Top Voice in Job Search and Careers and is a regular contributor to US News & World Report. She has been quoted by media outlets, including Forbes, USA Today, Money Magazine, Huffington Post, as well as many other publications. She is also author of The Infographic Resume and co-author of Social Networking for Business Success.