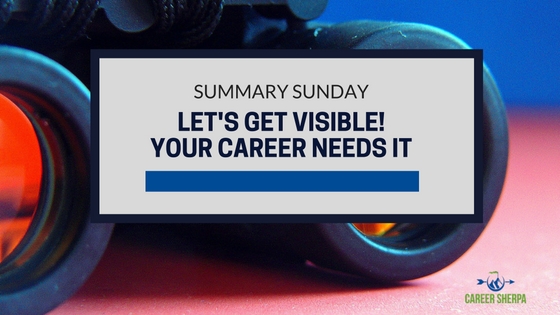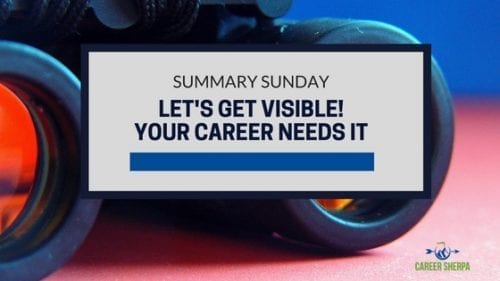 Isn't it time you upped your career game. Seriously. At some point in time, maybe even right now, you want a new job. What are you doing to increase your online visibility, your personal brand- people's awareness of you?
This weekly roundup is dedicated to helping you get visible!
Let's Get Visible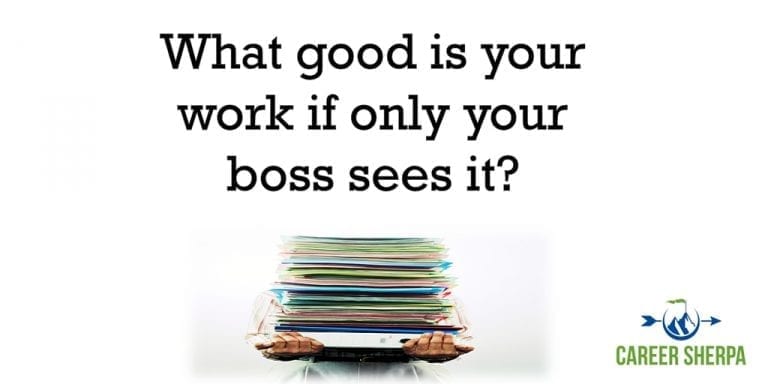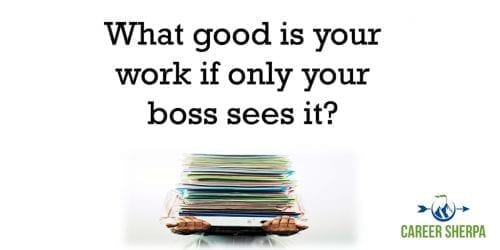 There are many ways to improve your visibility. Think about this…how many people know about the work you do inside and outside of your team? You can't rely on your manager taking an interest or even giving you credit for the outstanding work you do. Sad but true. This is the new normal so rise to the challenge and become your own advocate!
Incorporating visual content (images, photos, video, samples of work) is what it takes to stand out. But don't let this intimidate you.
JOB SEARCH
5 Fast Tips on How to Become Visible to Executive Recruiters by Martin Buckland | Martin Buckland Speaks
Here are 5 fast tips on how to become visible to Executive Recruiters when you are searching for that next step on your career ladder!
LINKEDIN
There are many ways to get visible on LinkedIn. One way to showcase your work on LinkedIn is by adding Projects to your profile! Think about that special project you took on. Adding it to your LinkedIn profile as a project, rather than just including it under your job helps highlight your work!
Grab Recruiter Attention with LinkedIn Projects by Laura Smith-Proulx | Job-Hunt.org
"The Projects section can facilitate your findability as a candidate, especially when you add a substantial amount of keywords." And remember "Projects do NOT have to represent formal initiatives from your work history."
SOCIAL MEDIA
Social media enables you to interact with people and that means more people can become aware of what you are doing! Don't dismiss the chance to get visible among people you are connected to on social media. Use some of these secrets!
24 Awesome Facebook, LinkedIn, Twitter, Instagram & Pinterest Features You Didn't Know Existed by Lindsay Kolowich | HubSpot
"Social media networks are continuously adding cool little features here and there, and it can be tough to keep up — especially if there's no big announcement." That's why this post is so important!
LIVESTREAMING
Livestream is a video live streaming platform that allows customers to broadcast live video content using a camera and a computer through the Internet, and viewers to play the content via the web (according to Wikipedia)
Ok, so maybe you aren't familiar with this term. But Livestreaming gives anyone the ability to post video on air- essentially you are airing your own talk show! That's pretty awesome!
There are lots of platforms and people using Livestreaming to promote themselves and their businesses because… it's popular! Facebook Live is being rolled out. And then there is Periscope (on Twitter) and even Instagram and Snapchat allow public video.
Google is discontinuing Google+ Hangouts On Air on September 12, pushes users to YouTube Live | Venture Beat
Video and Livestreaming are hot! Unfortunately, Google is forcing people to use YouTube Live for public group video chats. It's unclear how this will really impact the average or small-time user.
Here are alternatives: Which Livestream Platform Is Right For You? by Ross Brand
TOOLS
Canva, Adobe Spark and 29 Other Apps That Let You Design Stunning Social Graphics | CreativeMarket
From creating your background images to adding visual content to your status updates, you'll want to know about tools that allow you to easily create these things! Here's help!
CAREER SHERPA
Now it is time to share with you some mentions/quotes as seen in other places!
5 Signs It's Time To Ask For A Raise by Jenny Che | Huffington Post
What To Do When Your Boss Plays Favorites by Caroline Zaayer Kaufman | Monster
How To Make A Resume – The Only Guide You Need [EXAMPLES] by Natalie Severt | UpToWork
20 Best Career Blogs To Read | Freesume
Asking for a Raise? Take These 5 Important Steps by Shannon Gausepohl | Business News Daily

Hannah Morgan speaks and writes about job search and career strategies. She founded CareerSherpa.net to educate professionals on how to maneuver through today's job search process. Hannah was nominated as a LinkedIn Top Voice in Job Search and Careers and is a regular contributor to US News & World Report. She has been quoted by media outlets, including Forbes, USA Today, Money Magazine, Huffington Post, as well as many other publications. She is also author of The Infographic Resume and co-author of Social Networking for Business Success.