During this final month of 2021, it's important to keep your job search momentum.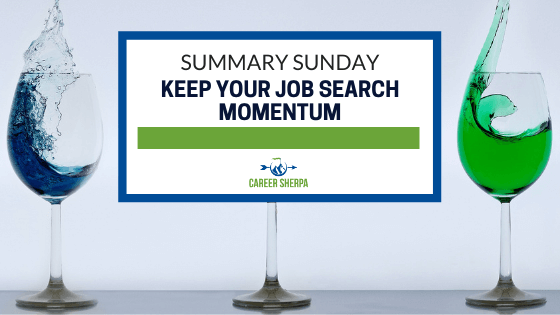 As tempting as it is to take a break, I'd like to encourage every job seeker to keep active throughout this month.
As Newton said –
"an object in motion stays in motion"
You can cut back the time you spend but don't stop. You could miss an opportunity or lose the feeling of accomplishment that comes from meeting regular goals. You're on a roll, don't stop!
Holidays can be stressful and so is job search, but when you were working, you found ways to balance your job/work with holiday anxieties. You can do that now too.
This week's summary includes something to maintain every job seeker's momentum:
Hiring this December is different
Holiday job hunting reminders
Networking tips for the reluctant
Before you quit, get organized
What are those that quit doing instead
Hybrid work's impact on the economy
Crafting your personal brand
Holiday cover stories on LinkedIn
As we head into the final month of this year, my hope for all of you who read this is that you will take away new ideas and actions that keep your job search moving forward this month.
HOLIDAY JOB SEARCH
December Hiring is Different this Year | Briefcase Coach
Recruiters say Q4 this year is busier than in years past. Find out why you should ramp up your job search this month.
Holiday Season Job Searching Tips | The Balance Careers
Simple and helpful ideas to make the most of the holidays while job searching.
NETWORKING
Easy Networking Tips for the Networking Haters | Harvard Business Review
Here are 4 workarounds for those who cringe at the idea of networking. Are you ready to try some of these?
CAREER
Thinking About Leaving Your Job? Do These 10 Things First | Shelley Piedmont
Before you start posting and praying, follow these steps to make sure you are set up for a successful job search.
WORKPLACE TRENDS
New Data Finally Shows Why People Are Quitting Their Jobs. It's Definitely Not Because They're Lazy | Inc.
"A lot of people are quitting their jobs to go into business for themselves."
See the data that backs this up! Starting a business is definitely not lazy!
Three Hybrid Work Trends Reshaping the Economy | Microsoft
What impact will hybrid work have on the overall economy? These shifts have a longer term impact:
companies' approach to real estate, 2, companies will onshore manufacturing and offshore more talent, and 3. frontline employees will gain new flexibility.
PERSONAL BRANDING
10 Keys To a Memorable Personal Brand | Executive Career Brand
"The factors that converge to define and build a memorable personal brand − and express it powerfully − are complex" (and require deep reflections). Get started now!
LINKEDIN
LinkedIn Cover Stories Holiday Edition: Tips & Best Practices | Gillian Whitney
Looking for another way to stand out, be remembered and show your personality? Try adding a holiday LinkedIn cover story!
MENTIONS
Sarah Johnston's The "Briefs" Job Search Newsletter – Issue #22
A great compilation of workplace, job search and career trends!
Job Search Trends of 2022 With Robin Ryan and Hannah Morgan
Thanks to Mark Dyson and Jack Kelly for hosting this discussion about future trends.

Hannah Morgan speaks and writes about job search and career strategies. She founded CareerSherpa.net to educate professionals on how to maneuver through today's job search process. Hannah was nominated as a LinkedIn Top Voice in Job Search and Careers and is a regular contributor to US News & World Report. She has been quoted by media outlets, including Forbes, USA Today, Money Magazine, Huffington Post, as well as many other publications. She is also author of The Infographic Resume and co-author of Social Networking for Business Success.