Each and every job seeker faces choices on how they'll present themselves, what job search strategies to use, to what companies they'll apply to.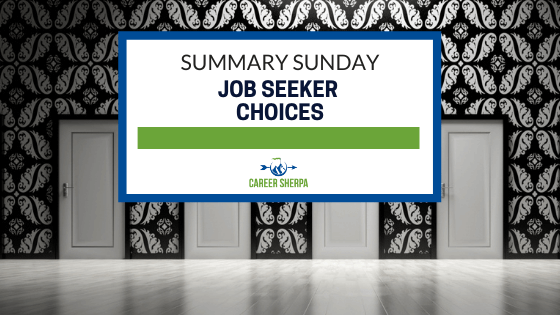 What job seekers should understand is that some choices they make may have better outcomes than others. But as in all things job search, there is no "right" answer that works best for everyone. That is why you have to do the research and make the best and most informed decision based on your specific situation.
I hope reading this week's Summary will help arm you with information that allows you to make the best choices for you and your unique circumstances.
This week's topics include:
Vaccination status on resumes
Negotiating remote work
The Happiest Employees (Large and Small-Medium businesses)
Age and occupation interactive chart
Expressing gratitude at work
Jobvite's 2021 Recruiter Nation report
VACCINATION STATUS ON RESUME
Vaccination Status Discussion started by Lisa Rangel on LinkedIn
This discussion contains information that everyone should consider before deciding to add vaccination status to their resume. Your personal preference may not be as important as the preference of the industry, company and individual recruiter.
See these articles referenced in the thread to help you make up your own mind.
Vaccinations Status is the New Must-Have On Your Resume | Wall Street Journal
1/3 of hiring managers automatically eliminate resumes without vax status | ResumeBuilder
(This article also includes the industries of the recruiters surveyed)
Should Job Seekers Disclose Their Vaccination Status Upfront? | SHRM
REMOTE WORK
How to Negotiate a Remote Work Arrangement | Harvard Business Review
See exactly how to present your request while negotiating your job offer.
EMPLOYERS
Happiest Employees 2021 | Comparably
Working for a company that has happy employees is a dream for many job seekers. There are two lists – large employers and small to medium employers.
WORKFORCE
Age and Occupation | FlowingData
This is a list of 529 occupations and the age ranges of employees. Clearly, some jobs attract workers early in their careers and others attract those later in their careers. Youngest- umpires, referees and other sports officials. Oldest – school bus drivers. Data from the American Community Survey for 2018 and 2019.
CURRENT EVENTS
Facebook, Instagram, SnapChat Outage
Sometimes you just need a good laugh! As we were reminded this week, social media platforms impact our lives (personally and professionally). Another key take-away – do not put all your eggs in one basket. What if next time this happens to LinkedIn?
CAREER
What Every Team Wants to Hear From Their Leader | Real Leaders
Leader or not, we all have opportunities to express gratitude and this advice will help you communicate better.
RECRUITING & HIRING TRENDS
Jobvite Recruiter Nation Report 2021
See what recruiters are thinking and doing differently to attract talent. I'll be diving into the key points for job seekers this upcoming week. This year's report aims to help talent acquisition leaders understand:
Stress levels of recruiters today
Challenges in hiring quality talent
Importance of diversity and inclusion (D&I) initiatives
Candidate evaluation factors and measurement
Effective benefit and perk offerings
How recruiters are using AI and automation

Hannah Morgan speaks and writes about job search and career strategies. She founded CareerSherpa.net to educate professionals on how to maneuver through today's job search process. Hannah was nominated as a LinkedIn Top Voice in Job Search and Careers and is a regular contributor to US News & World Report. She has been quoted by media outlets, including Forbes, USA Today, Money Magazine, Huffington Post, as well as many other publications. She is also author of The Infographic Resume and co-author of Social Networking for Business Success.