Launching a job search requires you try lots of new things. These job search tips for job seekers will help you do things differently like networking and stalking (identifying people inside companies).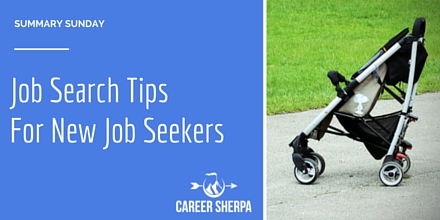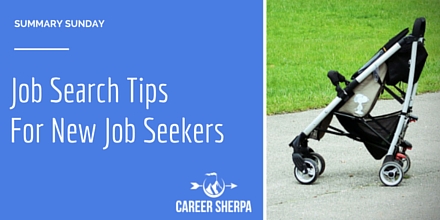 Welcome newbies, to these job search tips for new job seekers!  You're going to need some help doing things differently, so here they are!
Every week I share articles that address the aspects of job search people want help with. And this week's round-up is doling out more gems to help improve how you run your job search (On Twitter, Facebook and LinkedIn), how you networking and job interviewing strategies.
JOB SEARCH TIPS For New Job Seekers
The overall job search process isn't as easy as finding job postings and applying.
5 Never-Fail Job Search Tips That (Almost) Nobody Follows by Mark S. Babbitt
Job search advice is everywhere. With so many blogs and self-appointed experts, it's hard to know who to listen to… even harder to know what advice really works… and what is just crap. Read more
Top Ten Tips for College Grads by Clarion University | Yahoo! Finance
A record 78 percent of hiring managers are predicting more hiring in the first half of 2016 than in the second half of 2015 and more than a quarter plan to hire entry-level candidates this year, up nine points from last year.
New college graduates can get the most out of their post-grad experience by keeping these Top Ten Tips in mind: Read more
How To Find A Contact At Your Dream Company: Six Ways To Get Insider Information by Caroline Ceniza-Levine | Forbes
Yes, companies post job openings, and some people do get hired just by submitting a resume. But, more often than not, by the time a job is posted, a short list of candidates is already being considered, and unsolicited resumes get overlooked. The best way to ensure you get in the running for your dream job is to have an inside contact at the company. Read more
NETWORKING
4 Types of People Everyone Needs in Their Network by Lily Herman | Motto by Time
Building and maintaining a network is daunting. Who's really adding value to your career, and who's simply another LinkedIn connection you don't really talk to? Read more
INTERVIEWING
The 29 Smartest Questions to Ask at the End of Every Job Interview by Jacquelyn Smith and Natalie Walters | Business Insider
It's important to remember that every interview is a two-way street. You should be interviewing the employer just as much as they're interviewing you because you both need to walk away convinced that the job would be a great fit. Read more
SUBMITTING YOUR RESUME
5 Tricks To Submitting A Creative Resume That Gets Hiring Managers' Attention by The Muse | Forbes
I've got news for you: Going through traditional applications gets old for hiring managers, too.
So, in an attempt to make the experience a little more engaging—for me and for the applicants—I recently led a hiring process where I asked candidates to create a Tumblr showing us why they'd be the best person for the job. Read more

Hannah Morgan speaks and writes about job search and career strategies. She founded CareerSherpa.net to educate professionals on how to maneuver through today's job search process. Hannah was nominated as a LinkedIn Top Voice in Job Search and Careers and is a regular contributor to US News & World Report. She has been quoted by media outlets, including Forbes, USA Today, Money Magazine, Huffington Post, as well as many other publications. She is also author of The Infographic Resume and co-author of Social Networking for Business Success.