My call to action for all job seekers is to take the time to do a job search refresh right now. The job market is shifting quickly and there are things you need to know and do.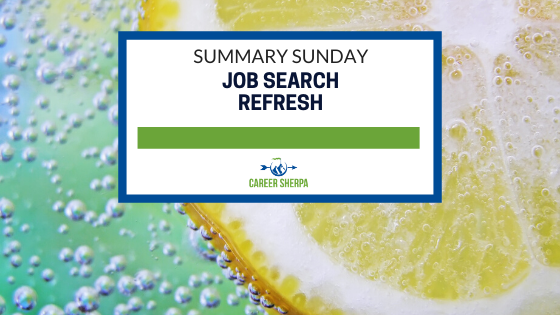 There was a lot going on this week on the job search front! What I mean is that now is a good time to amp up your efforts and conduct a job search refresh.
[I realize the May jobs report may have misclassified unemployment numbers, but let's focus on the positive.]
Job postings are increasing. The economy gained 2.5 million jobs in May.
This is a positive sign that we're on an upswing.
Here's what you can do:
Build stronger relationships with people inside companies where you've applied for jobs or are interested in working.
Stay in touch with Hiring Managers you've interviewed with before they put the job on hold or implemented a hiring freeze.
Invest your time reconnecting with people you know and meeting new people, especially those who work inside target companies.
This might be the time to consider changing industries.
Keep your job search active. Yes, you should apply for some jobs online. It's like buying a lottery ticket. You can't win if you don't play.
This week's Summary includes articles to help you compete for jobs by understanding who's hiring, how to stand out and other ways you can find a satisfying career.
JOB SEARCH
770,000 Available Jobs This Week | Susan P. Joyce
NOTE: 200,00 are director, manager or supervisor roles, including:
58% of the Wendy's jobs
35% of the Deloitte jobs
26% of the Amazon Web Services (AWS) jobs
25% of the Aramark jobs
Changing Industries | Cayla Denegate
Though written for the Australian job market, the idea of focusing on your soft skills (and transferrable skills) applies to US job seekers as well.
Subpar Job vs. Unemployed | Dr. Dawn Grahan
Everyone's situation is different, but don't think you HAVE TO take any job.
OLDER JOB SEEKERS
Great Second-Act Careers | Nancy Collamer
Not ready to retire? These 100 second-act career ideas will help.
SOCIAL MEDIA
While this is written for businesses, job seekers can adapt these tips about social proof to increase their personal brand and reduce any perceived risk as a candidate.
This explains the logic of using a target list, where to find companies and the power of weak ties!
How To Explain YOUR JOB at a Family Dinner
Lee Lefever | CommonCraft
If you struggle to explain what you do…then read this! Even if you don't struggle, you should read this because when you explain what you do and what you are looking for EVERYONE needs to understand.
MENTIONS
Andy Foote's Foote-Notes Podcast
EP: 07 Hannah Morgan, Job Search Strategist, Career Sherpa.net
I was excited to talk with Andy about LinkedIn and how to improve your job search. If you like Andy's style, smooth accent, and topics, definitely subscribe to his podcast.


UPCOMING EVENT
How To Job Search During The Coronavirus
This is the first webinar I've hosted on my own…hard to believe, I know. I've presented hundreds of times through other organizations, but I've finally taken the leap on my own. I hope you'll join me and discover new ways to search for a job!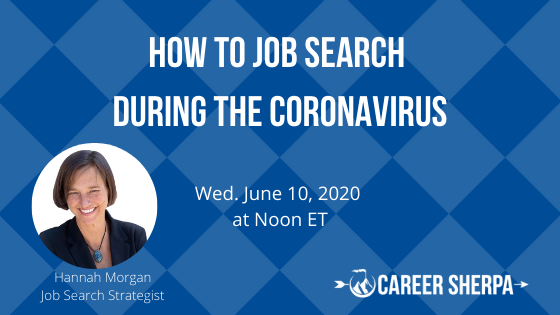 Hannah Morgan speaks and writes about job search and career strategies. She founded CareerSherpa.net to educate professionals on how to maneuver through today's job search process. Hannah was nominated as a LinkedIn Top Voice in Job Search and Careers and is a regular contributor to US News & World Report. She has been quoted by media outlets, including Forbes, USA Today, Money Magazine, Huffington Post, as well as many other publications. She is also author of The Infographic Resume and co-author of Social Networking for Business Success.