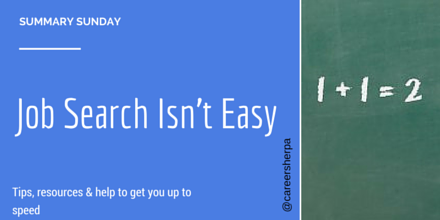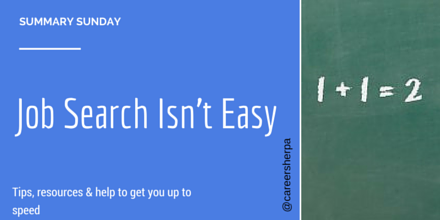 It takes an understanding of current job search trends and translating that into strategies that work! Summary Sunday is a round-up of popular posts I've shared on social media outlets to help you get up to speed.
This week, you find tips for an extraordinary job search, importance of a presence on social media, a resource for flexible/remote jobs and career enhancing advice.
If you like any of these posts, I recommend following the author and site so you can keep up with the news too. If you want to get these weekly updates, you can sign up for these emails from me.
Job Search
15 Oddball Ideas for Getting a (Better) Job | Lou Adler on LinkedIn
Lou Adler sums it up best in the last line of his post:
Whatever approach you use to try these ideas out, I can guarantee they're more likely to help you get your next job rather than complaining about how unfair the system is.
Here's the run-down, but you will have to read his post to understand what he really means and how to do it!
Don't spend more than 20% of your time applying directly to a job posting.
Use the job posting as a lead.
Become a true networker, not a glad hander.
Use the backdoor.
Prepare a non-resume.
Prepare a non-resume.
Do some pre-work.
Send the department head a performance-based job description.
Offer a free or low cost trial.
Learn the 2-minute answer to any question.
Control the interview.
Divide and conquer.
Prove you're not overqualified.
Interview yourself and send someone your answers to our Performance-based Interview questions.
Get phone screened if your appearance or age will send the wrong message.
Be fully prepared to be interviewed.
Job Search & Recruiting
100 Top Companies with Remote Jobs in 2015 | Flexjobs
Flexjobs' mission is to make your search for a telecommuting, part-time, freelance, or flextime job better, easier, faster, and safer. It is essentially a job board with additional bells and whistles, but it is not free. I'm not a fan of job boards per se. What I do like is the data you can gain from researching job titles and job descriptions and WHO is posting these types of jobs. This list of 100 top companies features remote jobs = telecommute, work-from-home, virtual.
How Recruiters Creepily Troll Social Media for Job Candidates (Infographic) | Enterpreneur
I'm not so sure I would use the word "creepily troll" but, you do need to understand how recruiters are looking for talent. Yes, they are using social media and a GOOD online presence can help more than it hurts! You want to be found when recruiters search online.
Here's the INFOGRAPHIC by CareerGlider which sums up the article.
Career Management
5 Tips to Turn Your Job into What You Want | by Nigel Purse on Switch & Shift
If you have a job, enjoying what you do and holding on to it may not be as easy as it used to be.  Here are 5 pearls of wisdom. As with all these summaries, you will want to go read the full article to implement the advice.
Get to Know the People You Work With
Be Clear About Expectations
Show Genuine Appreciation
Challenge Unhelpful Behavior
Plan for the Future

Hannah Morgan speaks and writes about job search and career strategies. She founded CareerSherpa.net to educate professionals on how to maneuver through today's job search process. Hannah was nominated as a LinkedIn Top Voice in Job Search and Careers and is a regular contributor to US News & World Report. She has been quoted by media outlets, including Forbes, USA Today, Money Magazine, Huffington Post, as well as many other publications. She is also author of The Infographic Resume and co-author of Social Networking for Business Success.