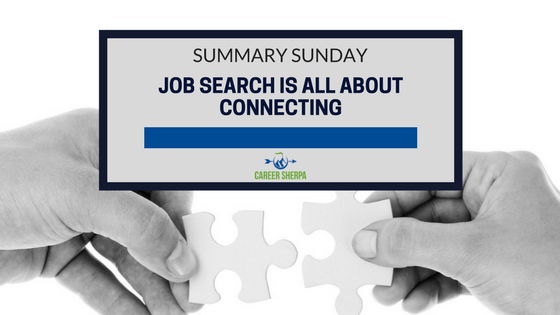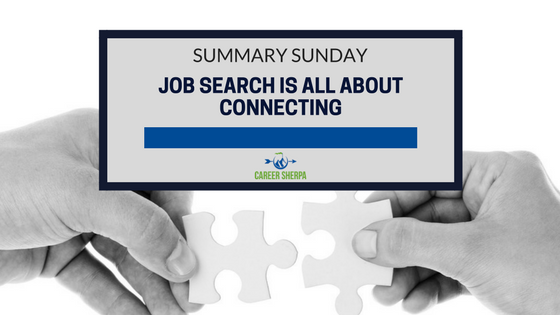 Whether you are actively looking for a new job or are considering a change in the future, what you need to know is that a successful job search is all about connecting.
Building relationships is the most important step you can take during your career. These relationships will open doors to future jobs, I promise!
I hope the following weekly summary will help you build better lasting relationships and find that new job sooner!
LINKEDIN
17 LinkedIn Ninja Tricks Experts Haven't Taught You Yet [2017 Edition]
by Melonie Dodaro
This has a lot of great tricks, except #2 didn't work for me. This could be a glitch or it could be due to some recent changes LinkedIn made. Learn how to search LinkedIn better and send follow-up emails when someone connects with you! I hope you enjoy some of these!
NETWORKING
Ten Networking Mistakes Most Job Seekers Are Still Making
by Barbara Safani on LinkedIn
These mistakes are too common! Networking isn't job hunting. It is information gathering and relationship building! Learn what not to do and how to fix your networking. Heck, if you do it right, it can actually be fun!
JOB SEARCH
How to Use Google for Jobs to Rock Your Career
by Donna Svei | Avid Careerist
In case you missed the news this week, Google launched their job posting search function. It isn't a job board, but a job posting aggregator and it doesn't search Indeed. Read how to use it in this article Donna wrote.
When Your Dream Career Is Elsewhere: Ten Ways To Find A Job In A New Location
by Caroline Ceniza-Levine | Inc.
Relocating to a new city is often the best way to expand your job search. Follow these steps to learn how to get a job elsewhere.
PERSONAL BRANDING
Here's Why You Should Take Your Personal Branding Seriously
by Susan P. Joyce | FlexJobs
In a nutshell, building your personal brand takes time and planning. So the best time to start is now (before you are job hunting). Susan shares personal branding success stories and summarizes the personal branding process in 3 steps: 1) Find your keywords 2) Find your voice 3) Find your audience.
In case you missed it, I've created a free 30-minute course on how to craft your personal brand.

Hannah Morgan speaks and writes about job search and career strategies. She founded CareerSherpa.net to educate professionals on how to maneuver through today's job search process. Hannah was nominated as a LinkedIn Top Voice in Job Search and Careers and is a regular contributor to US News & World Report. She has been quoted by media outlets, including Forbes, USA Today, Money Magazine, Huffington Post, as well as many other publications. She is also author of The Infographic Resume and co-author of Social Networking for Business Success.