Searching for a new job isn't just about being the smartest, most talented person. Job search is about your relationships.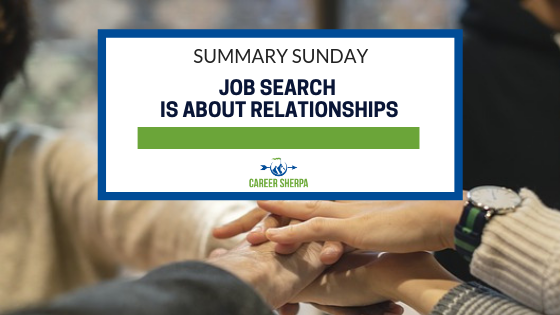 This week's summary happens to focus on the importance of relationships during your job search and career.
It's a collection of articles about networking, asking useful job interview questions, understanding ATS, curating content on Twitter and LinkedIn dos and don'ts.
The common thread running through almost every single one of these articles is that building relationships with people is crucial to your job search. People hire people. Does this mean your relationships and interpersonal skills may help you more than a slick ATS-friendly resume when it comes to landing a job?
In my opinion, developing lasting partnerships is almost as important as being smart and capable.
If you haven't refined your interpersonal skills yet, you'll soon realize how important these are and why your network is so important to your career.
NETWORKING
Reach Out, Stay in Touch and Deepen Your Connections with This Essential Networking Advice
by FirstRound
Do you want to build stronger relationships? Ask better questions? Learn the "rules" of networking? This lengthy post contains real advice about networking. Thanks to the Recruiting Brainfood newsletter curated by Hung Lee for highlighting this article last week!
INTERVIEWING
Creative Job Interview Ideas: Powerful Closing Strategies Top Performers Use
by Chris Westfall | Forbes
It's the end of your second or third job interview and you really want the job…so try these ideas when the interview asks "what questions do you have for me?" Yes, it takes courage, but you'll be glad you did it!
10 Questions to Ask in Your Next Job Interview to Avoid (Another) Toxic Boss
Alyse Kalish | The Muse
See questions you can ask that will help you understand what type of leader your potential new boss is and how he/she manages people! You need to know about your boss BEFORE you accept the job. As the saying goes, people leave managers, not companies.
APPLICANT TRACKING SYSTEMS (ATS)
My Thoughts on Applicant Tracking Systems (ATS)
by Lisa Rangel | Chameleon Resumes
Complain all you want about how unfair or inhuman ATS are. This post by Lisa shares information you may not know about the hiring process and the solution to your frustration with online applications.
TWITTER
How To Curate The Best Content On Twitter
by Jonathan Nunez | Social Hire
This is a real how-to article. It walks you step by step through how to find and set up Twitter so you get the most relevant and authoritative content. If you think Twitter is garbage, you need to read this!
LINKEDIN
The Biggest Mistake You're Making on LinkedIn and What You Should Do Instead
by Terry Rice | Entrepreneur
You may not have heard of Carlos Gil, but he's kind of a big deal. He's written a new book and in this article/interview, he outlines his dos and don'ts when using LinkedIn.
FACEBOOK
Everything to know on the biggest Facebook change for recruitment and employer branding
by Jelmer Koppelmans | Medium
Do you understand how recruiters use Facebook? Recent changes resulting from an ACLU class-action job discrimination suit will impact recruiters and companies, but it's still important to see just how important Facebook is to employers (and your job search)! Another shoutout to Hung Lee and Recruiting Brainfood!
MENTIONS
You Spend an Insane Amount of Time on Social Media … Why Not Use It to Help You Land Your Next Job?
by Merryn Roberts-Huntley | Made To Hire
You spend a lot of time on social but do you know how to use it to search for a job? No, not just looking for posted jobs, but to use it to build new relationships? This gets you started! Thanks to Merryn for quoting me in her article!

Hannah Morgan speaks and writes about job search and career strategies. She founded CareerSherpa.net to educate professionals on how to maneuver through today's job search process. Hannah was nominated as a LinkedIn Top Voice in Job Search and Careers and is a regular contributor to US News & World Report. She has been quoted by media outlets, including Forbes, USA Today, Money Magazine, Huffington Post, as well as many other publications. She is also author of The Infographic Resume and co-author of Social Networking for Business Success.