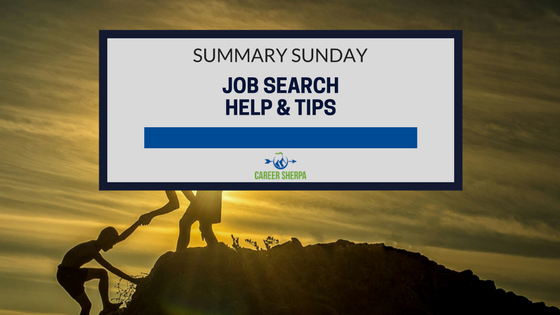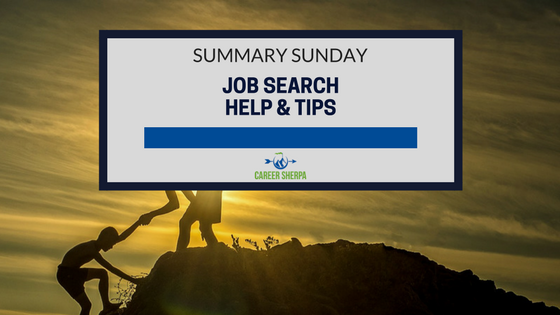 Everyone needs job search help and tips. But there's a lot of information out there and it can get confusing. Not to mention you feel all alone. That's why you're here. 
Why aren't companies responding to my job application, how do I write a networking email, is LinkedIn really helpful, and what should my resume look like? These are just some of the questions answered in this week's roundup of popular posts.
JOB SEARCH
6 Ways To Make Your Next Job Come To You
by Jillian Kramer, Glassdoor | Business Insider
Instead of applying for jobs online and waiting for a response…try these 6 things instead!
Get your friends involved.
Turn Facebook into a portfolio.
Talk 'shop' at social events.
Show off to your boss—or a future employer.
Check out the article to see the other 2!
What Is and Isn't Normal During Every Single Part of the Job Process
by Olivia Gamber | The Muse
I found this to be a very helpful list of what to expect during your job hunt. From waiting to hear (anything) from the employer or recruiter to talking salary. There are so many weird "rules" in job search and this does a good job helping you understand what to expect and what to do.
LINKEDIN
LinkedIn Adds Extra Insights to 'Profile Views' Data, Including Keywords Used to Find You
by Andrew Hutchinson | Social Media Today
LinkedIn has made some changes. Now you can see more data on how people are discovering your profile. Without the premium, I can only see where the searchers work and their role, not the keywords used to find me. This is still valuable for job seekers. Maybe you should check out the jobs and people you know who work for those companies that searched for you.  Take some time and go play with some of these new features and see what value they offer!
New LinkedIn Features: Reconnect with a Colleague, See Who's Searching for You, and Fine-tune Your Profile
by Julie Inouye | LinkedIn Blog
And there's more! LinkedIn lets you change the order within work experience, education and volunteer work. This means, if you hold multiple jobs or roles at the same time, you can switch the order (within those sections only). And check out the "quick reply" message options. You may find it saves you some time.
NETWORKING
How To Write Networking Emails That People Can't Ignore
by Brian Balfour, Founder/CEO of Reforge (formerly VP of Growth at HubSpot)
I want you to read this entire post! EVERY WORD. Don't just skim down to the templates at the end. This is the process and logic you should use when sending email messages to network with people. There are so many important lessons, like what to put in your message's subject line (and keep it short).
RESUMES
The Single Most Important Consideration for your Resume
by Job Search Bible
I NEVER write about resumes or share posts that mention resumes. There are enough people doing that already. I'm kinda "anti-resume" anyway. But this collection of tips from expert resume writers will help you write a better one, especially if it's been awhile since your last version.  (OK, and yes, I did contribute to this article)
I'll be taking a break from social media and writing next week, but I'll be back! Happy 4th of July!

Hannah Morgan speaks and writes about job search and career strategies. She founded CareerSherpa.net to educate professionals on how to maneuver through today's job search process. Hannah was nominated as a LinkedIn Top Voice in Job Search and Careers and is a regular contributor to US News & World Report. She has been quoted by media outlets, including Forbes, USA Today, Money Magazine, Huffington Post, as well as many other publications. She is also author of The Infographic Resume and co-author of Social Networking for Business Success.