There comes a time when everyone needs a little help with job search and career!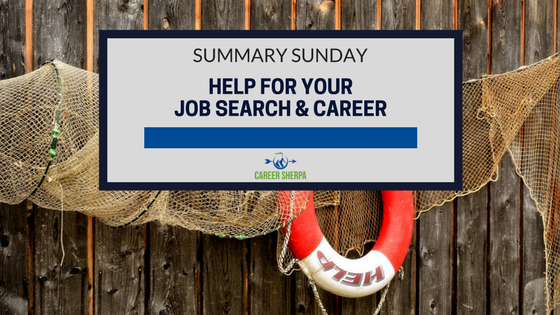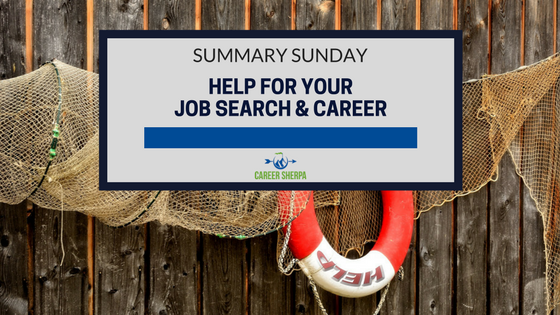 This week's top articles provide help for your job search and career.  Get help answering why you left your last job, how to find good articles to share on social media, top signs you are mentally strong and more!
There is a ton of information out there. I've compiled a list of the most popular articles I've shared this week and bring it all together for you in this Summary Sunday piece.
If you like what you've read, I encourage you to follow the author or subscribe to the website. You never know when you'll need good tips!
SOCIAL MEDIA
Top 10 Content Curation Best Practices You Should Follow
by  Neal Schaffer | Digital Currents
When you share articles and news that's on-brand or relevant to your career it helps position you as someone who is knowledgeable!  I know you aren't a social media manager. But, these best practices will help you target what you share in your status updates on LinkedIn, Twitter, or  Facebook.
PERSONAL BRANDING
The Best Form of Personal Branding? Become a Recognized Expert
by Dorie Clark | Personal Branding Blog
According to Dorie Clark's research, there are three things you can do to position yourself as an expert: create content, have social proof, and develop a network. See how you can attract opportunities rather than chase them when "prospective employers and clients already know who you are, and already want to work with you."
CAREER
10 Signs You Have Exceptional Mental Strength
by Jessica Stillman | Inc.
Mental strength is what you need to survive and THRIVE in today's workplace. People are hired mostly based on technical skills, but those lacking mental strength tend to be escorted out (fired) sooner.
JOB SEARCH
8 Common Job Search Scams and How to Protect Yourself
by Brie Weiler Reynolds | FlexJobs
In your quest for a new job, you'll come across job opportunities that seem too good to be true. And they are. But there are other job scams out there you need to be aware of.  Please, protect yourself from these.
Being Different Makes all the Difference
by Abby Kohut | Absolutely Abby
In this post, Abby lays out 5 ways to stand out from the crowd during your hunt for a new job. As she warns, it does require that you step outside your comfort zone.
The One Tiny Change That Could Open Up All the Doors in Your Job Search
by Jenni Maier | The Muse
Jenni tells the story of how she landed her job in this fun, witty article.  It also has the best piece of advice every job seeker needs to know!
How to Explain Your Reason for Leaving a Previous Employer
by Dawn Rasmussen | YouTern
You know you must have a good answer to this question. Rather than confessing the truth or bad-mouthing your previous employer, learn the right way to categorize why you left your last job.
MENTIONS

Hannah Morgan speaks and writes about job search and career strategies. She founded CareerSherpa.net to educate professionals on how to maneuver through today's job search process. Hannah was nominated as a LinkedIn Top Voice in Job Search and Careers and is a regular contributor to US News & World Report. She has been quoted by media outlets, including Forbes, USA Today, Money Magazine, Huffington Post, as well as many other publications. She is also author of The Infographic Resume and co-author of Social Networking for Business Success.