For those blindsided by a layoff or new to job search, you have some new skills to learn. Technically, we now are all faced with learning a new skill, AI.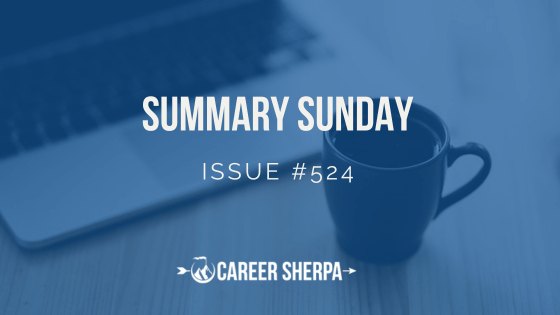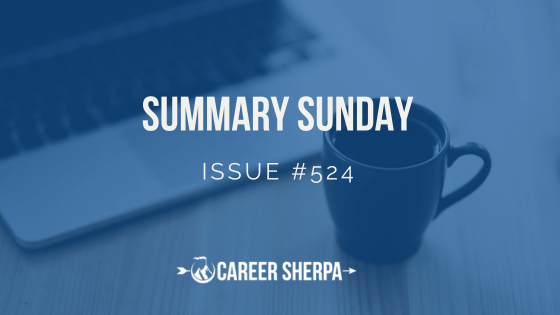 In this week's summary, I share articles about:
The positive outcomes of networking
The reasons why you need a target list for your job search
4 Skills you need to transition better
AI can lift the burdens of work
ChatGPT Cheat Sheet
10 ChatGPT prompts for greater productivity
These carefully curated articles are written by talented authors! Follow them.
NETWORKING
Unlocking the Power of Connections: Embracing a New Networking Mindset For Career Success | My Career GPS
Sure, we talk about networking to uncover job opportunities, but networking helps you learn and grow, collaborate, and do your job better says Shelley Piedmont. Instead of saying you hate networking, read this!
JOB SEARCH
How to Build Your Executive Job Search Target Companies List | Executive Career Brand
If you fear targeting companies will limit your job search, you'll want to read why your logic is faulty. Meg Guiseppi lays out why targeting companies is really the best way to uncover job opportunities.
CAREER
Learn to Get Better at Transitions | Harvard Business Review
As we live longer and the world of work continues to be unpredictable, we need four skills to make transitions better according to Avivah Wittenberg-Cox. I particularly like the idea of thinking about your life in 7-year increments. All these four skills build on each other. You can share it with a new graduate or even someone on the cusp of retirement.
Artificial Intelligence
Will AI Fix Work? | Microsoft
"Employees are more eager for AI to lift the weight of work than they are afraid of job loss to AI. While 49% of people say they're worried AI will replace their jobs, even more—70%—would delegate as much work as possible to AI to lessen their workloads."
This is according to Microsoft's recent survey of 31,000 international respondents. The report reveals these 3 findings:
Digital debt is costing us innovation
There's a new AI-employee alliance
Every employee needs AI aptitude
ChatGPT Cheat Sheet | Pete Huang
This is a post I shared by Richard van der Blom on LinkedIn. (And why following smart people on LinkedIn is a goldmine of great information.) Pete Huang's newsletter, The Neuron, provides this cheat sheet upon signup. If you need AI aptitude, this newsletter is a great place to start.
Use these 10 advanced ChatGPT prompts to save hours a day | Rowan Cheung
This is a powerful post on Twitter listing 10 different ways to use AI to improve your productivity – from simplifying complex information to editing your work. PS: Cheung also has a great newsletter, The Rundown.
JOB SEARCH VISUAL
Instead of reaching out cold or DMing someone, try commenting on their posts on social media first. That way, they will recognize your name and are more likely to respond!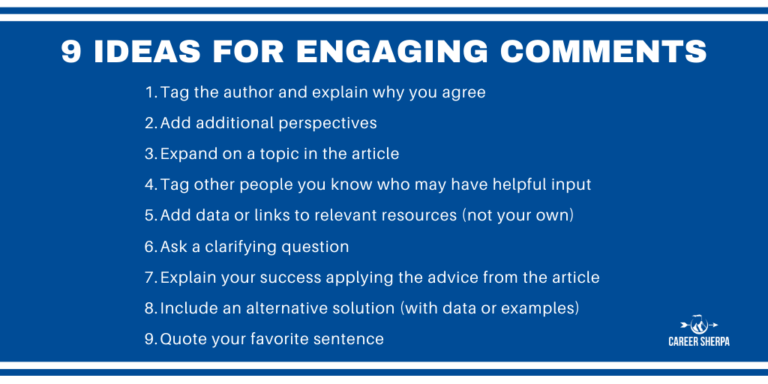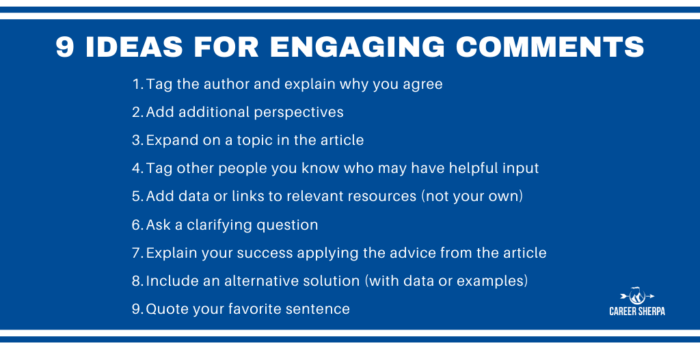 DID YOU MISS THESE?
30+ Unique Interview Questions To Ask Employers In 2023
"When Can You Start Working?" 7 Tips For How To Answer
"What Obstacles Have You Overcome?" Tips & Examples

Hannah Morgan speaks and writes about job search and career strategies. She founded CareerSherpa.net to educate professionals on how to maneuver through today's job search process. Hannah was nominated as a LinkedIn Top Voice in Job Search and Careers and is a regular contributor to US News & World Report. She has been quoted by media outlets, including Forbes, USA Today, Money Magazine, Huffington Post, as well as many other publications. She is also author of The Infographic Resume and co-author of Social Networking for Business Success.