People hire people! This is a simple reminder that your resume or qualifications alone won't help you secure a new job. As unfair as this may seem, your likability and Emotional Intelligence play a significant role in getting hired.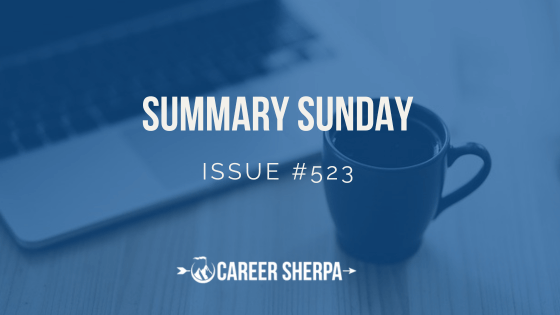 In this week's Summary Sunday, you'll learn about artificial intelligence – it's going to be hard not to pay attention to the impact it will have on our workplace. And as we head into summer, let me warn you NOT to take the summer off from your job search. Sure, you can dial it back and enjoy your summer, but don't stop job searching.
Here are some of the topics addressed in this week's Summary Sunday:
Summer job search
Reasons companies repost jobs
Be a selective job seeker
A newsletter you need
Use AI responsibly
AI won't take your job… yet
Commenting on LinkedIn has advantages
I want to encourage you to follow the talented authors in this week's summary.
JOB SEARCH
Quitting job search for the summer? Do this instead. | Thea Kelly
Every Fall, I hear the same excuse from job seekers – I took the summer off. So try these four ideas instead of halting your job search this summer.
15 Reasons Companies Seem To Repost Jobs Forever | JobMob
Have you ever seen a job get reposted or one that keeps showing up? There are many reasons why jobs remain posted longer than they should be. Here are some of those reasons and a reminder to not rely solely on job search engines for your job search.
Why You Need to Be a Picky Job Seeker (And How to Do It) | Mac's List
Listen to (or read the transcript) this conversation with Mac Pritchard and his guest, Stephanie Mansueto. They dispel the myth that it's a good idea to apply for hundreds of jobs and explain what to do instead. Will you follow this advice?
Briefcase Coach's Career Briefs: Job Search Smarter – May 31 Issue | Sarah Johnston
Every issue of this newsletter provides useful and helpful information for job seekers. If you don't already subscribe, please, do so! (There's an orange button at the top right of the page.)
ARTIFICIAL INTELLIGENCE
8 Questions About Using AI Responsibly, Answered | Harvard Business Review
With new technology, we face new challenges. Everywhere you turn, people are talking about ChatGPT, and other AI tools. Before you jump in, be thoughtful and cautious. This article poses some of the questions (and answers) we should all be considering.
The jobs AI won't take yet | BBC
It's not necessarily jobs that will disappear, but tasks says Joanne Song McLaughlin. Also quoted is Martin Ford, author of Rule of the Robots: How Artificial Intelligence Will Transform Everything. He shares his thoughts on 3 types of jobs he feels are protected: those that require creativity, those that require Emotional Intelligence, and those that require mobility and dexterity.
LINKEDIN
4 important things to know about LinkedIn commenting | Leah Does LinkedIn
The advantages to commenting on LinkedIn are far-reaching, literally! See this tweet! Leah Turner's tagline is "Making LinkedIn Simple." Now that's something we all need! Stop overthinking, second-guessing or feeling like an imposter!
JOB SEARCH VISUAL
Use the 2-Step approach to job search. Either find a job then find an insider OR find an insider and find a job! Be human!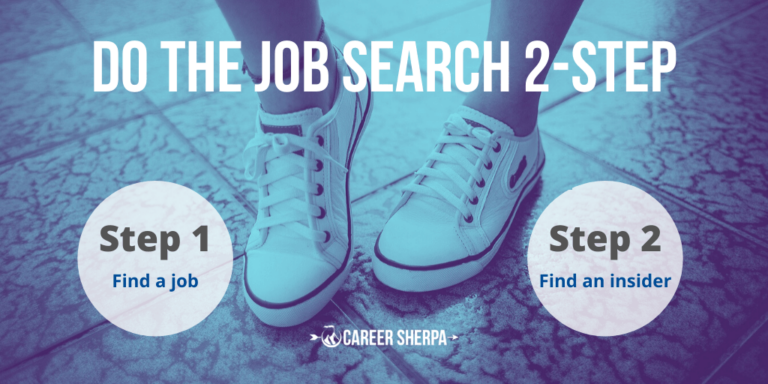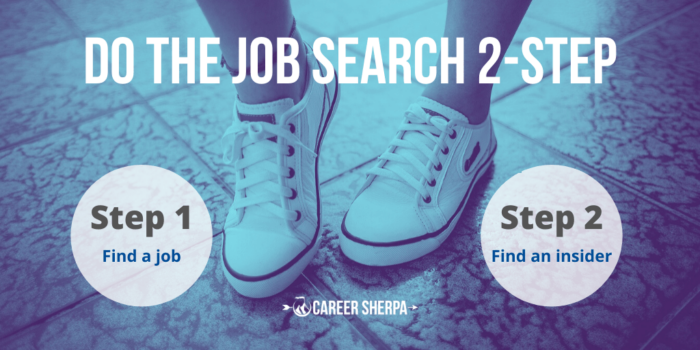 DID YOU MISS THESE
30 Tips For Your First Day Of Work: Preparing For Success
10 Phone Screen Interview Tips You Need To Know
How To Choose A Career: Tips For Picking The Right Path

Hannah Morgan speaks and writes about job search and career strategies. She founded CareerSherpa.net to educate professionals on how to maneuver through today's job search process. Hannah was nominated as a LinkedIn Top Voice in Job Search and Careers and is a regular contributor to US News & World Report. She has been quoted by media outlets, including Forbes, USA Today, Money Magazine, Huffington Post, as well as many other publications. She is also author of The Infographic Resume and co-author of Social Networking for Business Success.