When you surround yourself with smart, talented people, you increase your own knowledge and value. That's what I get from curating content on Twitter and other social media. You can too!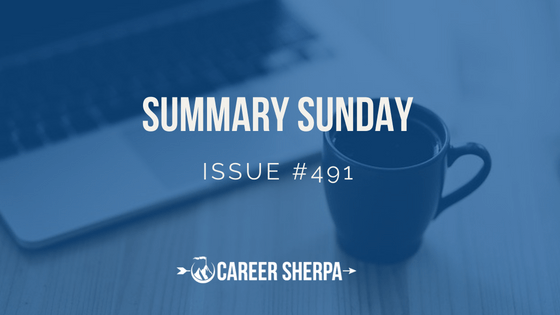 In this week's summary, you'll find articles to help you grow and be better too! The topics include:
Networking with recruiters
Insights from a recruiter
Interview follow up
Remote work trends report
Quarterly stats about hiring
Problems with our thinking
Positive thinking challenge
If you enjoyed any of the articles below, please share them, follow the author, or subscribe to their content.

RECRUITERS
How To Network With Recruiters On LinkedIn | Recruiting In Yoga Pants
Amy Miller reshared her article with a template and clear instructions on how to write an email to a recruiter. It's important to understand that when working with overworked, stressed recruiters, you have to be very clear about what you are looking for.
Insights from an Executive Recruiter: Q&A | Career Impressions
Adrienne Tom interviews Arpad Szakal of Cormis Partners Executive Search. Get questions answered about how to successfully work with a recruiter, what they do and don't do, and how to find them.
JOB SEARCH
Job Search Shorts: Interview Follow Up | 3Plus International
Straight-forward reminders about how you can keep your job search moving forward by following up.
REMOTE WORK
Remote Work: A Win-Win-Win for Employees, Employers, and the Economy | ZipRecruiter
See who is offering remote work, where it's expanding and where it's not. This report explores the latest remote work trends in job search and hiring, drawing on data from the ZipRecruiter marketplace and from ZipRecruiter surveys. 
ICYMI: The Top 10 Stats Employers Should Know About Hiring in the Current Labor Market | Jobvite
Use these 10 insights to make yourself a better job seeker. The Employ Quarterly Insights Report was created to help companies and talent acquisition professionals make sense of today's chaotic labor market, providing actionable insights for talent teams to improve their hiring efforts.
CAREER
6 Ways You're Thinking Wrong–and What You Can Do About Them | Inc.
We all have thinking problems. Psychology professor and author, Woo-Kyoung Ahn, provides examples of our flawed thinking and strategies to help figure out which things we can't control, and how solutions that might seem promising can ultimately backfire.
Are You Down in the Dumps? Take This Challenge | Frank Sonnenberg
Negative thinking can hurt your career and job search. For the next week, Sonnenberg challenges you "to be optimistic, love life, serve as an inspiration, and make a positive difference."
INTERESTING
A new-to-me tool for job seekers. JobSeer provides insight for your job search. It includes skills match, referral finder and company insights. All at no cost. Available as an app or Chrome extension. Thanks for sharing this Jo Weech.
DID YOU SEE THESE
6 Types of Networking Activities You Need To Land A Job
How To Write A Subject Line For Thank You Emails (Simple)
How To Ask For A Promotion: The Complete Guide For 2022

Hannah Morgan speaks and writes about job search and career strategies. She founded CareerSherpa.net to educate professionals on how to maneuver through today's job search process. Hannah was nominated as a LinkedIn Top Voice in Job Search and Careers and is a regular contributor to US News & World Report. She has been quoted by media outlets, including Forbes, USA Today, Money Magazine, Huffington Post, as well as many other publications. She is also author of The Infographic Resume and co-author of Social Networking for Business Success.