Summary Sunday contains current articles about important job search topics. Check out this week's edition.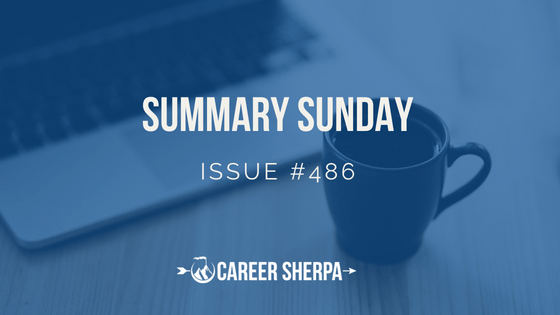 In this week's summary, you'll find articles to help you improve your job search:
Why are some jobs harder to find and how to uncover them
Watch out for rescinded job offers
How to find people hiring in your network on LinkedIn
What to say to someone who's been laid off
Reasons you aren't performing at your best
I hope you enjoy this collection of articles! Follow the authors and/or share these articles with people who will benefit.
JOB SEARCH
Off-the-Beaten-Path Job Search Strategies that May Surprise You | Virginia Franco
Is there a "hidden job market?" Answers from Executive Recruiter and Guerrilla Job Search Coach David Perry, co-author of Guerilla Marketing for Job Hunters 3.0. Plus some non-traditional job search methods.
You can listen to the podcast here instead.
Rescinded Job Offers: Why It Can Happen and What to Do | Job-Hunt.org
Do companies take offers off the table? Yes. Learn what to look for and what you can do.
LINKEDIN
What's the easiest way for a job seeker to find out who in their network is hiring? | Kevin D. Turner on LinkedIn
Here's a hidden way to discover who's "hiring in my network" that may help many job seekers network into posted opportunities.
Don't miss this LinkedIn secret.
CAREER
Exactly what to say to someone who's been laid off | Fast Company
Here is some advice from a crisis management expert and hospice chaplain on how to help people in your network.
4 Reasons Talented Employees Don't Reach Their Potential | Harvard Business Review
No one can perform at 100% all the time. But…
"Optimizing your job so that it fits with your interests, beliefs, and broader life activities, and being alert to the invisible social forces that govern the dynamics of organizations, will ultimately help you perform to the best of your capabilities."
DID YOU MISS THESE
What Do You Know About Our Company? How To Answer
6 Questions To Ask Before You Quit Your Job
How Many Candidates Make It To The Final Interview?
Job Search Challenge: 5 weeks' worth of job search activities to keep you moving forward

Hannah Morgan speaks and writes about job search and career strategies. She founded CareerSherpa.net to educate professionals on how to maneuver through today's job search process. Hannah was nominated as a LinkedIn Top Voice in Job Search and Careers and is a regular contributor to US News & World Report. She has been quoted by media outlets, including Forbes, USA Today, Money Magazine, Huffington Post, as well as many other publications. She is also author of The Infographic Resume and co-author of Social Networking for Business Success.