This week's Summary Sunday provides updates, advice and tips on how to job search and manage your career as we enter into the new normal.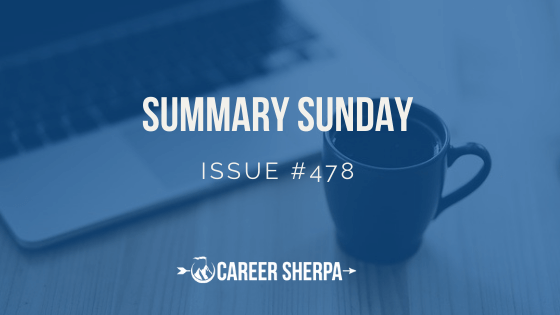 In this week's summary, you'll find:
LinkedIn tips and debunking myths
Recruiter tips for job seekers
Ways to build your target list
Tips to reduce age bias on your resume
10 reasons remote work could hurt your career
Jump back into networking
The challenges to today's workforce
Emotional Intelligence resources
I hope you will follow some of the experts and continue to learn from them! Follow them on LinkedIn or subscribe to their newsletters. Just make learning part of your regular routine.
LINKEDIN
Serious LinkedIn Mistakes Making You Hard to Find | Job-Hunt.org
Here are 6 ways you could be making your LinkedIn Profile difficult to find on LinkedIn, along with corrections for greater visibility. By Laura Smith-Proulx.
Mythbusting the Feed: Helping our members better understand LinkedIn | Official LinkedIn Blog
The first in their promised series of mythbusting LinkedIn says:
"Starting today and over the next several weeks, we'll publish 'Mythbusting the Feed', a series of blog posts and on-platform content that will address these and other questions, aiming to provide greater insights into how our product works, and addressing common misconceptions and assumptions."
It starts with answering these two questions:
"What kind of conversations are welcomed on LinkedIn?"
"What does it mean to be professional when it comes to content on LinkedIn?"
JOB SEARCH
Job Searching? 19 Creative Ways To Build Your Target Company List | Chameleon Resumes
Lisa Rangel knows that a strong job search starts with a target list. Use her CAVAC™ model to build your list!
Recruiters, what's one piece of advice every jobseeker should know? | Adam Karpiak (Twitter)
Lots of advice from recruiters to job seekers in this thread! Learn and apply.
RESUMES
Do These 9 Things On Your Resume To Reduce Ageism Bias | Shelley Piedmont
Age bias exists. And we can't eliminate it. But, you can "diminish the possibility that your resume highlights information that either a recruiter or hiring manager will use to reject you from the hiring process because of your age."
REMOTE WORK
Stop – Don't Choose Remote Work Without Reading This (The top 10 career advantages from working "in the office") | Dr. John Sullivan
Remote work may be preferred, but read these 10 reasons why it may not be the best option if you want to grow your career.
NETWORKING
Haven't Networked in a While? Here's How to Jump Back In. | Harvard Business Review
Dorie Clark spells out networking tips, because… we are all a little rusty. See why it's important to rebuild your dormant ties and more ways to jump back into the networking waters.
WORKFORCE
Return of the Labor Force | Emsi Burning Glass
Ron Hetrick answers… How do we bridge the gap in our labor force? When will people return? What should we do?
Older workers are retiring, parents can't get affordable childcare, and younger workers are on the sidelines. That's what we've got right now. We have the people, they just aren't working. How do we fix this?
For more data, check out Emsi's report: Bridging the Gap In Our Labor Force
Turn Your Employer Brand Into a Growth Driver | LinkedIn Marketing
Expect to see even more employers focusing on their branding to attract candidates. "A study by LinkedIn and the brand strategy and design consultancy Lippincot shows… Businesses with aligned consumer and talent brands saw an 87% increase in their application rate from candidates and a 3x increase in their conversion-to-hire rate."
COMPANY CULTURE
Katrina Kibben points out there are still recruiters who care. (In the aftermath of the Uvalde school shooting)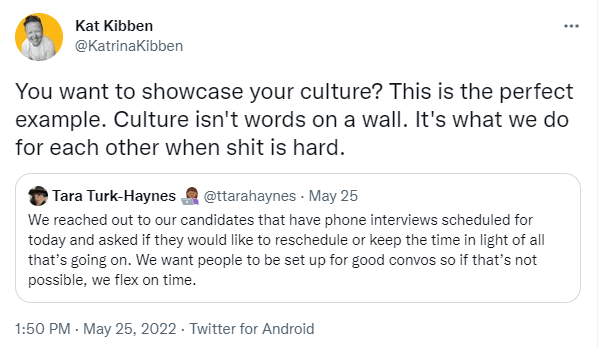 CAREER
5 Cheap (or Free!) Quizzes to Test Your Emotional Intelligence | The Muse
EQ is vital to your job search and career success. Do you know how emotionally intelligent you are? The good news is, you can develop it!
Here are more articles from The Muse
DID YOU MISS THESE?

Hannah Morgan speaks and writes about job search and career strategies. She founded CareerSherpa.net to educate professionals on how to maneuver through today's job search process. Hannah was nominated as a LinkedIn Top Voice in Job Search and Careers and is a regular contributor to US News & World Report. She has been quoted by media outlets, including Forbes, USA Today, Money Magazine, Huffington Post, as well as many other publications. She is also author of The Infographic Resume and co-author of Social Networking for Business Success.