Job search has changed over the years. So has how we work.
Are you holding on to old beliefs that prevent you from getting ahead?
Do you use the same resume for every job you apply to?
Are you relying mostly on job boards?
Are you networking by asking for a job?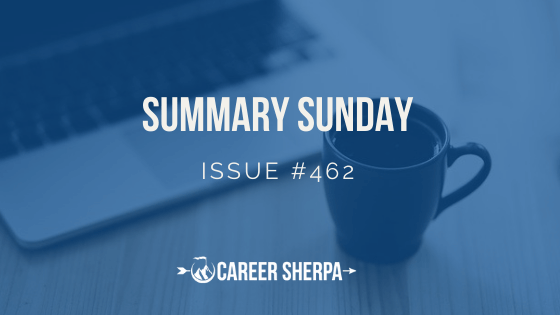 Sometimes, in order to succeed, we need to try new ideas.
Consider it an experiment. If it works, great. If it doesn't work after several attempts, maybe it's not right for you (your industry or job).
There is a lot of conflicting job search advice out there. And what you'll find, if you really listen and ask questions, is that the advice may not be applicable to you. It's not "wrong" or conflicting, it just doesn't apply to your situation.
This week's summary looks at:
Resume advice
Cover letters
How to introduce yourself
Using social media for job search
Communicating with your new boss
RESUMES
3 Main Frustrations With Executive Resume Advice | Lisa Rangel
Thanks to Lisa's video for highlighting ways we take advice without filtering it through the lens of our background or unique situation.
COVER LETTERS
Buckle up. It's about to get bumpy as we discuss the widely debated issue of cover letters. | Maureen McCann
Cover letters are not dead… yet. Read this post PLUS the comments to gain a deeper appreciation for cover letters.
PITCH
Tips on How to Perfect Your Elevator Pitch | Great Careers Groups
You'll find nine different ideas on how to formulate your "elevator pitch" or the answer to the question, "what do you do?" Find one that captures you and your work. Keep it concise, focused and convey it with pride! Whatever you do, nail it down sooner rather than later.
SOCIAL MEDIA
How to Wow and Woo Employers Online | Mac's List
This is a short, free course that walks you through the importance of having a professional appearance online and using social media to help your job search.
CAREER
How to Show Results to Your Boss | Korn Ferry
If you are working or planning to start a job soon, you'll want to read these 4 tips on how to communicate with your boss.

Hannah Morgan speaks and writes about job search and career strategies. She founded CareerSherpa.net to educate professionals on how to maneuver through today's job search process. Hannah was nominated as a LinkedIn Top Voice in Job Search and Careers and is a regular contributor to US News & World Report. She has been quoted by media outlets, including Forbes, USA Today, Money Magazine, Huffington Post, as well as many other publications. She is also author of The Infographic Resume and co-author of Social Networking for Business Success.