As you skim through this week's summary you'll find resources to help you job search smarter!
The survey reports can provide insight into how recruiters and companies think (they are claiming skills gap issues again).
You'll also find company lists to help you identify companies you may be interested in (but have never heard of).
Be sure you take the right actions for the right reasons during your job search.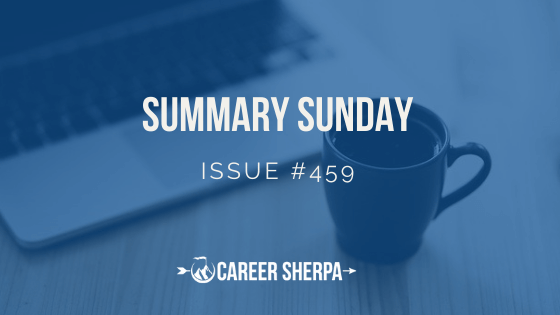 In this week's summary, you'll find tips to help your job search.
LinkedIn advice
2 lists of companies
Data about job search
and 2 articles about today's workplace and workforce trends.
LINKEDIN
LinkedIn Contact Information — Almost Everyone's Huge Mistake | Avid Careerist
I bet you didn't think of it this way…
"Failing to provide contact information is the biggest mistake I see job seekers make on LinkedIn.

While you might think, "Oh, they can send me an InMail," many recruiters don't use InMail because:

It has a sucky response rate.
They have to pay for it."

Donna Svei, Executive Resume Writer
LISTS
Glassdoor's Best Places To Work 2022
Whether it's the top large businesses or small to medium, you'll see companies where employees are happy! Here's a glimpse of the top 5. Use this list to add companies to your target list. Follow them and find people you know inside.
LARGE Companies
#1 NVIDIA
#2 HubSpot
#3 Bain & Company
#4 eXp Realty
#5 Box
SMALL & MEDIUM Companies
#1 KlientBoost
#2 Grover Gaming
#3 6sense
#4 LifeOmic
#5 GRIN
FlexJobs' Top 100 Companies to Watch for Remote Jobs in 2022
The annual list of companies that post the most remote jobs is up!
It also includes the top fields offering remote work and top remote job titles.
["remote job" is defined as a professional-level job that allows employees to work from home either all or part of the time.]
BroadPath
Liveops
SYKES
Working Solutions
SAP
JOB SEARCH
Demystifying the Latest US Jobs Report | Teal
The employment landscape favors job seekers. But to learn more, check out this overview of what the numbers tell us.
PS: Check out the free tools and services Teal offers.
The State of Job Seekers in 2022 | Talroo
Job seeker and recruiter survey results
Common disconnects in the recruiting process
Most important factors to job seekers
Recommended strategies for 2022 success
[Note: employees surveyed for this report come from call centers (25%), manufacturing (22%), or restaurants (21%).]
45% of job seekers in this segment are not tapping into offline job search opportunities (networking, newspapers, etc.)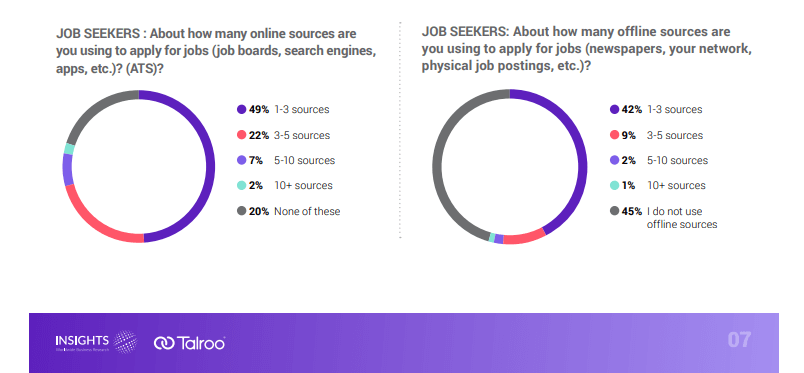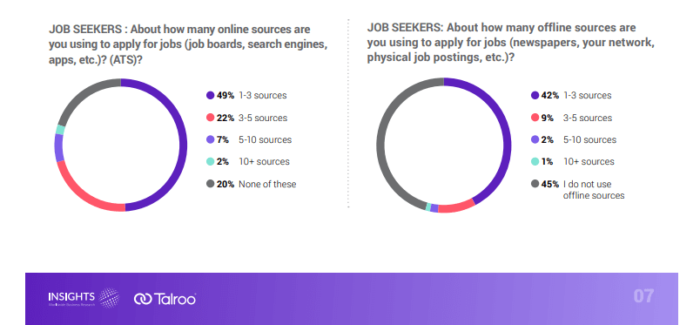 Also of note, almost 25% of recruiters don't inform candidates that they didn't get the job after interviews.


WORKFORCE
December's hiring slows 7%, but recreation and travel stay strong | Workforce Insights by LinkedIn newsletter
Hiring for the month has slowed, but did you know that "[f]or all of 2021, the LinkedIn Hiring rate rose 14.6%. But the vast majority of that gain occurred in the year's first three months."
Plus there's a graph showing Hiring Trends by Industry.
Do you subscribe to newsletters offered by people/companies on LinkedIn?
The Future of Work: 2022 Global Report | Monster
In this global report, you'll find information about:
Increased competition
Employer vs. candidate priorities
The return to work
Skills gaps
Note the change from 2021 to 2022 in factors that recruiters say make a candidate stand out.
Interview presence
Internship/relevant work experience
Skills match*
Any prior work experience
Culture fit
Experience with tech/platforms
Leadership experience
College or university degree
Social media presence
Volunteer experience
Willingness to take lower pay
GPA/grades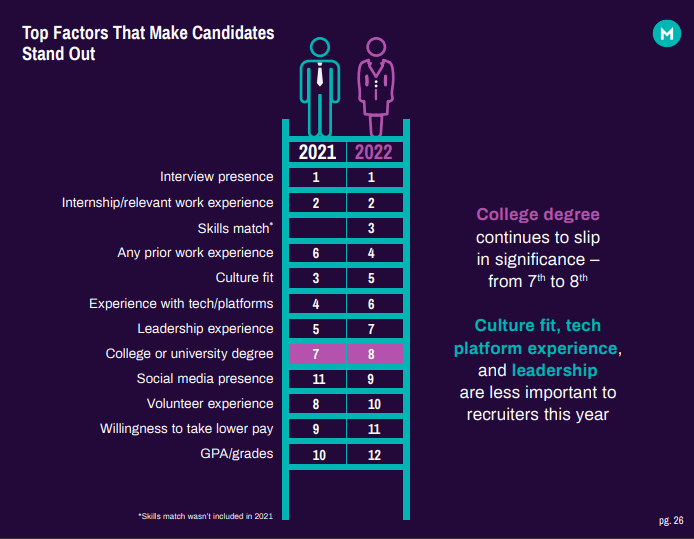 MENTIONS
How To Answer "Why Should We Hire You ?" | 3Plus International
Are you ready to answer this question (implied or asked out-right)?
2022 Career Trends Summit | career intelligence Resumes
Featuring Lisa Rangel, Mark Anthony Dyson and me.

Hannah Morgan speaks and writes about job search and career strategies. She founded CareerSherpa.net to educate professionals on how to maneuver through today's job search process. Hannah was nominated as a LinkedIn Top Voice in Job Search and Careers and is a regular contributor to US News & World Report. She has been quoted by media outlets, including Forbes, USA Today, Money Magazine, Huffington Post, as well as many other publications. She is also author of The Infographic Resume and co-author of Social Networking for Business Success.