There is a lot of information out there to help you with your job search, but will it work for you? One thing's for sure, everyone has opinions about what you should do to find a job. Hopefully, you'll find new ideas to create a winning job search!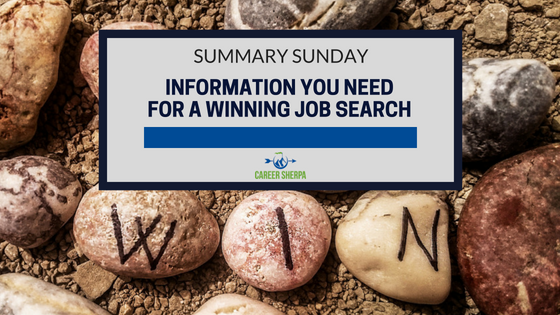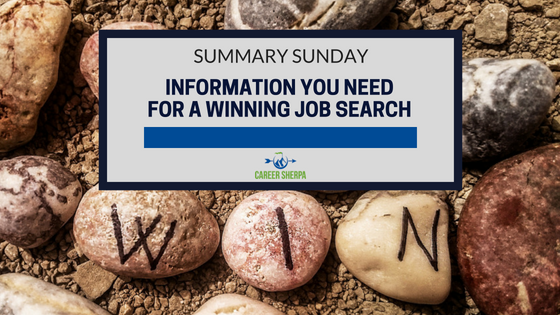 This week's summary includes information from hiring managers, social media experts and recruiters. You'll find templates, a podcast, a LinkedIn discussion and even a study with infographics to help you conduct a better job search!
Please share and give a shoutout to some of the people mentioned in these articles!
LINKEDIN
Career MYTH: Don't put your resume on your LinkedIn profile
by Donna Svei, Avid Careerist | LinkedIn discussion
Sometimes, an article doesn't cover all the angles. That's why I've included this discussion thread from LinkedIn. Read the comments and Donna's responses to understand the issues around copying and pasting content from your resume into your LinkedIn profile. I think you'll learn a lot. And this is just one example of why discussions on LinkedIn can be so valuable. If you haven't participated in a discussion about a topic related to your work, maybe this will tempt you. Benefit #1, you get to meet new people and hear new ideas. Benefit #2, you may get recognized by others in your industry.
10 Templates That'll Make People Want to Accept Your LinkedIn Invitations
by The Muse | USAToday College
You should always write a message when you invite someone to connect on LinkedIn! But what do you say? These 10 templates have you covered! Please, include a message when you send an invitation to connect on LinkedIn- always!!
SOCIAL MEDIA
Want To Improve Your Social Media Strategy? Avoid These 14 Faux Pas
by Forbes Agency Council | Forbes
Here are 14 valuable pieces of advice from people who live and breathe social media.
JOB SEARCH
3 Things You Must Do to Find a Job Faster
by Mac Prichard | Mac's List
This is a podcast you don't want to miss. Even if you've never been a fan of podcasts, I think you'll want to listen to this one! Mac interviews Jim Stroud, the global head of sourcing and recruiting strategy for Randstad Sourceright. Jim definitely knows what he's talking about! I've been following him for years!
Hiring Truths: Over 850 Managers Reveal Their Practices and Opinions
by SimplyHired
To learn more about what it takes to truly stand out, SimplyHired surveyed over 850 U.S. employees responsible for hiring either currently or the in past. This study (and infographics) breaks down the do's and don'ts for standing out and making a strong impression at the next job interview.
NETWORKING
Email Informational Interview Requests (with Samples)
by Susan P. Joyce | Job-Hunt.org
This makes it super easy to write that email to someone to request a meeting when you don't know what to say! There are 5 different samples for different scenarios! You'll want to bookmark this to reference over and over!
CAREER
Track Your Time for 30 Days. What You Learn Might Surprise You
by Dorie Clark | Harvard Business Review
If you feel like you never have enough time to get everything done, then you should read this article! Your perception of where your time is being spent may not be the reality. And there are other benefits to tracking your time too.
MENTIONS
I Dare You To Employ One of These Bold Job-Search Tactics Today
by Mark Anthony Dyson | Payscale
Here are 4 things you can do differently to modernize your job search! Mark's article features advice from Bob McIntosh and me! I was thrilled to be mentioned!

Hannah Morgan speaks and writes about job search and career strategies. She founded CareerSherpa.net to educate professionals on how to maneuver through today's job search process. Hannah was nominated as a LinkedIn Top Voice in Job Search and Careers and is a regular contributor to US News & World Report. She has been quoted by media outlets, including Forbes, USA Today, Money Magazine, Huffington Post, as well as many other publications. She is also author of The Infographic Resume and co-author of Social Networking for Business Success.