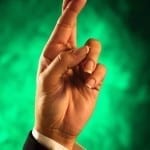 Hope is a word that implies pro-active thought and activity. Wish, on the other hand implies passive or re-active thought with little or no activity. (IMHO)
We can hope for peace or wish for peace.  Which will it be?  We can hope for a job or wish for a job?  Which will you choose?
In honor of hope and the holiday season, I wanted to share posts that had a sense of hope.
The inspiration for this collection of Hope posts came from Jason Alba's, JibberJobber post:  Dick Bolles on Options and Hope.  (Thank you Jason and Dick!)
Jason writes:
Dick Bolles said something like (my paraphrase):

When you have no options you have no HOPE.  Show people their options and you can see their HOPE.
2 Reasons We're Afraid to Ask for Help from CAREEREALISM
JT ODonnell states in her post:
I think there are 2 reasons:

1. We think the fact needing an expert to help us means we are weak or failing in some way – a.k.a. we feel ashamed asking for help.

2. We're too dang proud to admit we need help.
Simplifying Personal Branding for Job Seekers by Jay Block on Personal Branding Blog
This post is more than the title suggests.  Jay Block states that being a job seeker requires the development of many skills, more than the typical CEO has to master.  One of these skills is the concept of Personal Branding, which he defines in a couple of different ways to help make it easier to understand what it is and why it is important.  Yes, this term is trite and overused, however the concept is key!
5 Top Holiday Practices For Your Business from WorkAwesome
I know, you aren't a business, but I HOPE you are acting like one.  These tips are helpful either way!
Changing the World With Entrepreneurship from Small Business Trends
Hope comes sometimes when we look at the future.  The inspiration to try or do new things or to see things in new ways.  This post does just that!
What Are You Working On from Seth Godin
Short, sweet and inspiring…like so many of his posts!
Frustration Friday: Remembering Our Success from Fan to Pro
In his post, Steven Savage says:
A concern I have is that after this economic mess, those of us who prosper may end up so focused on our own success, after going through so much pain, that we'll forget how others suffer.  I worry that our own suffering means that, in our success, we'll have lost empathy for others.
Make the most of this holiday season, this time of your life and this opportunity to make a difference.

Hannah Morgan speaks and writes about job search and career strategies. She founded CareerSherpa.net to educate professionals on how to maneuver through today's job search process. Hannah was nominated as a LinkedIn Top Voice in Job Search and Careers and is a regular contributor to US News & World Report. She has been quoted by media outlets, including Forbes, USA Today, Money Magazine, Huffington Post, as well as many other publications. She is also author of The Infographic Resume and co-author of Social Networking for Business Success.