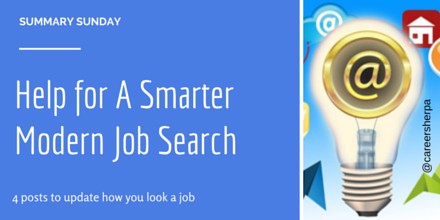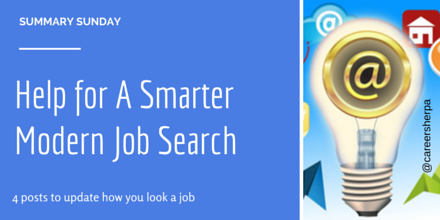 Do you want to launch a smarter modern job search? If you plan to embark on one soon or are frustrated by your results so far, this is for you!
My goal in sharing or resharing these posts is to help you if you are struggling with job search. Looking for a job today is going to take more than skimming the big job boards, posting and praying, and waiting. Every article I write, every tweet and status update I share, are to help arm you with the best information on modern day job search. It's a new world- you want to be prepared to know what it's going to take.
Not using Twitter? Are you struggling with ageism? Can blogging get you a new job? These are just some of the questions I hope you want answers to.
5 Things Even Smart People Forget When They're Looking for a Job by Adrian Granzella Larssen | The Daily Muse
As the title suggests, these are pretty common sense- AND so worth repeating! Here's a teaser.
You and I Know You Can Do That Job, But the Hiring Manager Doesn't (Yet)
Step Away From Your Resume
Tell Me How I Can Help You
Please read and share!
Blogging Your Way to Your Dream Job at a Startup by Alice Ko for Skillcrush | Mashable
The author, Alice Ko, explains how she landed her job with a startup. She also walks you through why blogging is a great idea and what to write about. With LinkedIn's publishing feature, you can easily become a blogger/writer today!
Why Ageism Isn't Your Real Problem by Lisa Rangel | Chameleon Resumes
Almost every day I hear an older job seeker cry age discrimination. This post by Lisa explains what's really going on and what you can do to fix what you're doing wrong.
7 Ways Twitter Can Help You Land Your Dream Job by Amanda Augustine | TheLadders
These are several of the 7 ways using Twitter can help you stand out during job search (and your career!)
Expand your digital footprint.
Receive job-search advice
Participate in Twitter chats

Hannah Morgan speaks and writes about job search and career strategies. She founded CareerSherpa.net to educate professionals on how to maneuver through today's job search process. Hannah was nominated as a LinkedIn Top Voice in Job Search and Careers and is a regular contributor to US News & World Report. She has been quoted by media outlets, including Forbes, USA Today, Money Magazine, Huffington Post, as well as many other publications. She is also author of The Infographic Resume and co-author of Social Networking for Business Success.