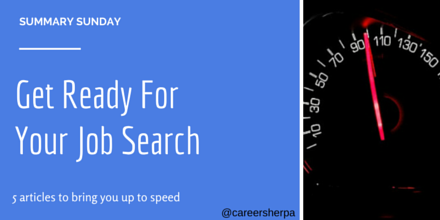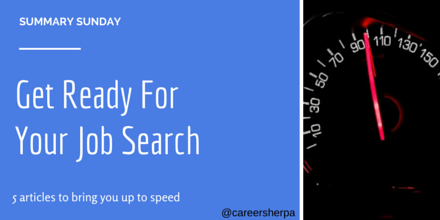 Preparing for job search requires some planning and making sure you are up-to-date with today's trends. Learn about interviewing blunders to avoid, where to go to look for new job, and more!
These are five posts I shared this week and received attention, so I'm highlighting them here! I hope you'll take a minute or two to skim through these and if you do find one you like, please, share!
Interviewing
The Top 5 Embarrassing Errors to Avoid in Your Job Interview by Robin Madell | USNews & World Report On Careers
Yes, we've all blown an interview. But if you learn from these missteps, you'll do better at your next interview.
Job Search Advice
18 Best Places To Find A Job (As Recommended By Career Experts) | Career Waymark
23 job search coaches, resume writers and people in the know, chime in on where you should look to find a new job! Are you using ALL of these?
Career/Workforce Trends
6 Tips to Capitalize On Today's Job Market by Nancy Collamer | Forbes
This article shares take-aways from Collamer's recent attendance at the Indeed Interactive Conference in Austin, Texas. Along with these six trends, you'll also find recommendations on how to navigate/benefit from the trends!
The labor market has really, truly improved.
The health care sector is red hot.
Every company is a tech company.
More people are seeking flexible work options.
Boomers represent an important labor force going forward.
The job search never ends.
The Full-Time Job Is Dead by UpWork | Medium
This post didn't make the top listing, but it should! If there is ONE article you should read and ponder, it is this one!
It is about how and why the 40-hour week is outdated. It talks about how Lyft, Airbnb even General Electric are transforming how they employ people. This sums it up pretty well:
But technology is now changing the nature of work. The trend points to a new era in which most of us will work in multiple "micro-careers" at the same time, leaving the traditional full-time job behind. "Work" is likely to turn into a marketplace in the cloud rather than a desk and a chair at a traditional corporation. A free agent workforce will be able to make a good living layering a number of professional relationships, entrepreneurial passions and other money-making pursuits on top of each other. 
Guess Who Doesn't Fit In At Work by Lauren A. Rivera | New York Times
This is a longer article, yet well worth the read. It's about cultural fit, and according to a recent study, cultural fit is a top concern for 80% of leaders today.  As Rivera found out interviewing over 120 hiring managers within investment banks: "professionals at all levels of seniority reported wanting to hire people with whom they enjoyed hanging out and could foresee developing close relationships with." (Right or wrong- likability is key to fitting in!)
Hope you enjoy reading this!
Like This Post?
If you want to keep up with the trends impacting your job search and career, follow my social media accounts or sign up for my articles!
Career Sherpa | Promote Your Page Too

Visit Career Sherpa's profile on Pinterest.
Never miss the job search news you can use. Sign up now!

Hannah Morgan speaks and writes about job search and career strategies. She founded CareerSherpa.net to educate professionals on how to maneuver through today's job search process. Hannah was nominated as a LinkedIn Top Voice in Job Search and Careers and is a regular contributor to US News & World Report. She has been quoted by media outlets, including Forbes, USA Today, Money Magazine, Huffington Post, as well as many other publications. She is also author of The Infographic Resume and co-author of Social Networking for Business Success.