A 2020 job hunt doesn't look like it did in 2010. So if you haven't looked for a new job in a while, here are some things you'll want to know.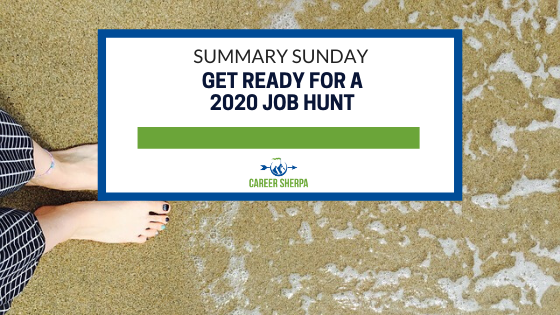 From future-proofing your career to spicing up your LinkedIn profile, there is one thing for sure…a 2020 job hunt is not like it was the last time you looked.
In this week's summary, you'll find advice, tips and insight to help you take more control over your job search and career with tips on interviewing and a conversation among career professionals doling out advice.
Everyone wants a stable career, but it isn't like it used to be. Don't expect to be shepherded through your career. That falls solely on your shoulders. And taking control of your career requires you to keep on toe in a job search at all times.
CAREER
How To Future-Proof Your Career Path In 2020 (and beyond)
by John Schwarz | Fast Company
"Future-proofing one's career doesn't just mean studying STEM, learning to code, or becoming a data scientist." So what will it take to ensure career security? There are several answers in this article. One of them is having a personal board of advisors.
3 Things Everyone Should Know About the Changing Workforce
by Abby Engers | Mac's List
First, the career ladder is broken. Second, generational changes are coming in the labor market. And third, it's a candidate's market. It's an easy-to-read article with tips for employers/companies at the end. Let's hope we do so some of these changes to recruiting and retention.
PHONE INTERVIEW
5 Steps to Pulling Off a Successful Phone Interview
by The Muse
You will have many phone interviews. These are classic tips to help you feel confident and prepared for your next phone interview. There's a handy infographic to go along with the article too!
REMOTE WORK
Guide to Work From Home Jobs in 2020
by Susan P. Joyce | Job-hunt.org
This article (and the many other articles on this page) help identify what you need to know about "work from home" jobs, otherwise known as remote work. It also includes advice for freelancers on starting your own business. There are more remote opportunities today than there used to be and this trend is expected to continue to grow. And be sure to check the articles in the sidebar!
LINKEDIN
Format Your LinkedIn Text
by Donna Serdula | LinkedIn-Makeover
Do you have text on your LinkedIn profile you'd like to bold, italicize or underline? Now you can! There are some warnings about using this hack so make sure you pay attention to the words you choose to format.
JOB SEARCH
Are You Job Search Ready? (Quiz)
by Dawn Graham, PhD, LP on LinkedIn
When we're " in a market where there's more opportunity than ever, a lack of savvy job search skills keeps well-qualified professionals stuck in unsatisfying careers." Or worse, a prolonged job search. These questions walk you through the important components of a 2020 job hunt and prompt you to take action on things you may have overlooked.
Modern Job Search Trends for 2020 Part 1
by Mark Anthony Dyson | The Voice of Job Seekers
This is a lively collaborative conversation with Sarah Johnston, Briefcase Coach, Nii Ato Bentsi-Enchill of AvenirCareers.com, Mark and me. We discuss the missteps we see job seekers make, best-practices job seekers should be using and more in this 20-minute podcast. Stay tuned for part 2 coming out at the end of January.

Hannah Morgan speaks and writes about job search and career strategies. She founded CareerSherpa.net to educate professionals on how to maneuver through today's job search process. Hannah was nominated as a LinkedIn Top Voice in Job Search and Careers and is a regular contributor to US News & World Report. She has been quoted by media outlets, including Forbes, USA Today, Money Magazine, Huffington Post, as well as many other publications. She is also author of The Infographic Resume and co-author of Social Networking for Business Success.