Landing a job isn't the end of your job search. The new reality requires you to constantly grow and learn- and network! You're going to want to get a grip on your career and how you manage it!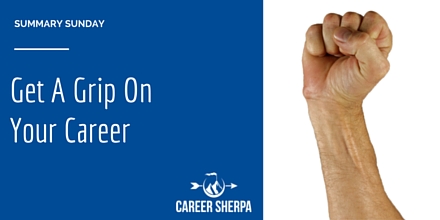 This week's summary provides tips to help get a grip! Understand how to network the right way, the truth about applying for jobs online, and career tips to make you perform better!
NETWORKING
5 Misconceptions About Networking by Herminia Ibarra | Harvard Business Review
If you think about networking in these ways, you had better read the article.
Networking is mostly a waste of time
People are either naturally gifted at networking or they are not, and it's generally difficult to change that
Relationships should form naturally
Networks are inherently self-serving or selfish
Our strong ties are the most valuable
JOB SEARCH
The (Depressing) Truth About Applying To Jobs Online by J.T. O'Donnell | LinkedIn
Here's what happens, according to J.T. O'Donnell
Studies show with over two hundred applications coming in on average for a new job posting, only a mere 2-4 applicants get selected for an in-person interview. That's a 3% chance you'll get picked.
So why are you blindly applying to jobs online?
ONLINE VISIBILITY
37 Stats You Should Know About Visual Content Marketing in 2016 | HubSpot
So you may be thinking, "Yeah, but I'm not in marketing" but, the truth is, you are! Or at least you should be. You want to be a visible, recognizable resource and that happens best when you promote yourself and share information your network will find valuable. Images, pictures, and graphics are all part of telling your story and gaining visibility.
CAREER
Attention, Students: Put Your Laptops Away by James Doubek | NPR
Even if you aren't in school, this is a pretty powerful article about how to best retain knowledge! The article references a study published in Psychology Today which tests whether people who type notes or hand-write notes remember information better. Interesting findings!
44 Ways To Be More Productive [INFOGRAPHIC] by Andrew Hewertson| Best STL Microsoft Training.net
Filled with nuggets of helpful tips, this infographic will help you master your time and energy to operate a peak performance!


Hannah Morgan speaks and writes about job search and career strategies. She founded CareerSherpa.net to educate professionals on how to maneuver through today's job search process. Hannah was nominated as a LinkedIn Top Voice in Job Search and Careers and is a regular contributor to US News & World Report. She has been quoted by media outlets, including Forbes, USA Today, Money Magazine, Huffington Post, as well as many other publications. She is also author of The Infographic Resume and co-author of Social Networking for Business Success.