I'm declaring February as a month to focus on you. Focus on your needs, wants and desires; as well as your accomplishments, strengths and personal development.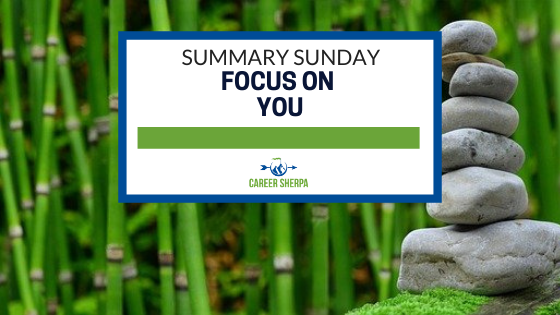 In this week's summary, you'll find articles to help focus on you. Because, in order to be your best and to be able to help other people, you have to take care of yourself.
You'll find a holistic theme in these articles. Let's take a break and obsess a little less over finding a new job. If you don't focus on your whole self, it can have negative impacts – depression, anxiety, and other mental and physical health issues. Here's what you'll find:
Career achievements you should keep track of
The value of behavioral assessments
Do you have a personal development plan
3 career exploration tools
Setting the right job search goals
What not to say to job seekers (if you think you've had it bad, read this story)
A little help for introverts
Tips to boost your happiness chemicals
FOCUS ON YOU
Adrienne Tom | Career Impressions
Keep Track of Career Accomplishments
Why A Behavioral Assessment May Be Your Best Investment in 2021 | Boyer Management
Make Personal Development a Priority | Frank Sonnenberg
CAREER EXPLORATION
Here are three tools that help you match your skills (or education) to future career possibilities.
LinkedIn Career Explorer
Career One Stop Career Matcher
Occupational Outlook Handbook Field of Degree
[provides a glimpse of workers with the degree and shows occupations, outlook, and more for people in that major]
JOB SEARCH
The Best Job Search Goal to Actually Get a Job | Avid Careerist
Words Matter: What Recruiters and Hiring Managers Should Not Say To Job Seekers | RecruitingShero
INTROVERTS
Tips for meeting new people — even if you're an introvert | Business Insider
WELL-BEING
100+ Hacks for Boosting Your Happiness Chemicals | The Emotion Machine
DID YOU SEE THIS?
The Restart Report by My Career Restart
This is a weekly newsletter filled with tips and resources to help you with your career and job search. PS: They are offering a free LinkedIn Checkup by me. You can enter to win.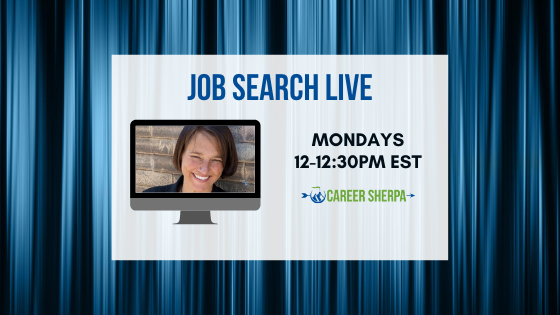 Don't miss my live discussion about why these are important on Monday at Noon. I'll answer questions too! Watch here

Hannah Morgan speaks and writes about job search and career strategies. She founded CareerSherpa.net to educate professionals on how to maneuver through today's job search process. Hannah was nominated as a LinkedIn Top Voice in Job Search and Careers and is a regular contributor to US News & World Report. She has been quoted by media outlets, including Forbes, USA Today, Money Magazine, Huffington Post, as well as many other publications. She is also author of The Infographic Resume and co-author of Social Networking for Business Success.