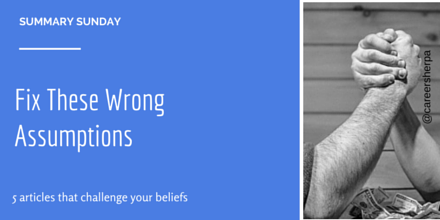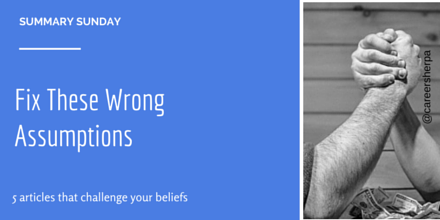 Could you be making the wrong assumptions?
These five posts support the idea that everything we believe may not be correct. Please, allow me to challenge your assumptions about job search, careers, social networking and new graduate job search! Not only did these posts catch my attention, they were popular with my network this week as well!
Career Wisdom
We've got it all wrong! You won't "be" just one thing. You should be multiple things at the same time. It is the smart way to run your career. The odds of finding just one thing that will make you happy and fill your bank account are slim. Your chances are greater if you use your talents is multiple ways!
You Absolutely Must Be More Than One Thing Jeff Haden LinkedIn
Rethink Social Media
We all know to invest time on LinkedIn, known as the "professional networking site." But don't overlook the power of Twitter! It is great for brand-building, people are more active here and it's easier to connect with people. Read the post then go network on Twitter and see the difference!
LinkedIn Is Not The Ultimate Career Site, Twitter Is  Undercover Recruiter
Are You Memorable…
There's no time for mediocrity. You need to be memorable. What can you do to stand out? Check out these actions and words you can use to set yourself apart. My favorite quote from this article comes from David Ogilvy, advertising superstar.
If you can't be brilliant, at least be memorable -David Ogilvy
How To Make Yourself Unforgettable Fast Company
New Graduate Job Search
We all know someone just finishing college. They need extra help positioning themselves in the highly-competitive job market, so please, share these two posts with all the freshly-minted graduates you know!
The Ultimate Guide To Getting A Job After You Graduate HubSpot
31 Tips for the Newly Graduated College Student Career Cloud
Never miss the job search news you can use. Sign up now!

Hannah Morgan speaks and writes about job search and career strategies. She founded CareerSherpa.net to educate professionals on how to maneuver through today's job search process. Hannah was nominated as a LinkedIn Top Voice in Job Search and Careers and is a regular contributor to US News & World Report. She has been quoted by media outlets, including Forbes, USA Today, Money Magazine, Huffington Post, as well as many other publications. She is also author of The Infographic Resume and co-author of Social Networking for Business Success.