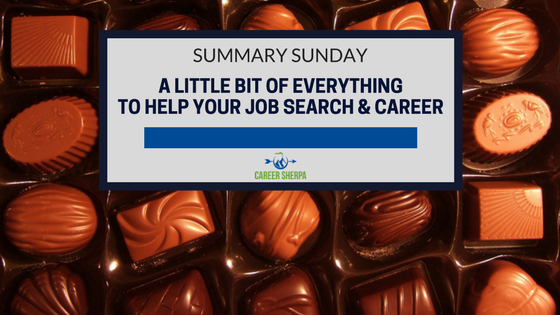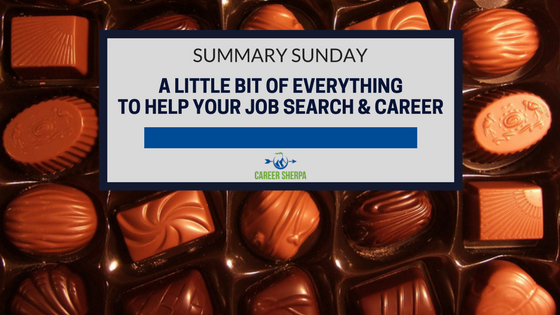 Your job search and career need help! Managing both requires a broad spectrum of skills that you don't use often enough to master. 
This week's popular posts include a little bit of everything- help to stay positive during job search, how to humbly yet adequately self-promote and tell your story, develop social media strategy skills and a productivity hack!
PERSONAL BRANDING
How To Promote Yourself Without Looking Like A Jerk
by Dorie Clark | HBR
If you have difficulty talking about yourself or god forbid, promoting yourself, then you must read Dorie's article. It helps you reframe your perception of what self-promotion is! (And why it is so important!)
by Matt McCue | 99U
Storytelling is one of THE best ways to get the word out about what you do and in a way people will remember!
There are 5 steps to building your story and Matt uses real examples to show you how they tackled each step! This is a great follow-up to Dorie's piece above. Masterfully written and fun to read!
JOB SEARCH
How To Remain Confident After Job Rejection
by Sarah Landrum | Punched Clocks
Rejection is hurtful. It can also take the wind out of your sails. But Sarah helps you look at rejection differently. Heck, she even helps you look at the job search process differently! Don't let rejection derail your job search!
SOCIAL MEDIA
6 Social Media Skills Every Leader Must Learn
by Lolly Daskal | Inc.
You may not be a leader…yet. But these suggestions may help you get there! This isn't about how to use specific tools. It's about developing a strategy and using social media to showcase your best leadership qualities.
PRODUCTIVITY
How to Use Feedly For Reading Blog Content
by Ian Cleary | RazorSocial
This video, less than 10 minutes, will show you how you can easily cue up articles you want to read. You see, in order to stay up-to-date with what's going on, you'll need an easy way to skim news that will increase your knowledge and add to your expertise! Feedly is a great tool (and I've used it for years). Watch Ian show you how to get the most from using it!
MENTIONS
After months of rescheduling, we finally go it right! This is a lively discussion about personal branding and online visibility with pals Katrina Collier and Audra Knight!

Hannah Morgan speaks and writes about job search and career strategies. She founded CareerSherpa.net to educate professionals on how to maneuver through today's job search process. Hannah was nominated as a LinkedIn Top Voice in Job Search and Careers and is a regular contributor to US News & World Report. She has been quoted by media outlets, including Forbes, USA Today, Money Magazine, Huffington Post, as well as many other publications. She is also author of The Infographic Resume and co-author of Social Networking for Business Success.