This post-pandemic period is now putting job seekers back in the driver's seat. And we're starting to see empowered job seekers!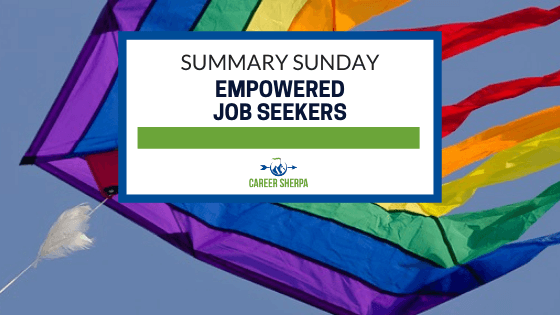 No one really knew what was going to happen to the labor market as we came out of the pandemic.
But what we are seeing things sort of pick up where we left off before lockdown – employers crying they can't hire enough workers.
Except now, we also have millions of workers who are now really unhappy with their jobs/work/employers and who are willing to quit.
We can complain about employers asking candidates to sit for 11 interviews, produce work samples or perform a project during interviews, or endure the horrible one-way video interview, but the reality today is that candidates don't have to put up with any of this if they don't want to.
That's why I feel job seekers are empowered. They feel brave and confident enough to do what feels right for them. And this is also why we are seeing employees resign in record numbers, known as "The Great Resignation."
We've all been through a lot over the past 15+ months and this has caused us to reflect on what is most important to us. This self-knowledge also empowered job seekers!
Be strong. Continue to learn and grow and even re-invent if you want or need to! Life is short and you deserve to be happy!
This week's summary covers some of the changes and trends we see today:
Resignation data
4 day work week study
Obtaining job security
Free healthcare
LinkedIn Premium
TikTok resumes
and more!
As I was thinking about all the shifts and changes in the workforce, I wrote this:
In the future, HR and recruiters will look back on these times and think –
if we just did the right thing, treated people the way we want to be treated, paid people a livable wage, and were open and truthful, we would have an amazing company right now.
2 Trends You Should Know About
People Aren't Just Quitting their Jobs. They're Redefining Success | Inc
We're experiencing a time being called "The Great Resignation." Record breaking numbers of people are quitting their jobs.
In April alone, that exodus amounted to four million U.S. workers, or 2.7 percent of the workforce, the highest rate since 2000.
The reasons vary but this mass exodus certainly changes things – employers are being forced to increase salaries, offer or continue to offer flexible work, focus on employee mental health, and try harder to hold on to employees.
Employees in Iceland starting working 4 days a week. It didn't hurt productivity, researchers say. | USA Today
After tracking over 2,500 workers over four years who put in 35 hours a week:
Researchers found that "worker wellbeing dramatically increased across a range of indicators, from perceived stress and burnout, to health and work-life balance."
Is the 4 day work week going to catch on?
CAREER
Looking for Job Security? | Frank Sonnenberg
Here are 10 ways to obtain job security. (But they may not be what you expect.)
JOB SEARCH
New stimulus benefit offers free health insurance through the end of this year | Yahoo Finance
If you've gotten or have been approved for unemployment benefits during 2021, you qualify to receive free health coverage for the remainder of the year via HealthCare.gov. That's the marketplace established under the Affordable Care Act
LINKEDIN
Is LinkedIn Premium Effective or Even Discriminatory? | Dorothy Dalton
Many have asked the question of whether it's worth paying for LinkedIn Premium. Yet there might be other questions we should be asking. See what recruiters say about the effectiveness LinkedIn Premium from their perspectives.
TikTok Resumes
Find a job with TikTok Resumes | TikTok
We're teaming up with select companies and inviting job seekers to apply for entry-level to experienced positions with some of the world's most sought-after employers, including Chipotle, Target, WWE, Alo Yoga, Shopify, Contra, Movers+Shakers, and many more, with a TikTok video resume.
Is a video resume a helpful supplement to your basic text-based resume? Only you can be the judge.
DID YOU MISS THIS?
Using The Star Interview Method Effectively + Questions
In this article, you'll learn how you can prepare in advance for almost any interview question and deliver STAR interview answers that truly showcase your skills and abilities.
What Is The STAR Method?
How To Use This Technique
Example Interview Questions & Answers Using STAR
MENTIONS
Not All Career Advice is Good For You | The Voice of Job Seekers
There are a lot of people providing career advice Mark Dyson and I are two of them. I was thrilled to see Mark mention my advice in his article.

Hannah Morgan speaks and writes about job search and career strategies. She founded CareerSherpa.net to educate professionals on how to maneuver through today's job search process. Hannah was nominated as a LinkedIn Top Voice in Job Search and Careers and is a regular contributor to US News & World Report. She has been quoted by media outlets, including Forbes, USA Today, Money Magazine, Huffington Post, as well as many other publications. She is also author of The Infographic Resume and co-author of Social Networking for Business Success.