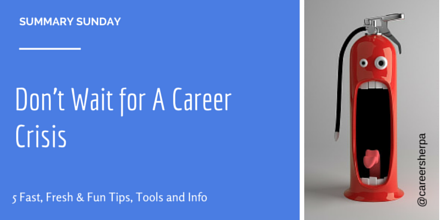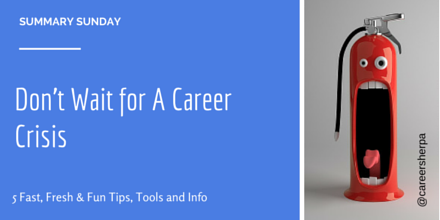 Job search and career management isn't something most of us think about unless we have to. That is, there's a crisis or we're miserable.
As much as I would love to see more people proactively manage this stuff, I guess it's human nature to let it fall to the back burner. So, getting information when you need it is important to you. That's where fresh, fast and fun comes in. There's no need to read outdated articles. It's a waste of your time to search for what you're looking for and by all means, if it isn't interesting, you're never going to read it, let alone follow through.
Summary Sunday is one way I'm addressing your desire for fresh content.
CAREER
#NailedIt: How To Rock Your Next Presentation by Brian Giesen
Who hasn't been asked to give a presentation? Who wants to do it better next time? Use some of these tips from Ogilvy's Director of Social in Australia.
Top 10 Latest Social Media Trends: 2015 Research on Open Minds Agency
Infographics! Love em or hate em. The data comes from Social Media Examiner's  The Social Media Industry Report , now in it's seventh year. The infographic is by OpenMinds
LINKEDIN
Top 5 Things to Post on Linkedin (5:1 ratio) by Craig Fisher on LinkedIn
To get the most from LinkedIn, you have to actually use it. Craig shows you what to post on LinkedIn to make it a better experience for you.
NETWORK
How To Network in 4 Easy Steps by Dorlee Michaeli, MBA, LMSW  on Social Work Career
Everyone hates to network, Dorlee makes it easier to do with these steps and input from other career experts (like me!)
COOL TOOLS
Post your resume and job description to see how well they match up! Simple tool, easy to use!
Like This Post?
If you want to keep up with the trends impacting your job search and career, follow my social media accounts or sign up for my articles! Follow @careersherpa
Career Sherpa | Promote Your Page Too

Visit Career Sherpa's profile on Pinterest.
Never miss the job search news you can use. Sign up now!

Hannah Morgan speaks and writes about job search and career strategies. She founded CareerSherpa.net to educate professionals on how to maneuver through today's job search process. Hannah was nominated as a LinkedIn Top Voice in Job Search and Careers and is a regular contributor to US News & World Report. She has been quoted by media outlets, including Forbes, USA Today, Money Magazine, Huffington Post, as well as many other publications. She is also author of The Infographic Resume and co-author of Social Networking for Business Success.