When it comes to your career success, will you know it when you see it? And do you know what it takes to achieve it?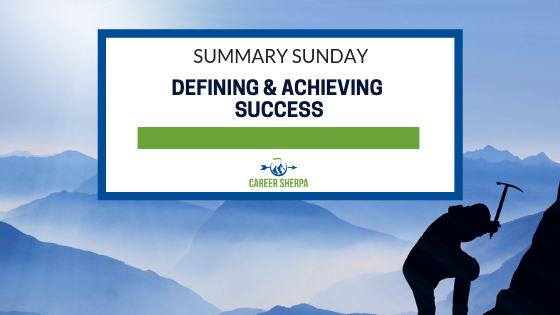 Sometimes, while on the path to what you think is success, things change. In fact, how we define success at work is changing. And what it takes to be successful is changing too!
This collection of posts looks at career success. It also includes success tips for writing cover letters and thank you letters and using LinkedIn.
CAREER
What Success Means to You: The Corner Office Is Out and the Side Hustle Is In
by Catherine Fisher | LinkedIn
It's interesting to see how things shift! Especially when it comes to how we define career success. For example:
34% of professionals would take a 10% pay-cut for the ability to design their own schedule.
89% feel that skills are even more important than job titles.
87% say success isn't just about what you accomplish in your life, it's about what you inspire others to do.
Will we see changes in company policies or new types of jobs based on these new definitions of success? We already have.
How to Overcome Fear of Failure & Adopt a True Growth Mindset
by Daniel Codella | Wrike
Many people have a fear of failure. This article spells out why and ways to turn those limiting thoughts around.
How to Be Successful in Life and Your Career
by Hannah Morgan | US News & World Report On Careers
EY conducted a survey about what it takes to be successful. These are the six top answers to the question about what it takes to make it and my tips on how to put them into action.
COVER LETTERS & THANK YOUS
15 Words and Phrases to Never Include In a Cover Letter
by Amy Elisa Jackson |  NBC News
The cover letter isn't dead yet. So when you do write one, be sure to eliminate these phrases! One way to stand out and have success in landing an interview is by going above and beyond to show your interest in company and job through your cover letter. Don't take shortcuts!
The Perfect Interview Thank You Note That Works Every Time [Infographic]
by Business Insider | YouTern
This template lays out ideas for what you should say in your thank you message after an interview. Sending a message after a job interview is often overlooked or rushed. Make it count!
LINKEDIN
20 LinkedIn Tips to Help Boost Engagement
by Brad Smith | Social Media Today
Are you having success with LinkedIn? Simply having a LinkedIn profile isn't enough. Engagement is the magic to getting good leads. The tips and advice in this article are written for businesses but they apply to job seekers too! Engaging with people on LinkedIn will help build brand awareness and trust (when done appropriately).

Hannah Morgan speaks and writes about job search and career strategies. She founded CareerSherpa.net to educate professionals on how to maneuver through today's job search process. Hannah was nominated as a LinkedIn Top Voice in Job Search and Careers and is a regular contributor to US News & World Report. She has been quoted by media outlets, including Forbes, USA Today, Money Magazine, Huffington Post, as well as many other publications. She is also author of The Infographic Resume and co-author of Social Networking for Business Success.